Active School Week 19th - 23rd June
23rd June 2017
Today we had a half day before getting our summer holidays. We had our presentations both for sports day and for achievements throughout the year including our Active School 'Super Troopers' programme. Have a fun and adventure packed summer holiday everyone. And don't forget - STAY ACTIVE.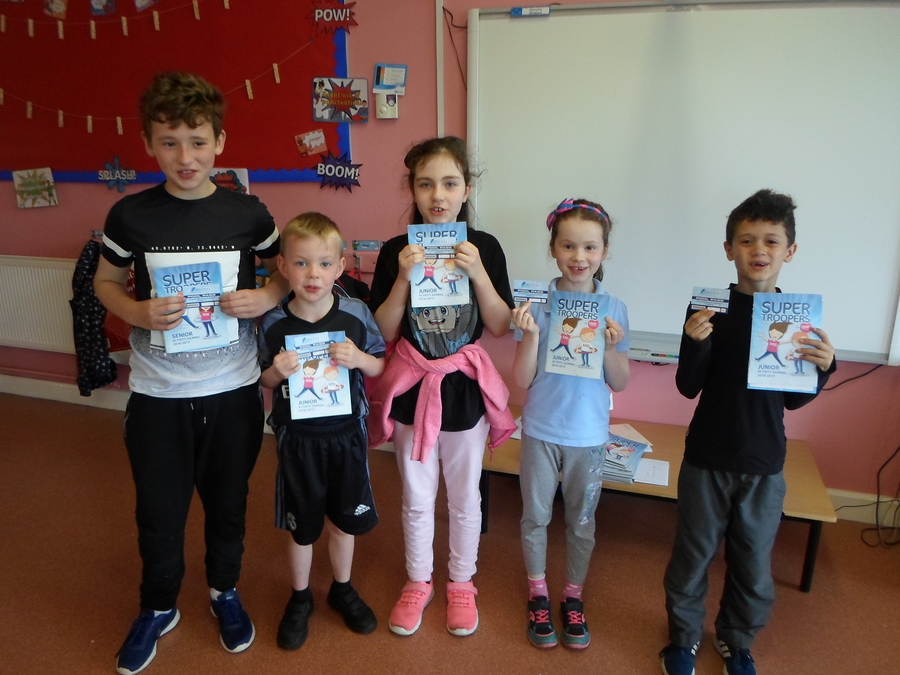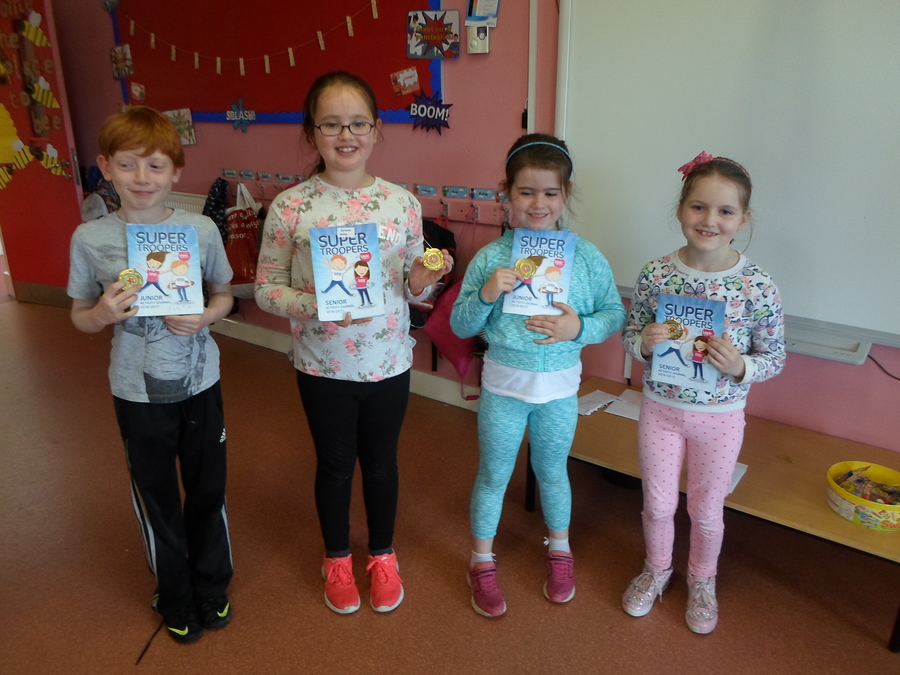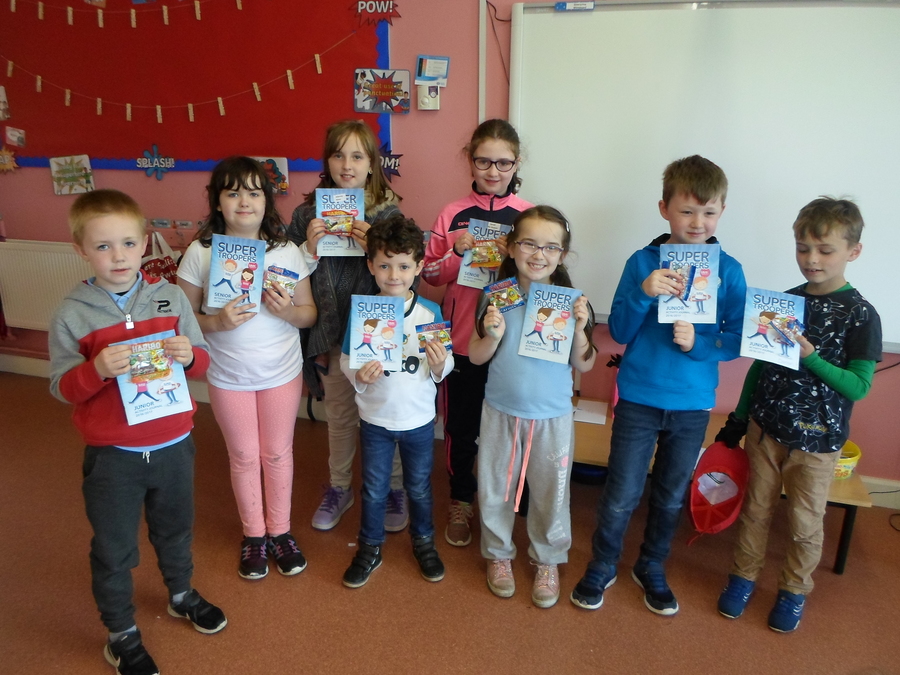 22nd June 2017
Today we had PAWS Water Safety with Aiden McGuinness in the morning. Aiden told us all how to stay safe in the water and gave us advice & guidelines to follow. He demonstrated good water safety skills & techniques. We enjoyed his presentation very much.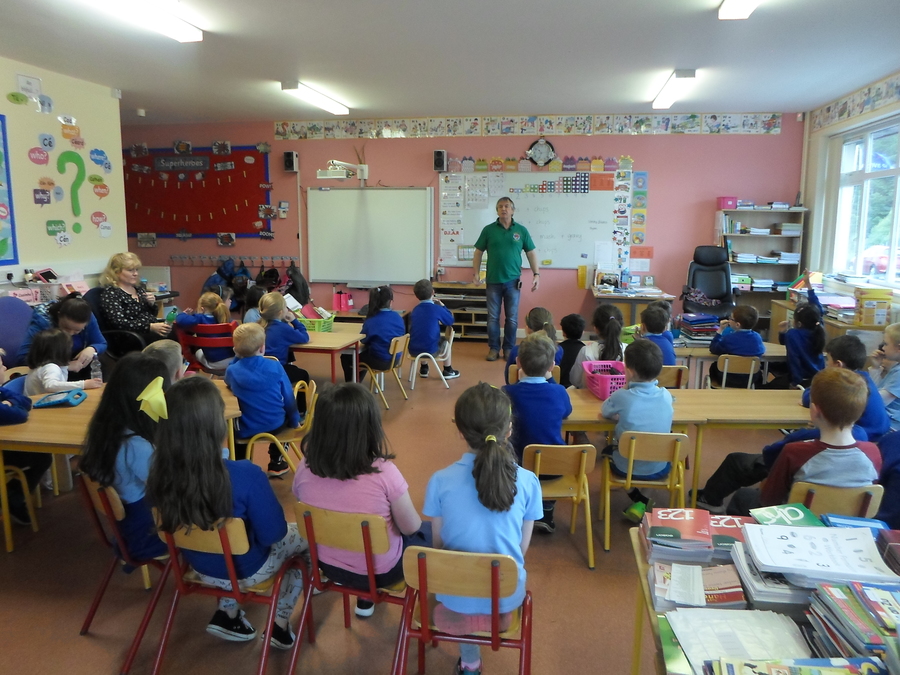 The senior room also had Golf with Leslie Robinson in the morning. Leslie works as a golf coach in nearby Murvagh Golf Club. All of the children have had lessons with Leslie in the past and they enjoyed their morning of golf very much.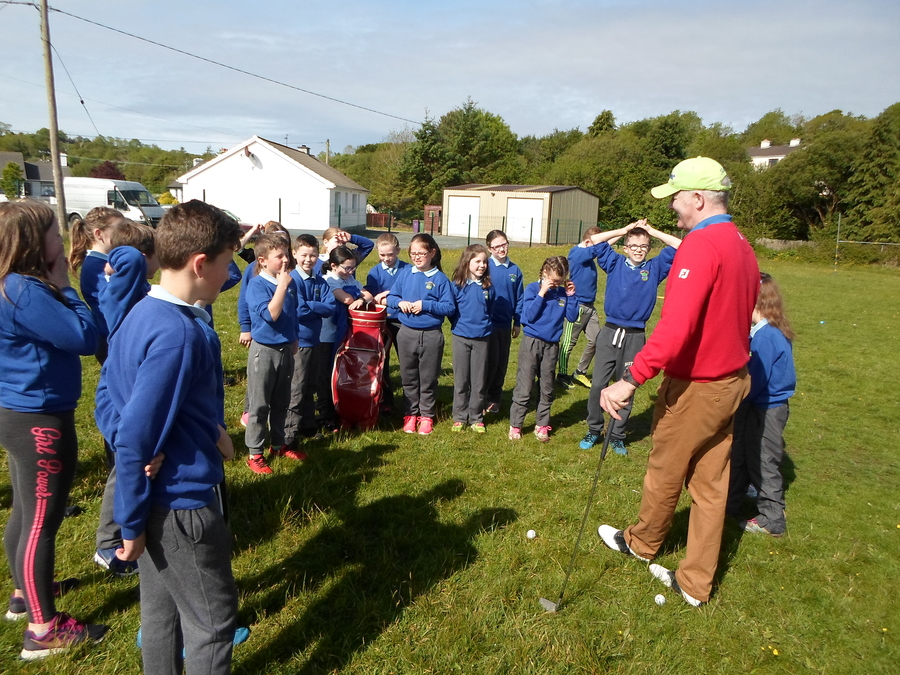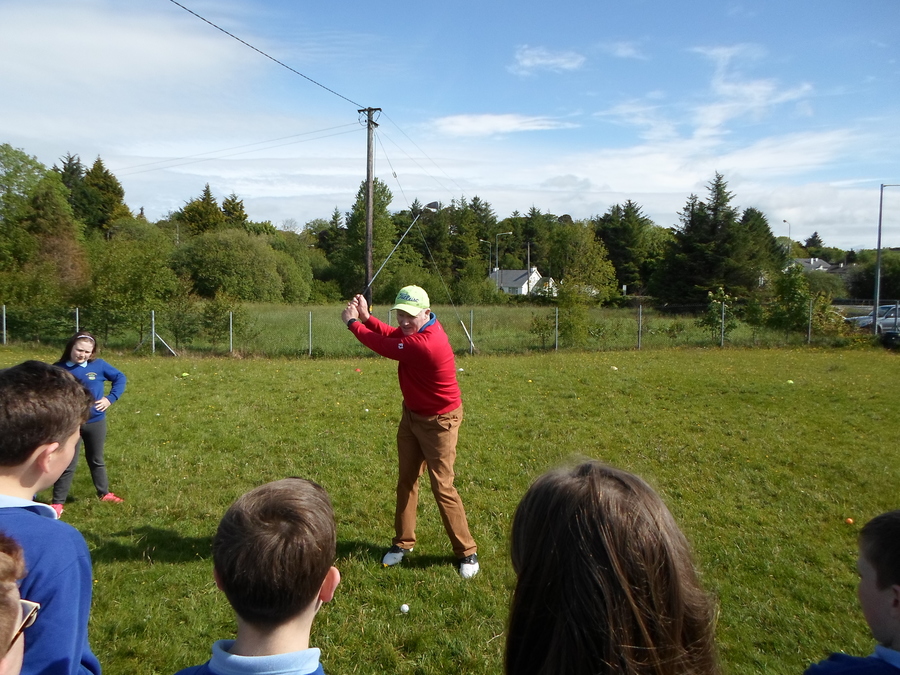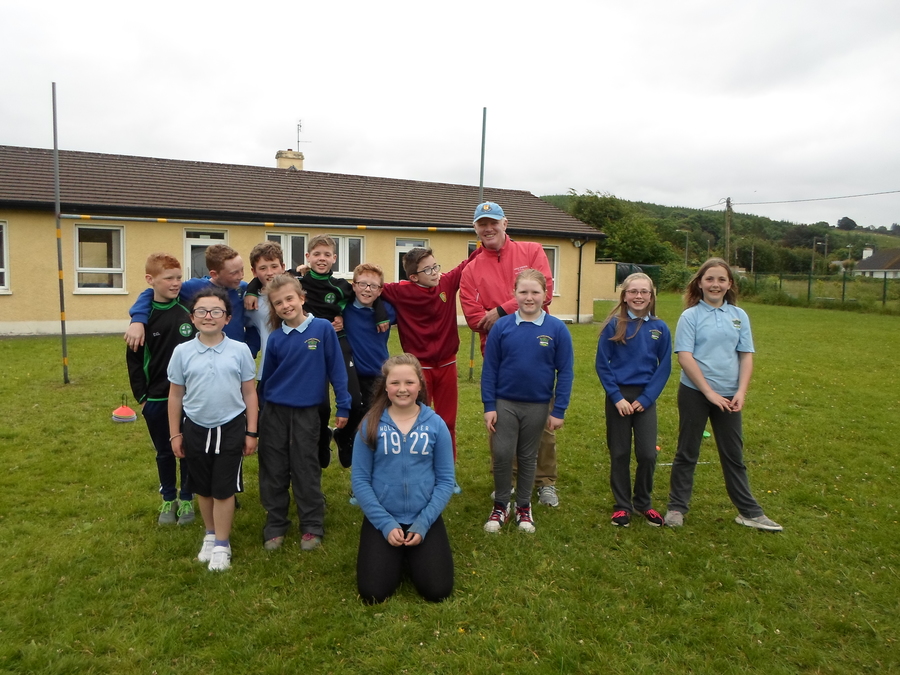 In the afternoon we all had GAA with Calum Gallagher, a coach from our local GAA club. Most of the children already play with the boys & girls teams in the club and are familiar with the game. Thanks to Calum for his coaching both today and throughout the year.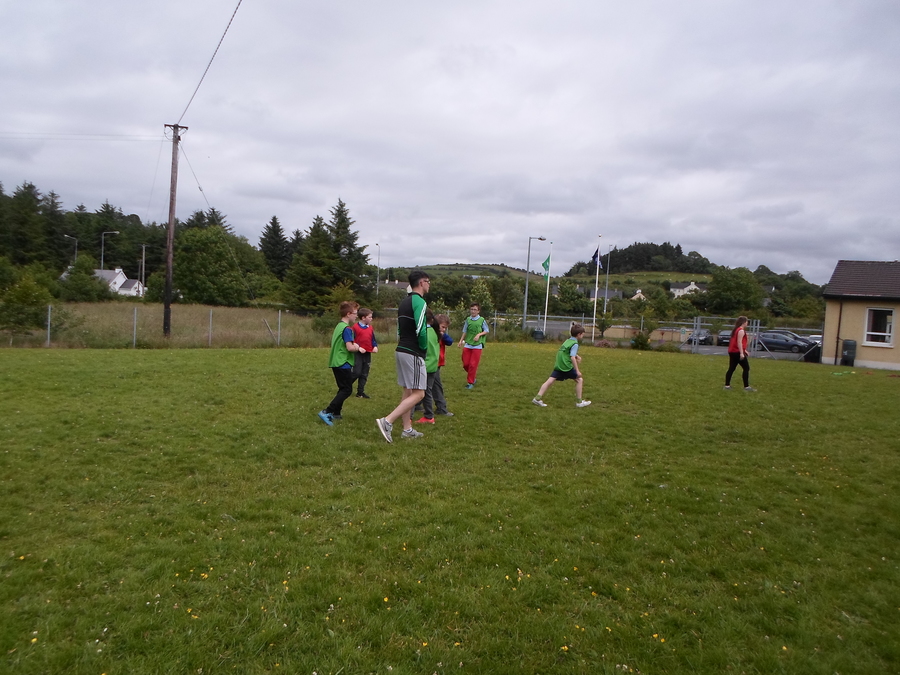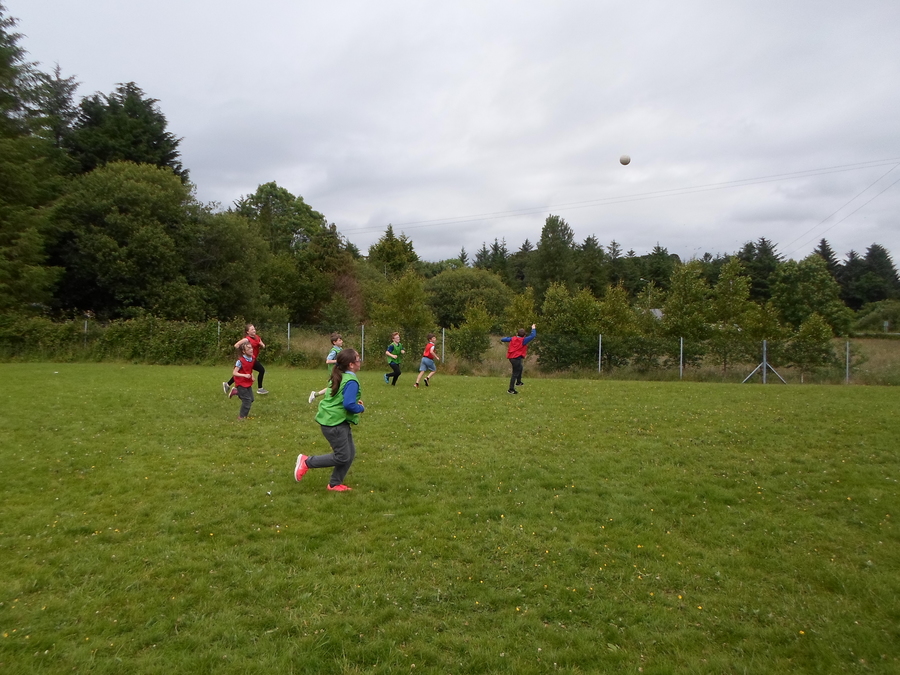 21st June 2017
Today as part of Active School Week we had Jiving with Geraldine Thomas in the morning and in the afternoon we had Dance with Sarah Gillespie. We also had games outside all day.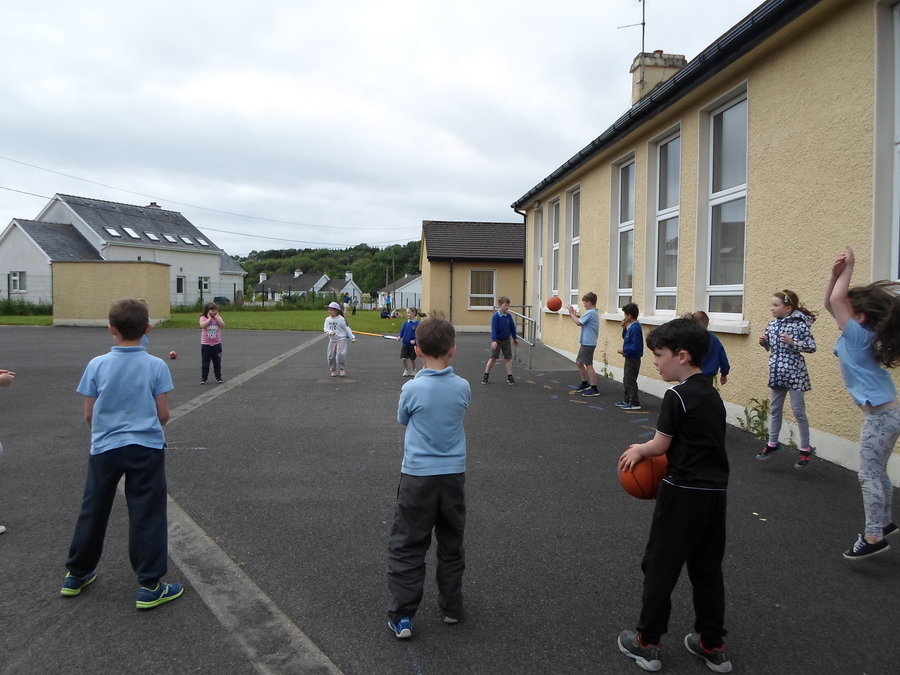 20th June 2017
We had the raising of our recently awarded Green Flag and Active School Flag today at the school. Family members & friends joined us at the school to celebrate the raising of the flags, it was a great achievement for such a small school to get both flags during the same school year. It took a huge effort from the children, parents and staff to secure both flags & we thank all involved for their hard work. We completed the Travel Theme for the Green School Flag & the Dance Theme for the Active School Flag. Three of our hard-working parents raised the Green School Flag, Bridgie Gallagher, Breege Haughey & Catarina Dullea - these three parents co-ordinated the 'Park & Stride Walk to School' project all year for us, thank you very much girls. Local man, Michael Naughton who is the manager of the very successful Donegal GAA Ladies County Team raised our Active School Flag, thanks very much Michael, it was an honour to have you.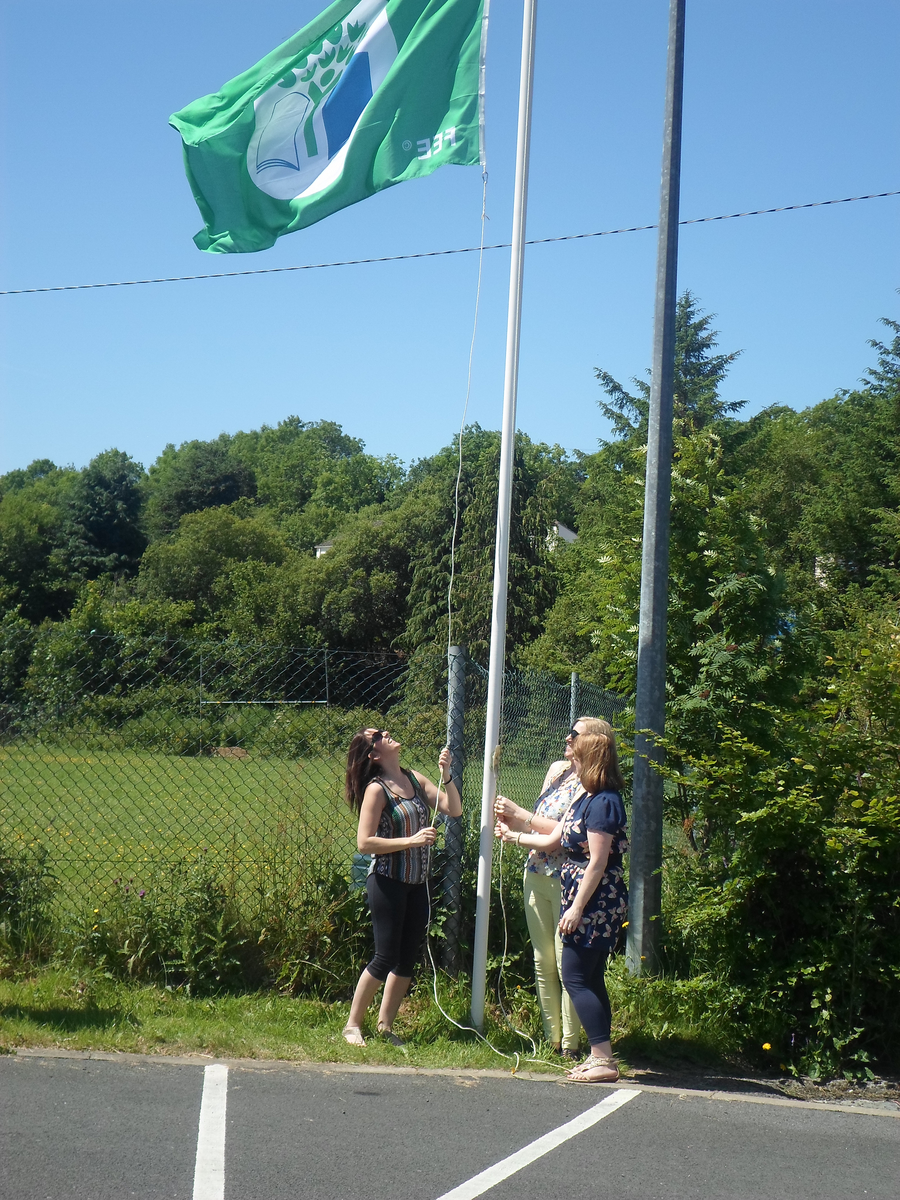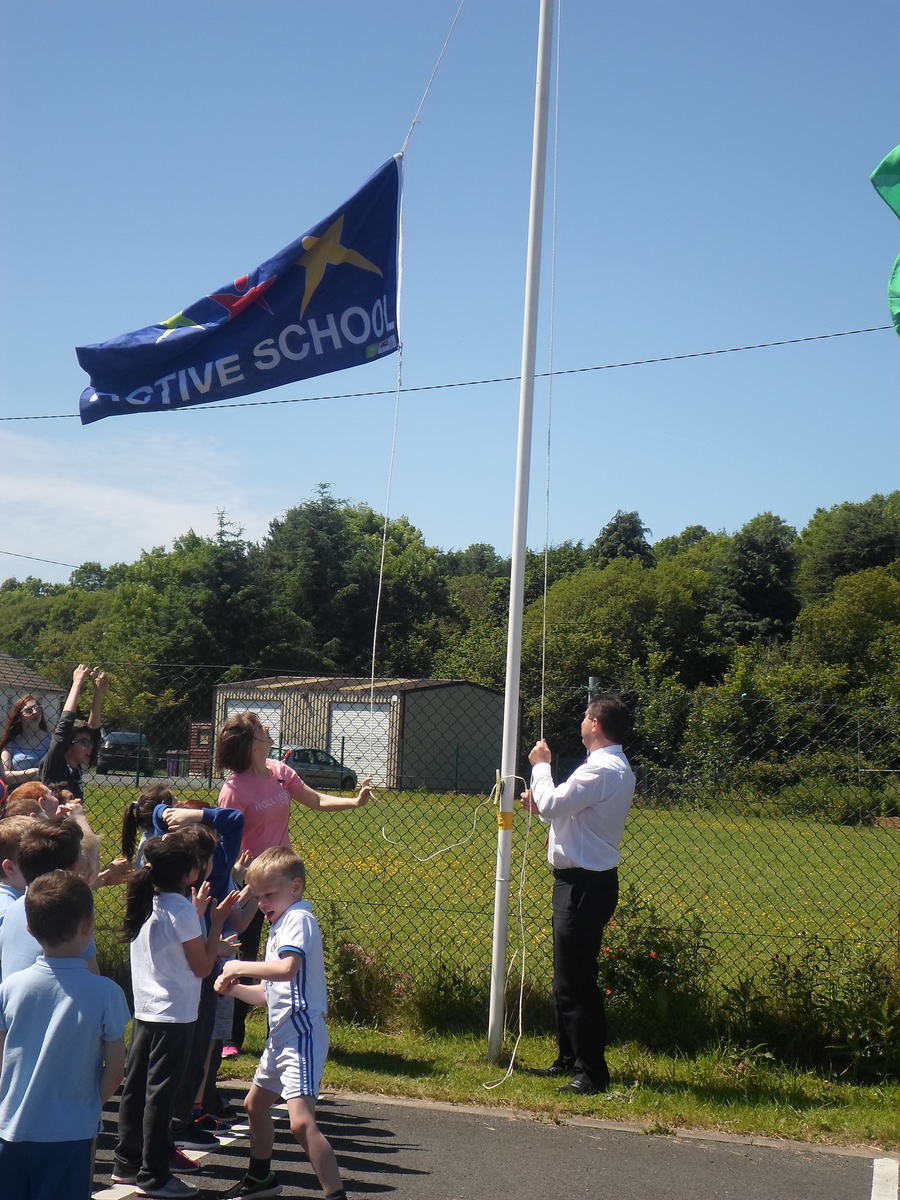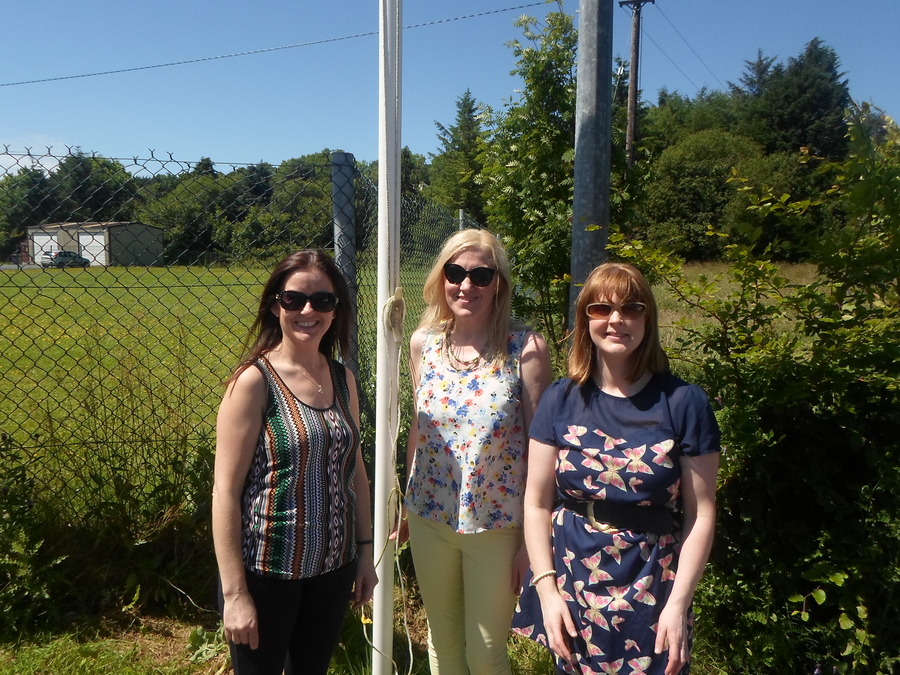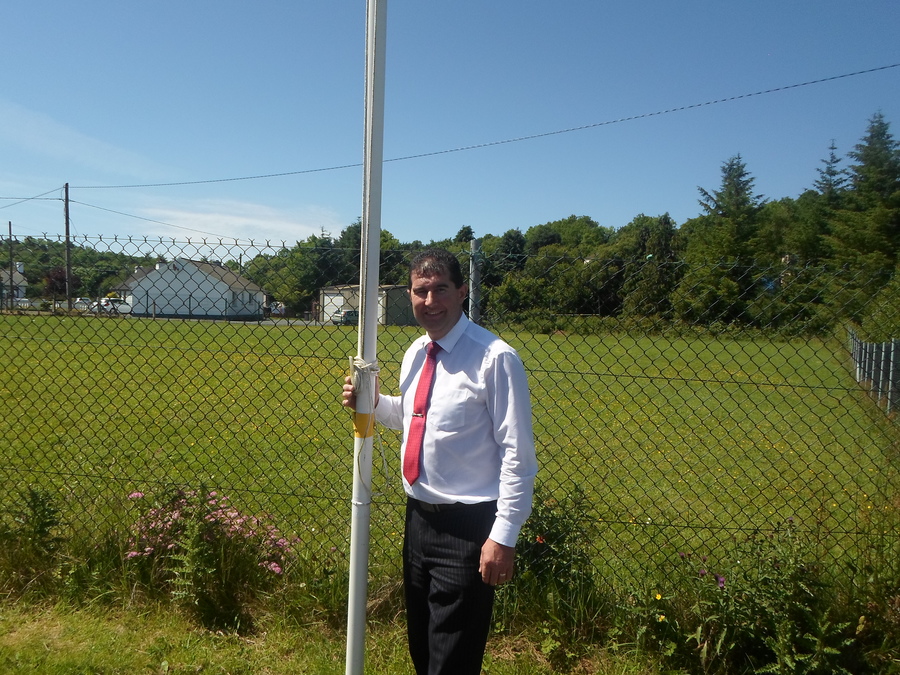 Afterwards we had our Dance Competition which was part of our Active School Dance Theme. We had various dance routines rehearsed over the past few weeks and our judges had a hard time picking the winners. Well done to all the children for perfecting their fabulous routines.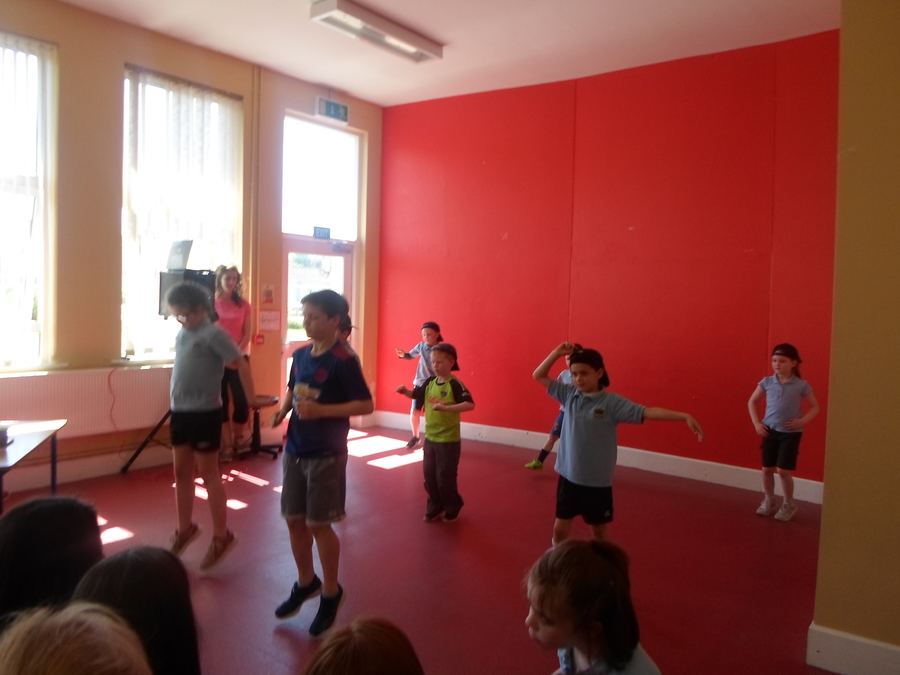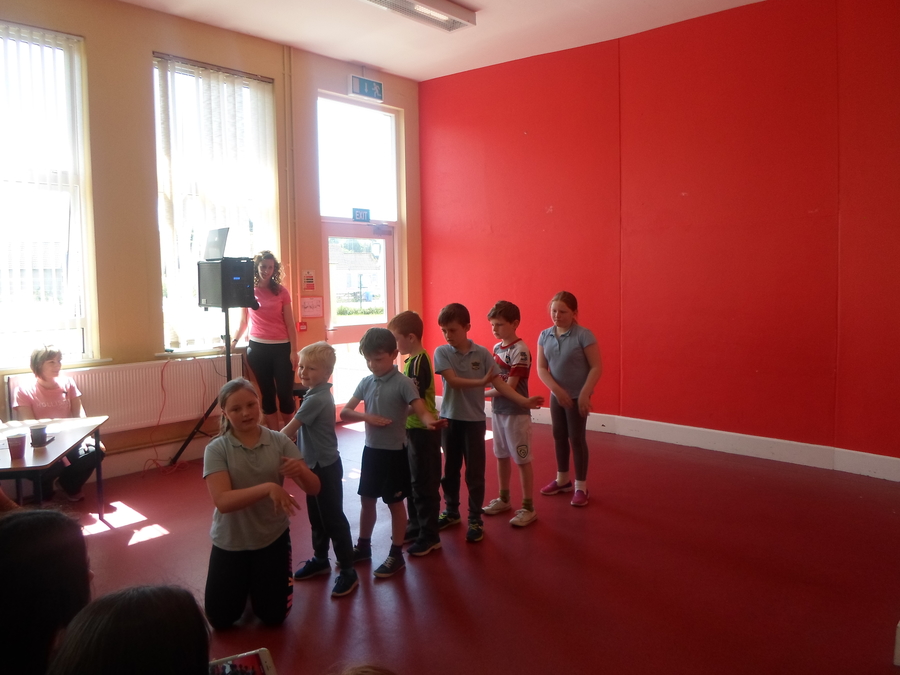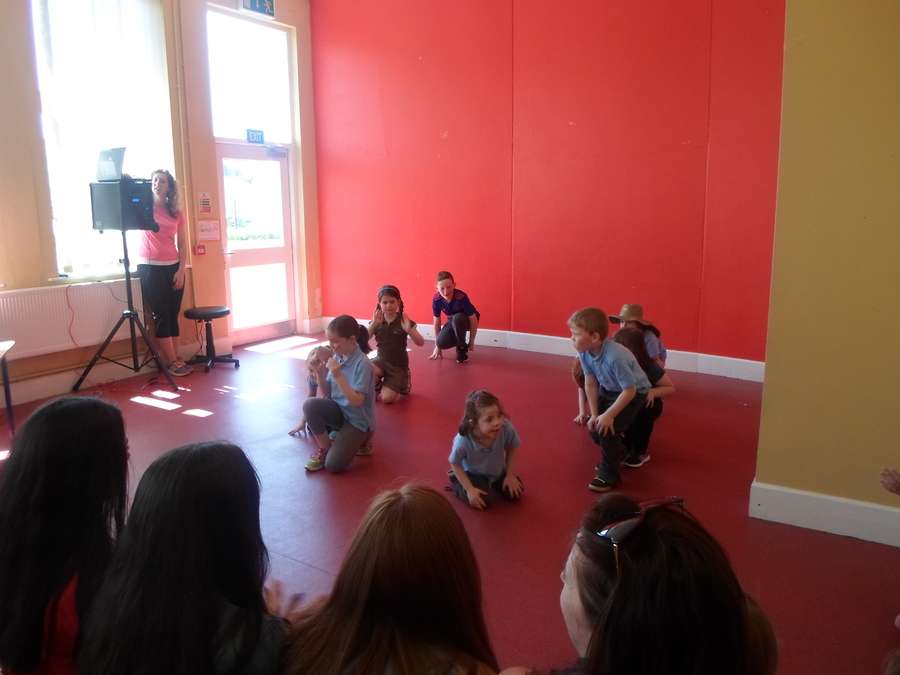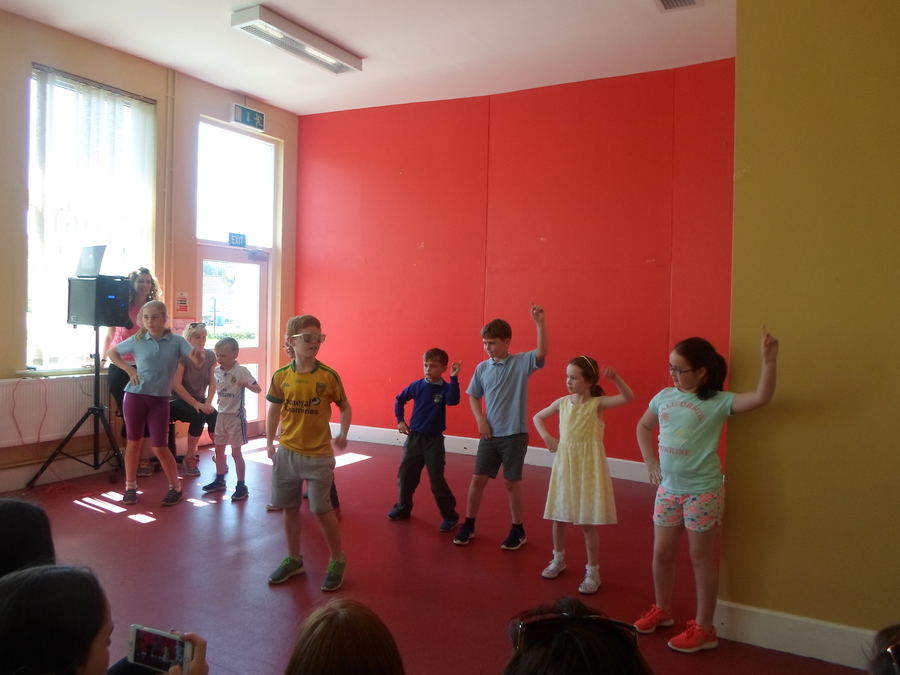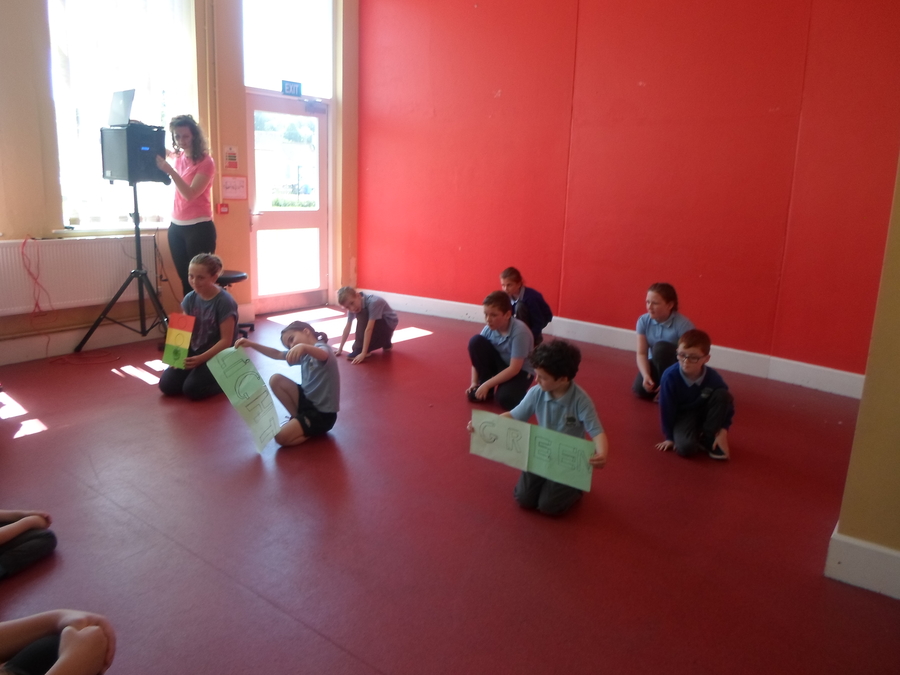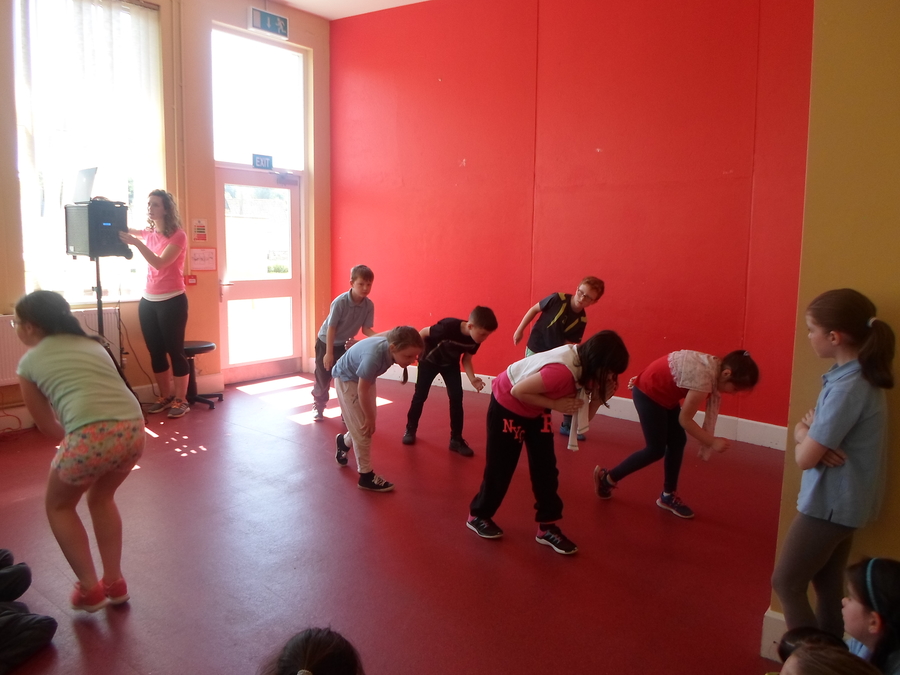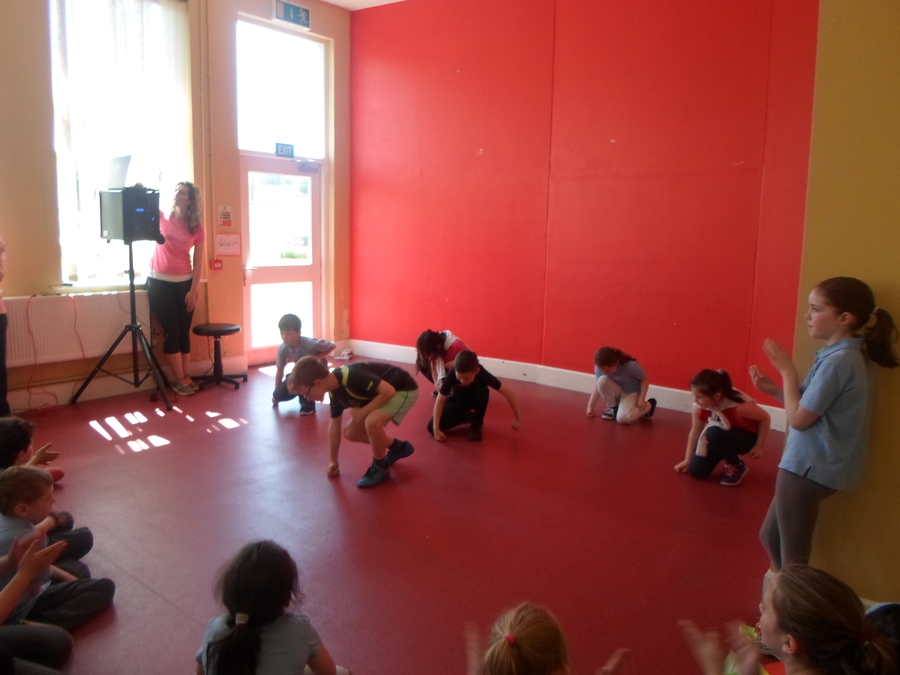 Today was also Sports Day at the school, our parents and families came in to see us competing in the various races and sports, we even had some parents participating. A fun day was had by all & the sun shone all day. Thanks to the Parents Association for organising the refreshments afterwards.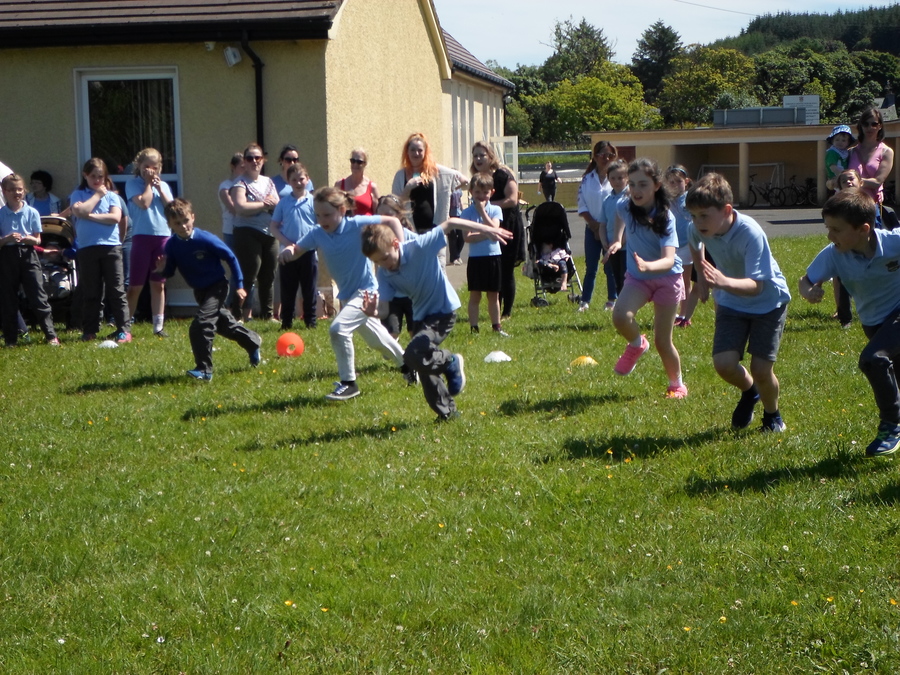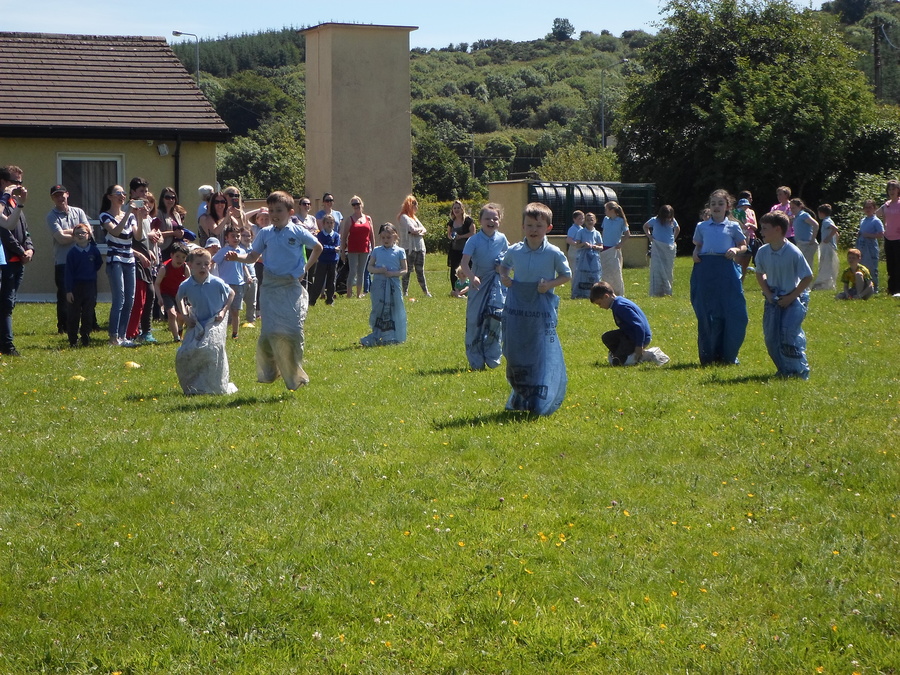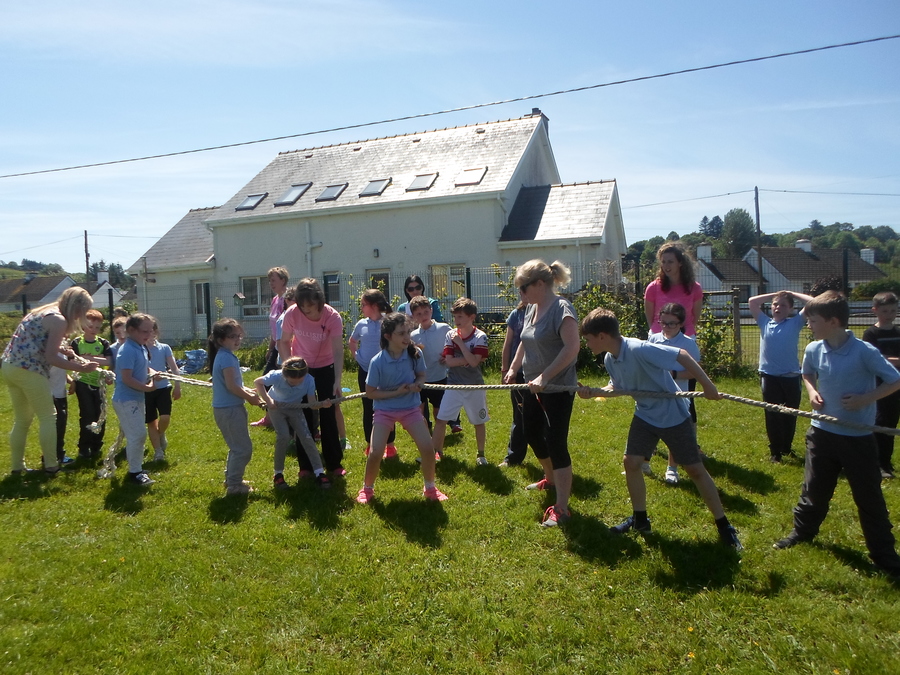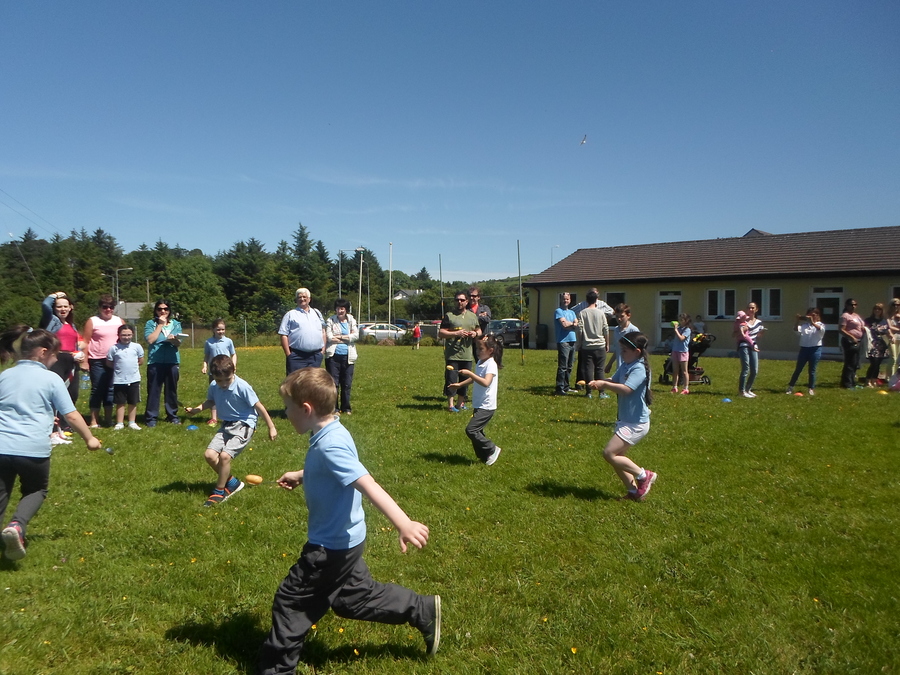 19th June 2017
We had our School Tour today.
Junior Infants - 2nd Class went to Century Cinema & Play in Letterkenny. They saw a film & had a treat, then went to the fabulous indoor play area for almost 2 hours and afterwards had a lovely meal in the restaurant.
3rd - 6th Class went to Todds Leap in Ballygawley where they participated in some fun outdoor activities including Zip-line, Climbing Wall, Bungee Trampoline, Giant Swing, Rodeo Bull, Bungee Run & Body Zorbing.
Both groups had a great fun day away.
16th June 2017
The senior room took part in a GAA Blitz in Pairc Naomh Brid today, it was organised by Brian Roper & Naomh Brid GAA Club. All 3 schools from the parish took part and the teams were made up of a mixture of players from each school. County player, Hugh McFadden also attended much to the childrens delight. There was some great football played & great skill on show. Everyone there was impressed by the standard of play and in particular with the girls progress. All the children had a great day and enjoyed meeting the children from the 2 other schools. A huge thank you to Brian Roper & Naomh Brid GAA club for hosting the event.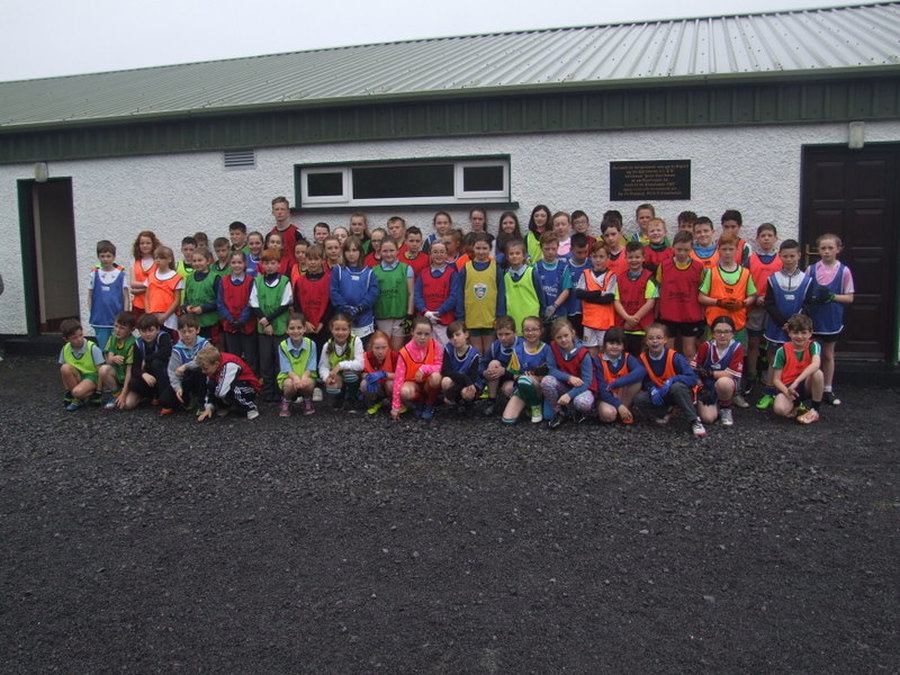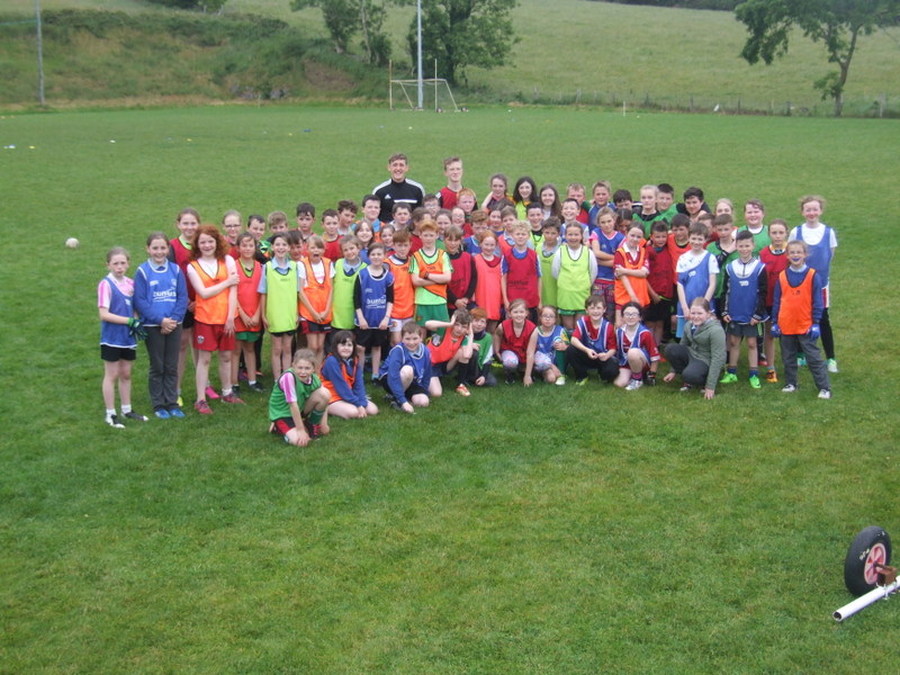 17th May 2017
Today we started our jiving lessons with dance teacher, Geraldine Thomas. We will have 4 lessons in total & will be great jivers when we're finished. All the boys and girls teamed up in partners and had a great time, Geraldine says we have some great dancers here!!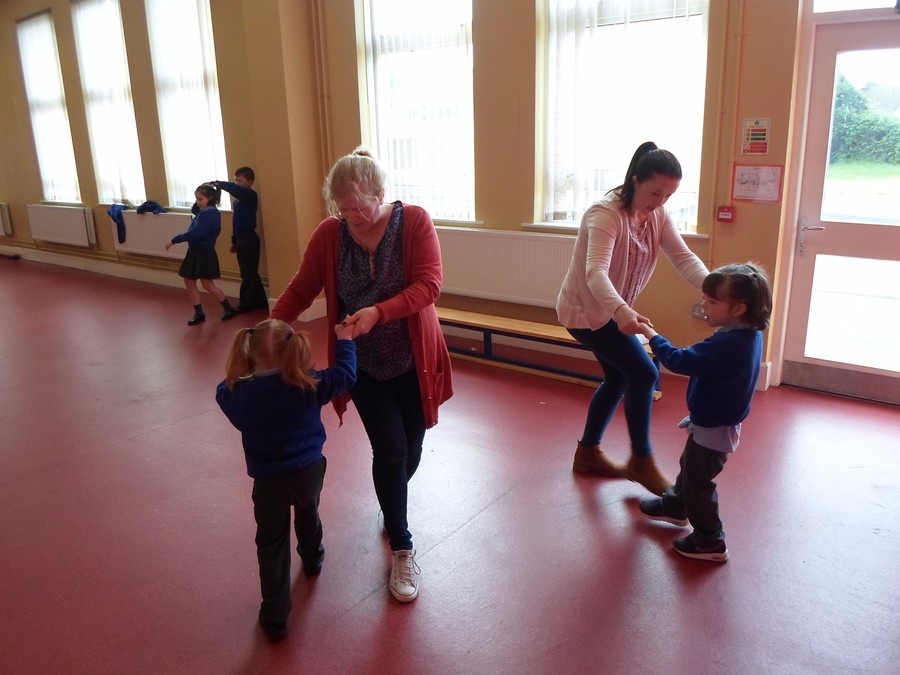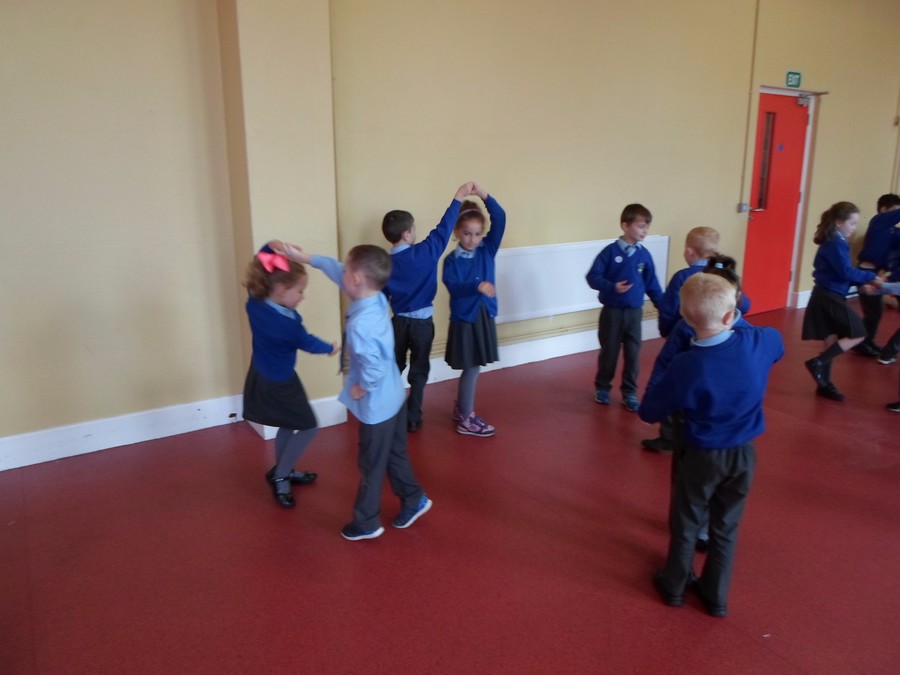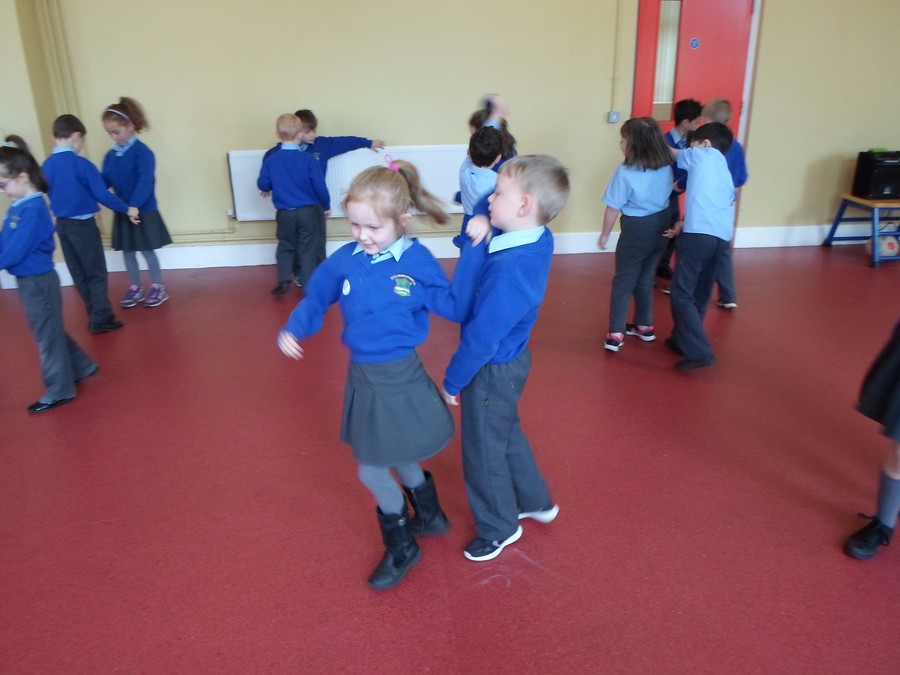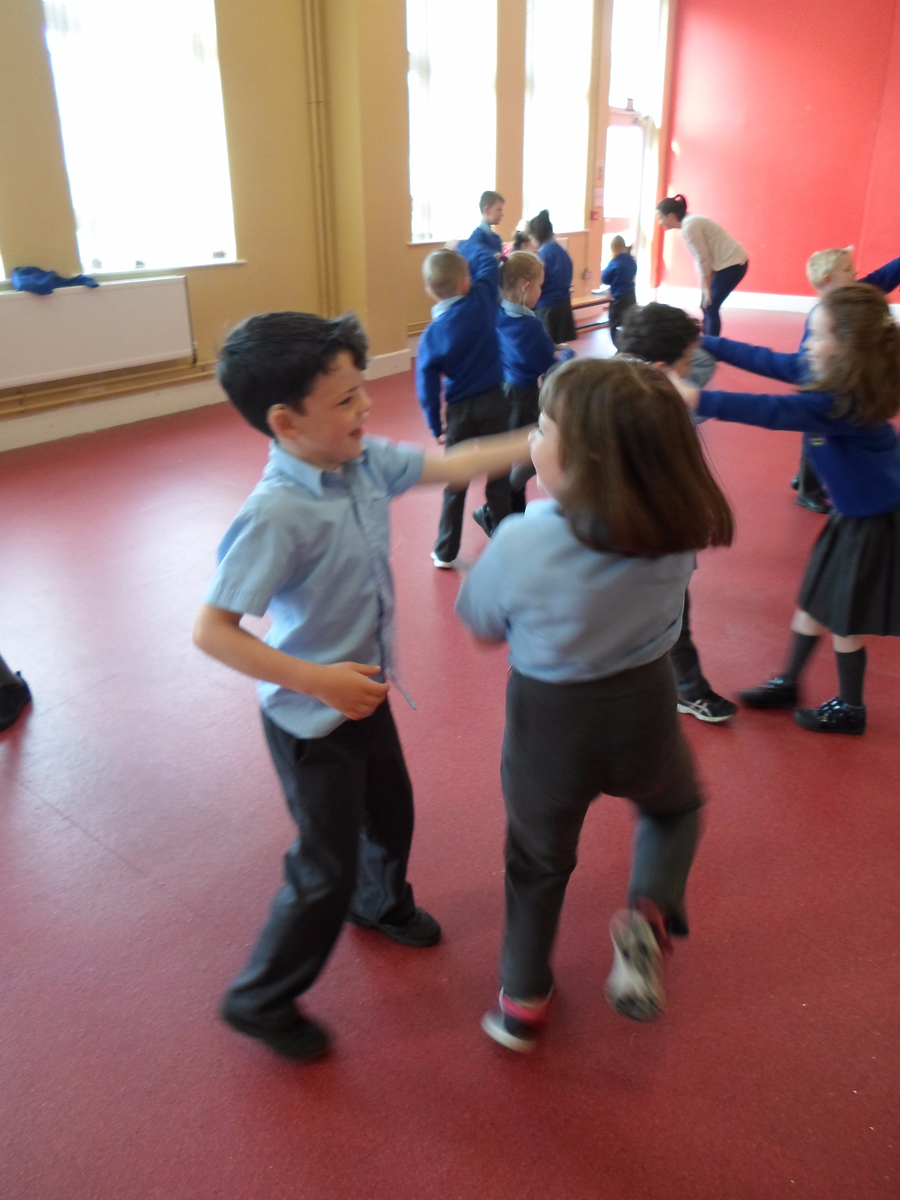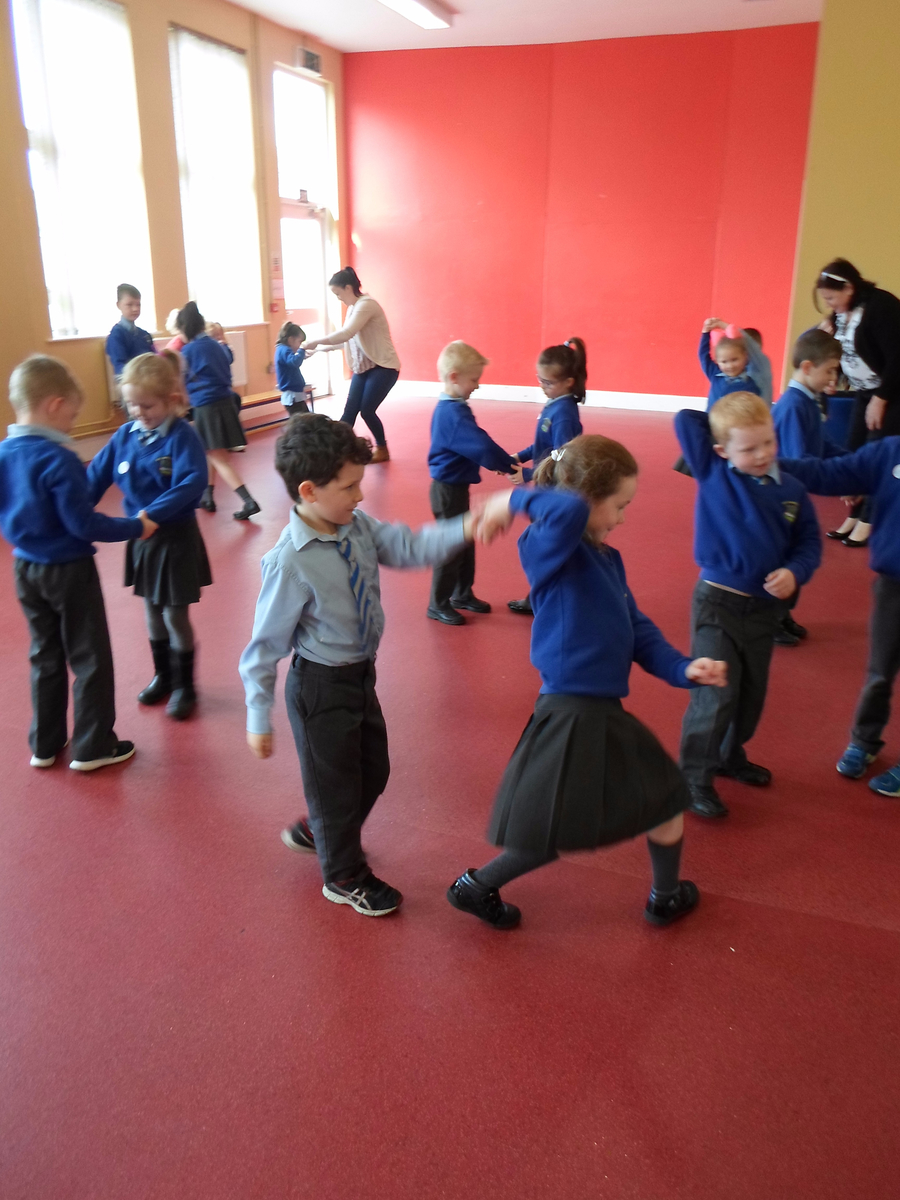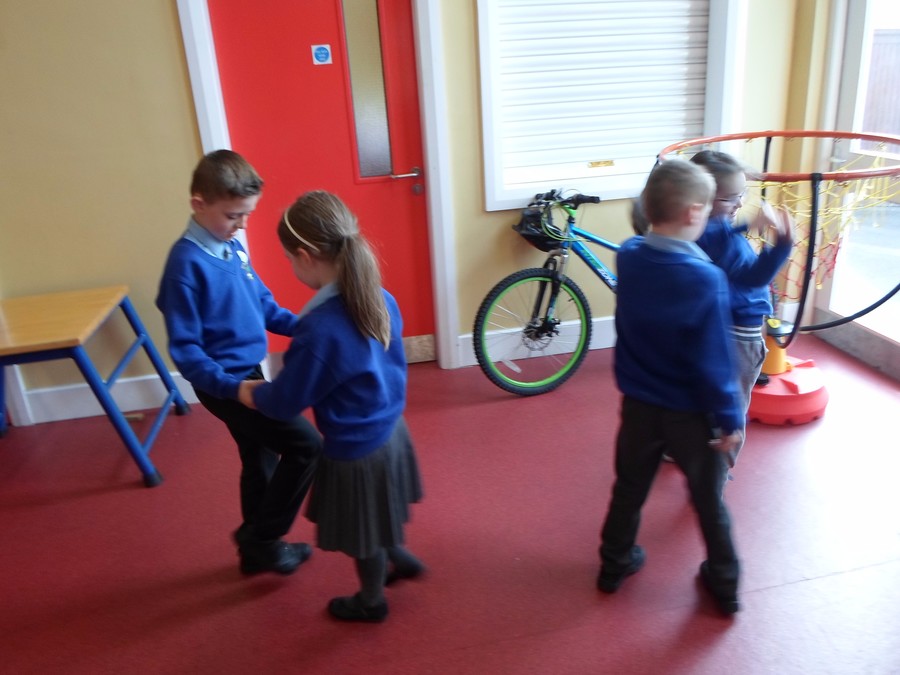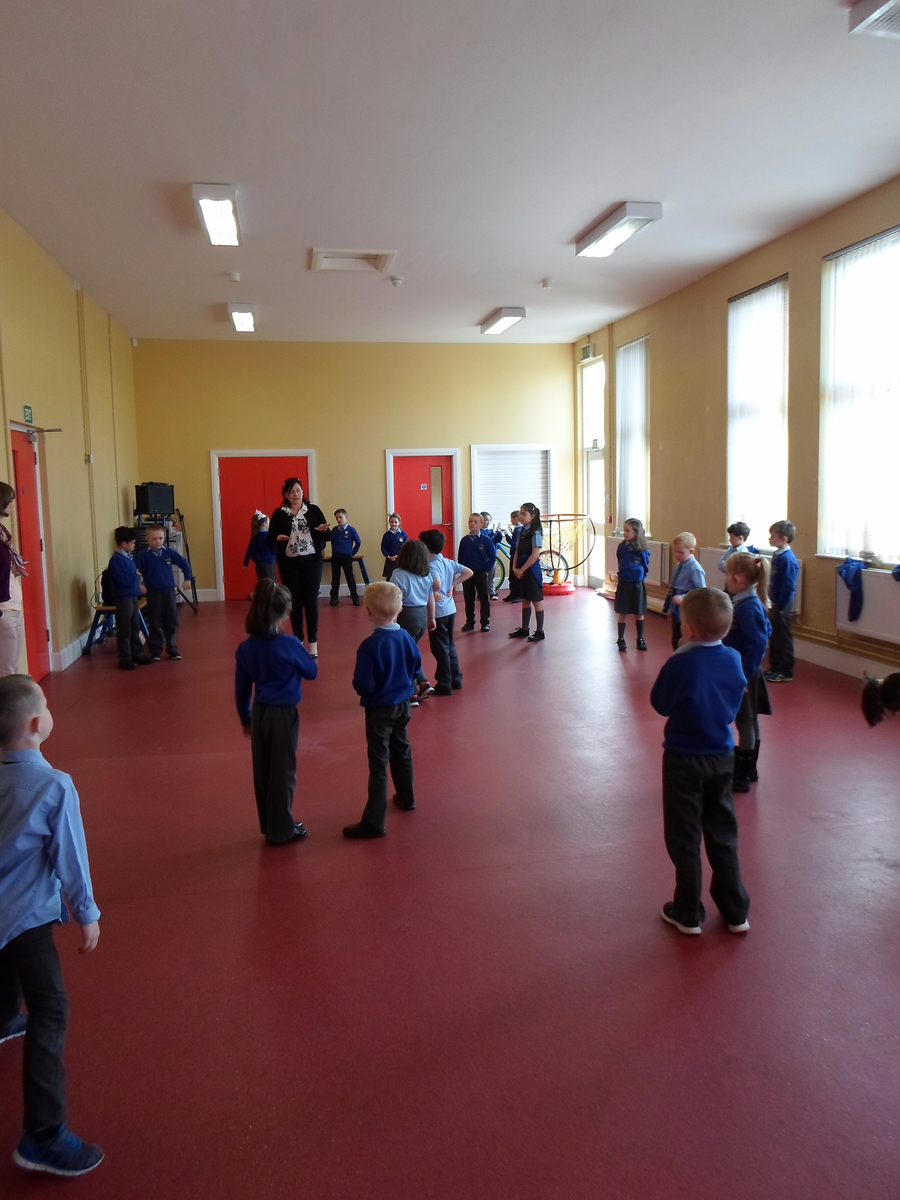 12th May 2017
The senior room took part in the Primary Schools Athletics competitions today in the AVS, Donegal Town. A total of 23 children went to represent our school in a variety of track & field events. The boys relay team just missed out on a medal after coming in 4th in the final. The following children also came very close to a medal with these results: Niamh Walsh came in 4th in the shot-put competition, Liam Gallagher came in 4th in the 100m final, Eoghan Gallagher & Oisin Brogan both came 4th in their 600m heats, Noah Prevost came 4th in his 100m heat & Ann Marie Gallagher came 3rd in her 100m heat.
However, we did manage to bring home three medals to the school: Liam Gallagher did brilliantly to come in 1st in the boys 800m race & brought his Gold Medal back to St Eunan's while his brother Donal came in 3rd & collected bronze in both the 100m race and the 60Om race. Well done to all who competed in the competition. Our school did very well given that there was 20 schools partaking in the competitions.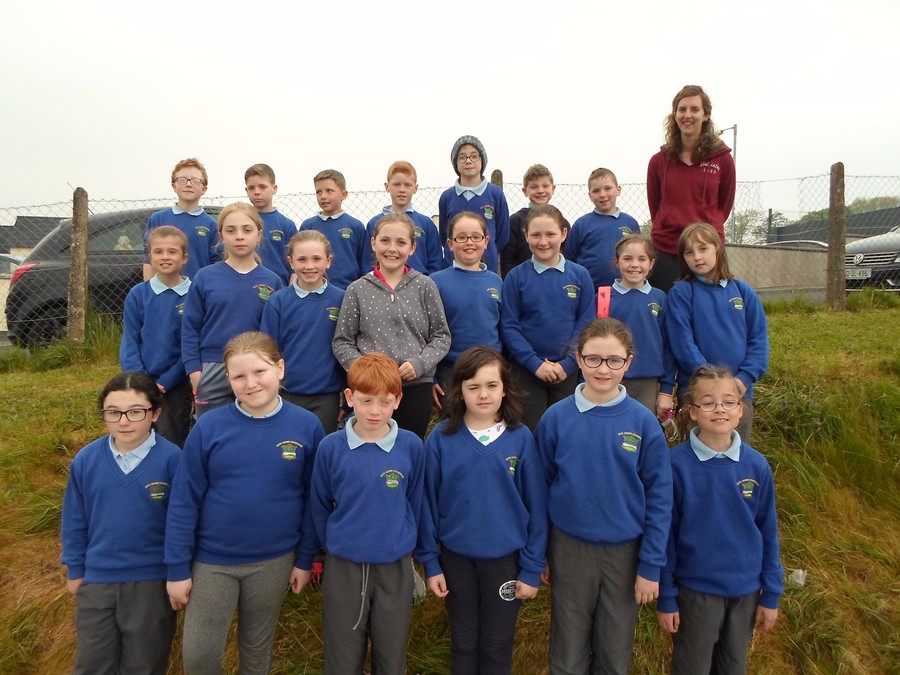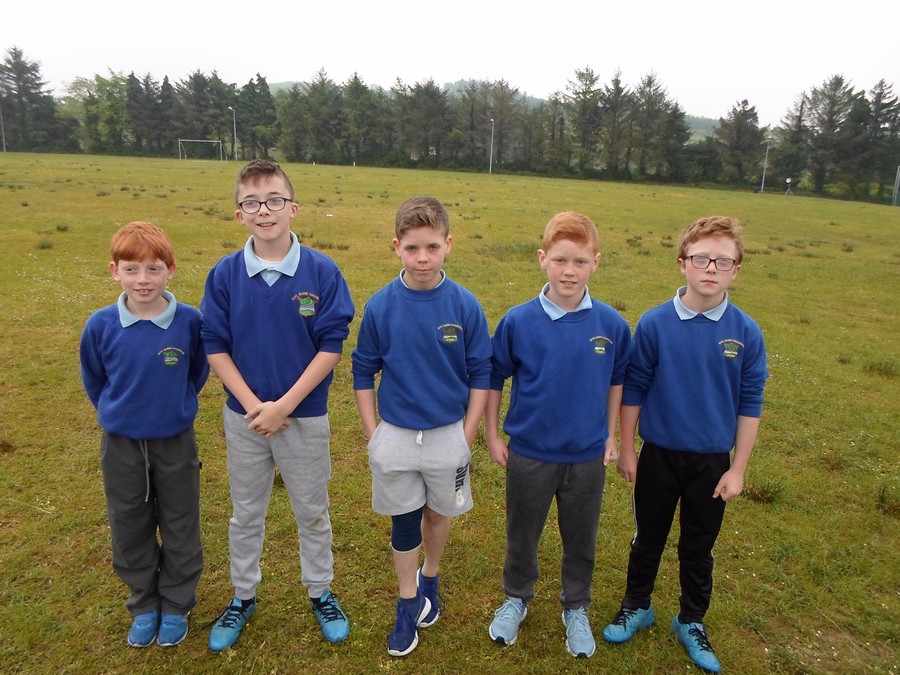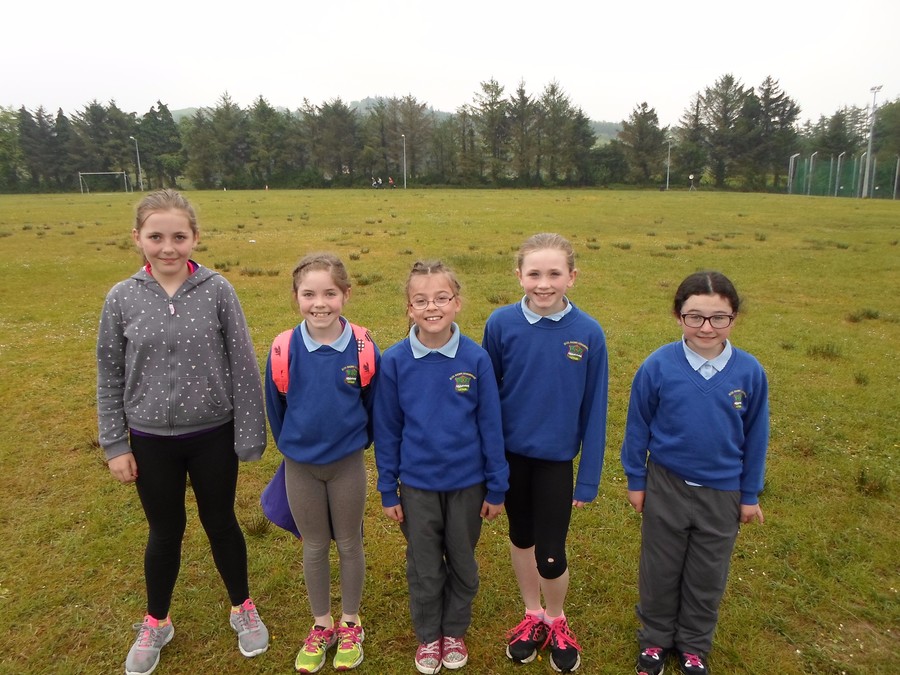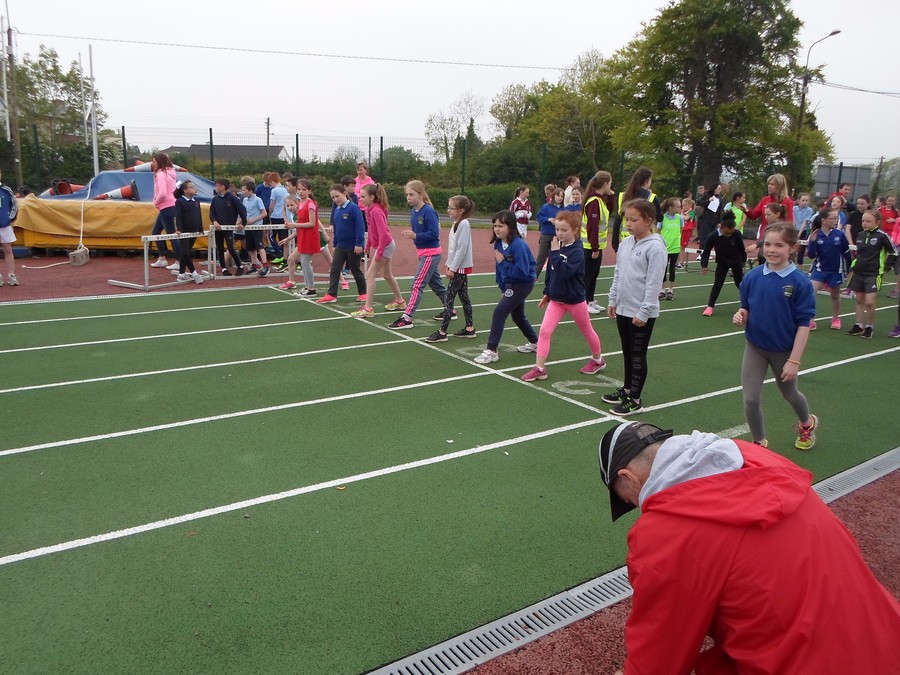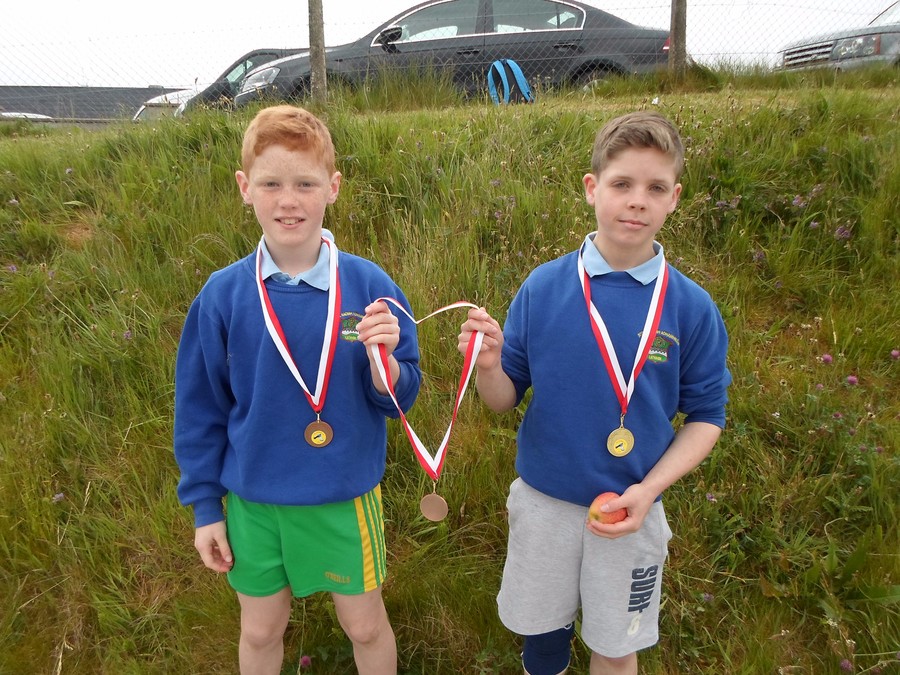 5th April 2017
Next term we are looking forward to starting new initiatives in school which are:
1) Fit for Class
2) Golf Lessons
3) Jiving lessons
4) PAWS programme
5) GloHealth School Mile Challenge in association with Athletics Ireland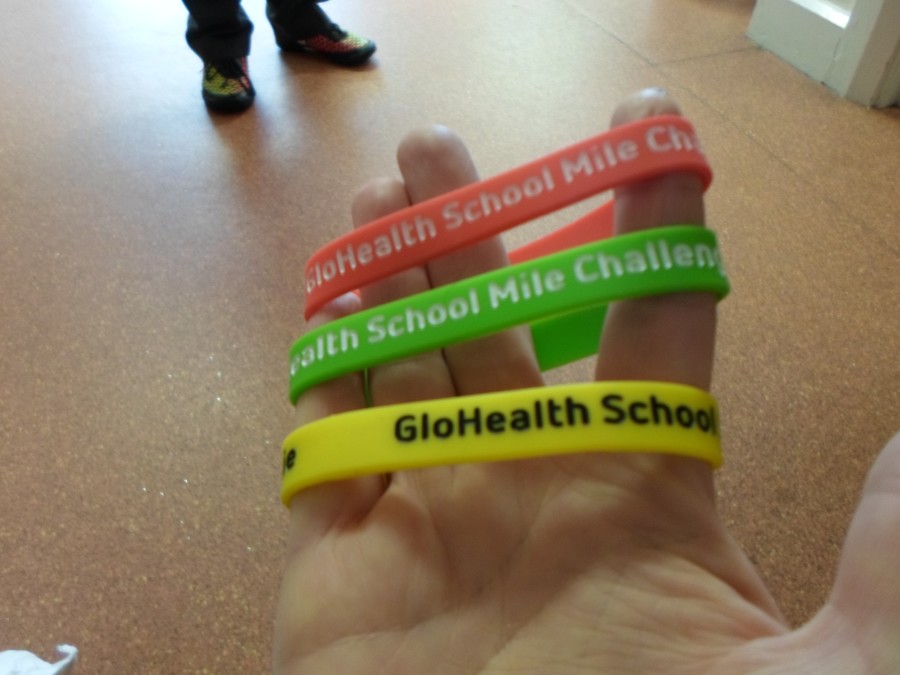 3rd April 2017
Today the senior room pupils started their 'Cycle Training' programme with Mary from CycleRight. We will have 4 training days in total. Today we just done theory in our classroom. We learned about cycling safely, keeping our bikes in a safe condition, rules of the road and wearing the correct HiVis clothing while out cycling.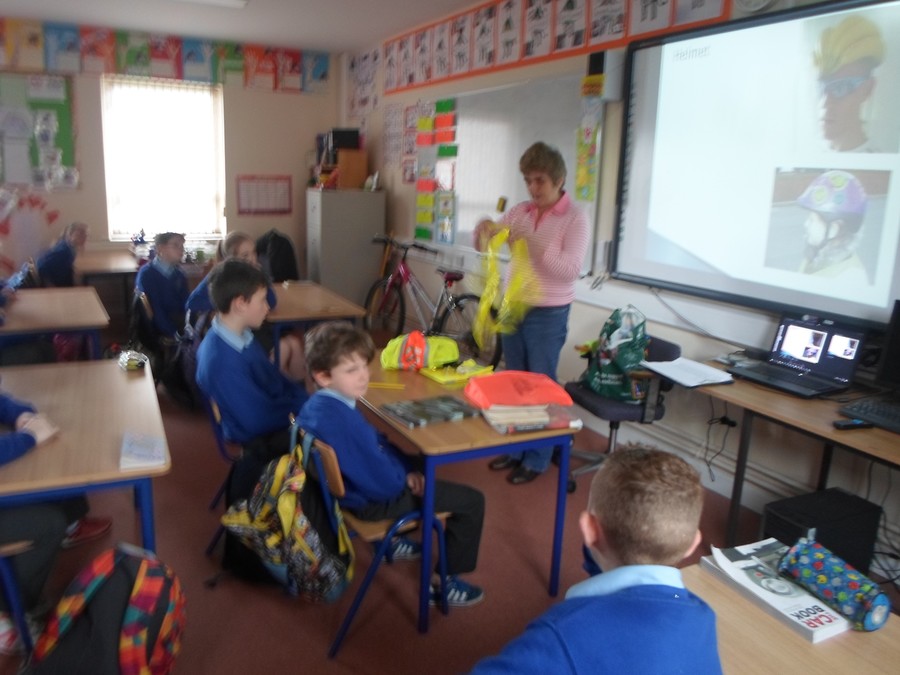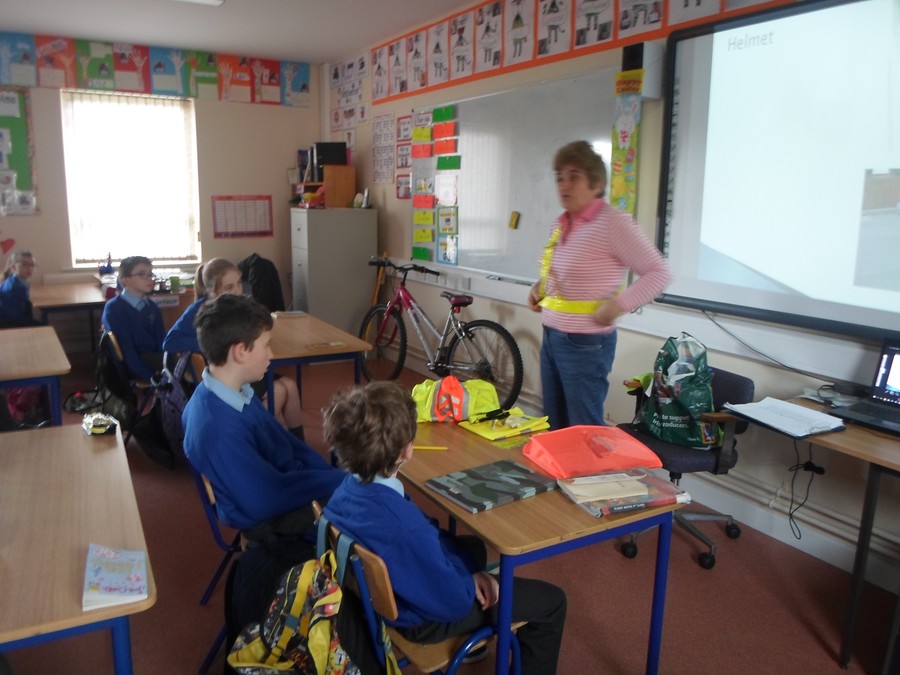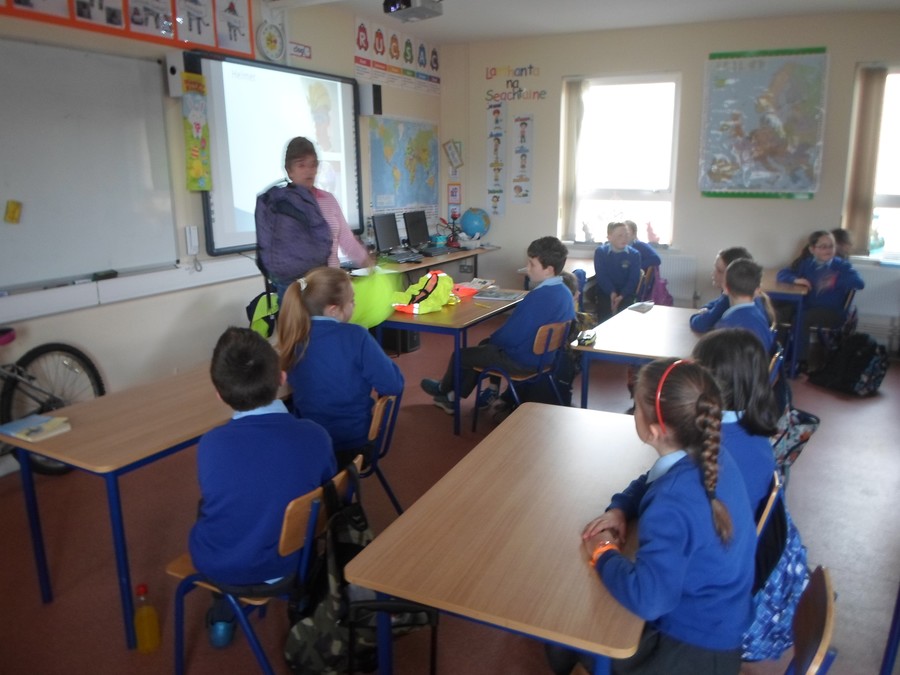 31st March 2017
We have completed our 'Map my Run' activity today. We have collectively ran the same distance as it is from Donegal - Cork - Dublin - Donegal. That's a lot of kilometres that we clocked up since we started. Well done to all the pupils on completing this amazing activity as part of our Active School initiative.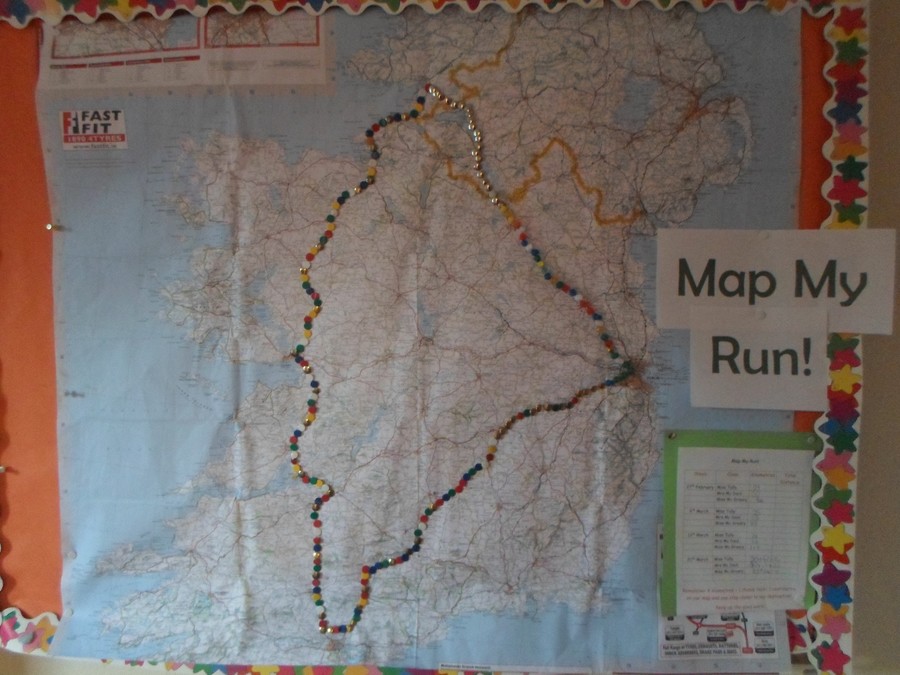 30th March 2017
The pupils in the senior classroom competed in a Rugby Blitz at Donegal Town Rugby club today. We travelled down by bus along with the pupils from St. Ernan's NS, Ballintra. We met up with Declan, our rugby coach and both the boys and girls played several games against the other schools. Many trys were scored and our school did very well at the blitz. We must have a flair for rugby in our school!!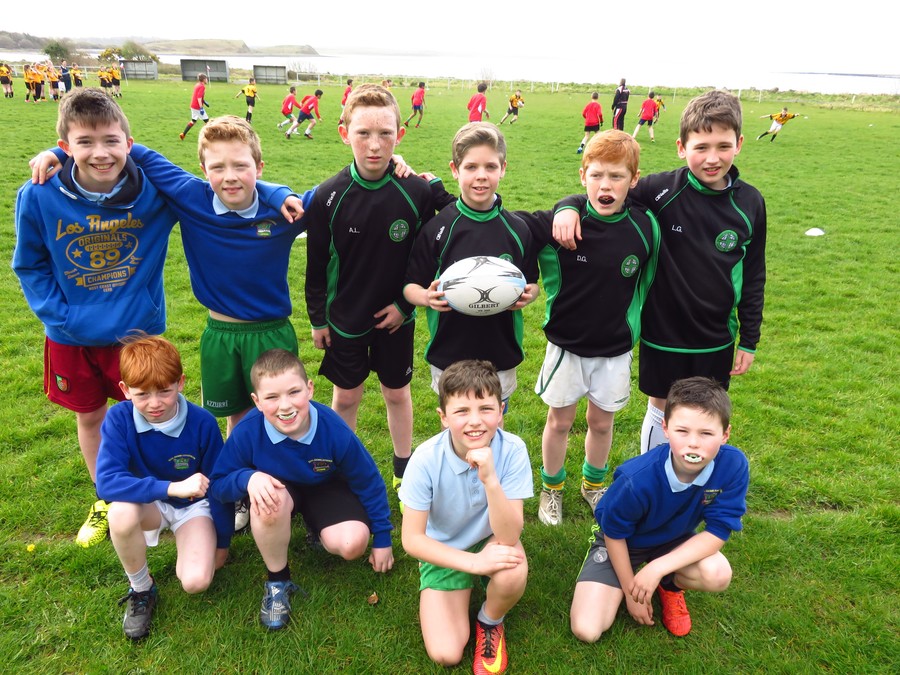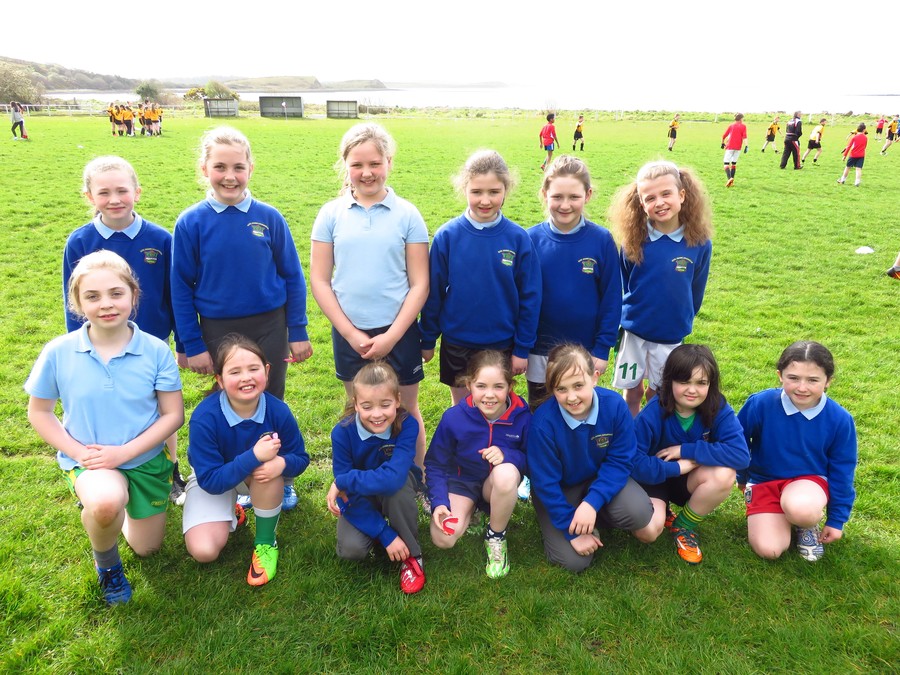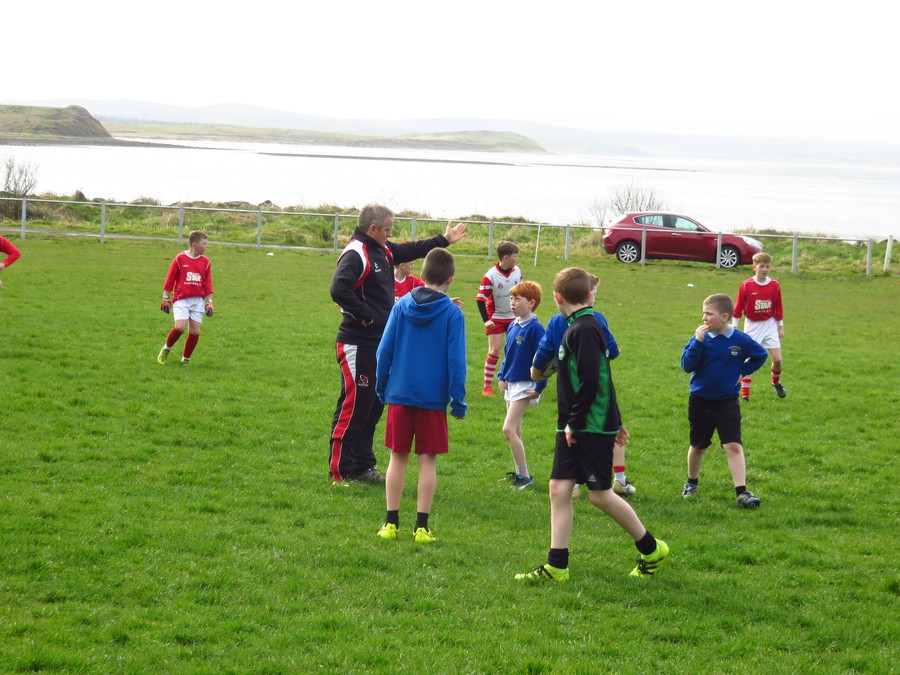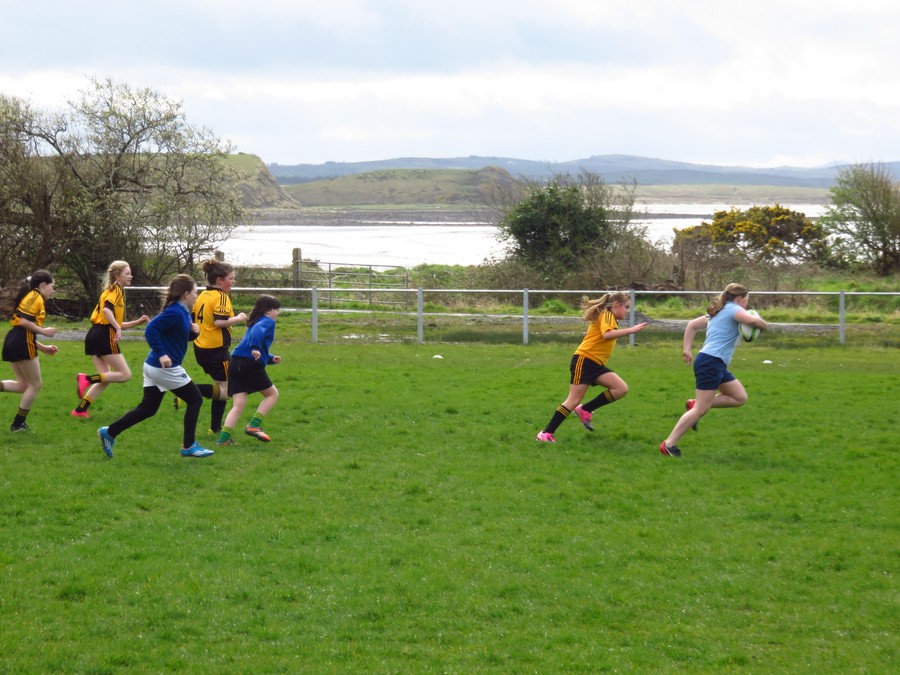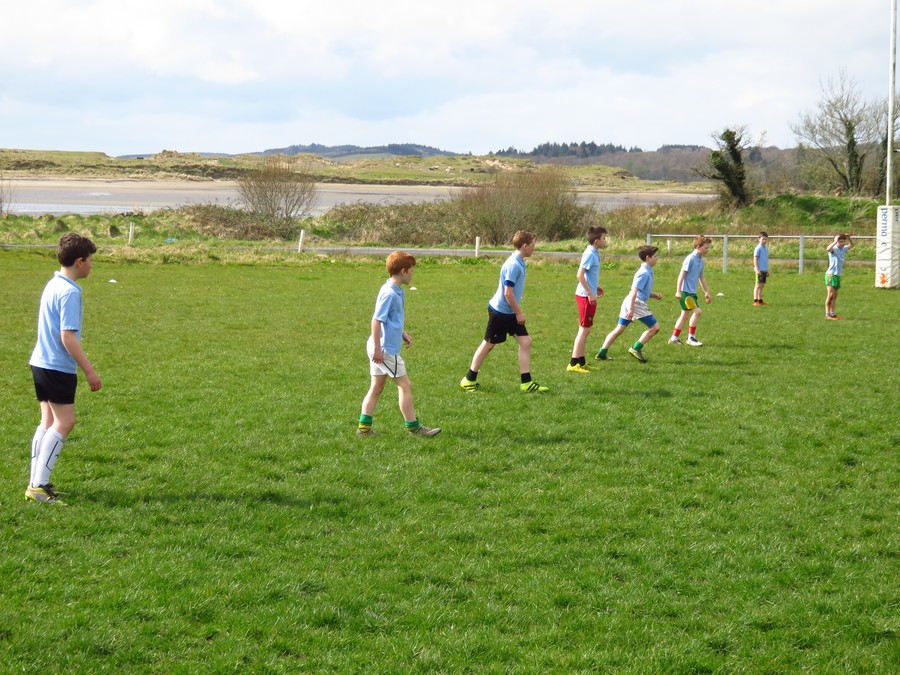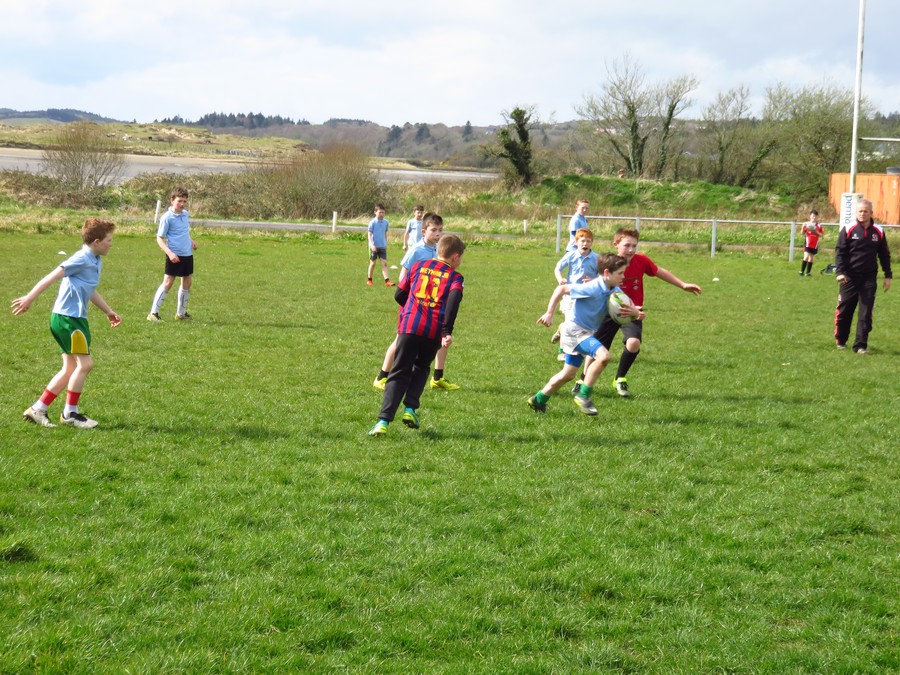 28th March 2017
Today the senior classroom competed in the GAA Cumann na mBunscoil competition. We had a boys team and a girls team entered. This is the first time in a number of years that our school has competed, we hadn't sufficient numbers until now. It's the first time that we ever had a girls team entered, years ago the girls played on the boys team. Both teams did very well, there was 3 other schools taking part in the blitz style competition which was held at St. Nauls GAA grounds in Mountcharles. The 3 other schools were St Peters NS, Mountcharles, Fintra NS and Glencolmcille. The boys won their final game against Fintra NS in great style. There was some great football played by both teams and they represented their school with great pride and honour. Following the blitz the referee agreed that Donal Gallagher should go through to be the school representative at the county Cumann na mBunscoil trials in Glenswilly on April 26th. We all wish Donal the best and hope that the selectors see what a talented young footballer he is & select him on their team. Here are the pictures of our two teams: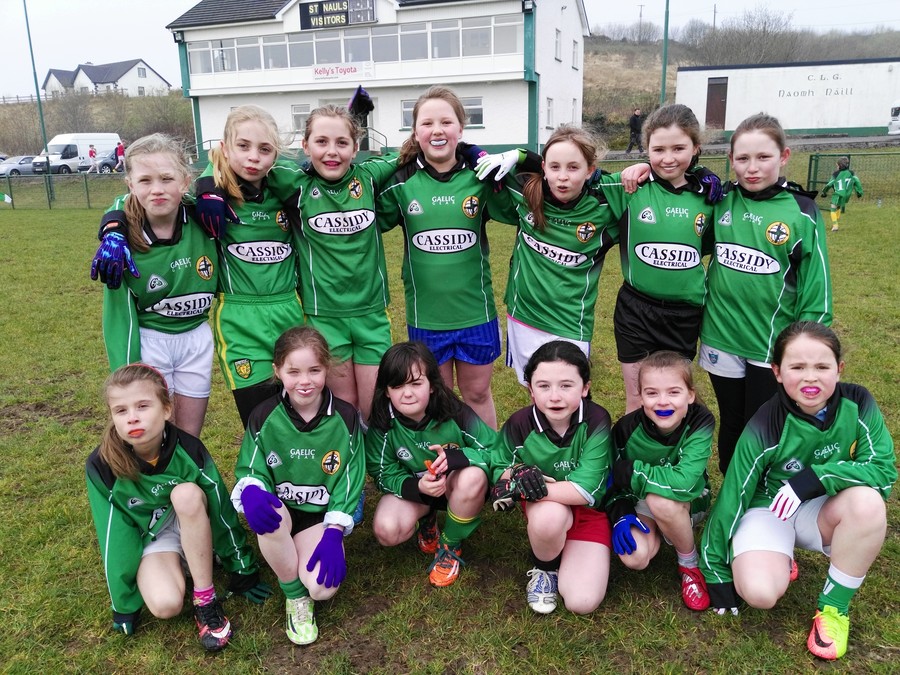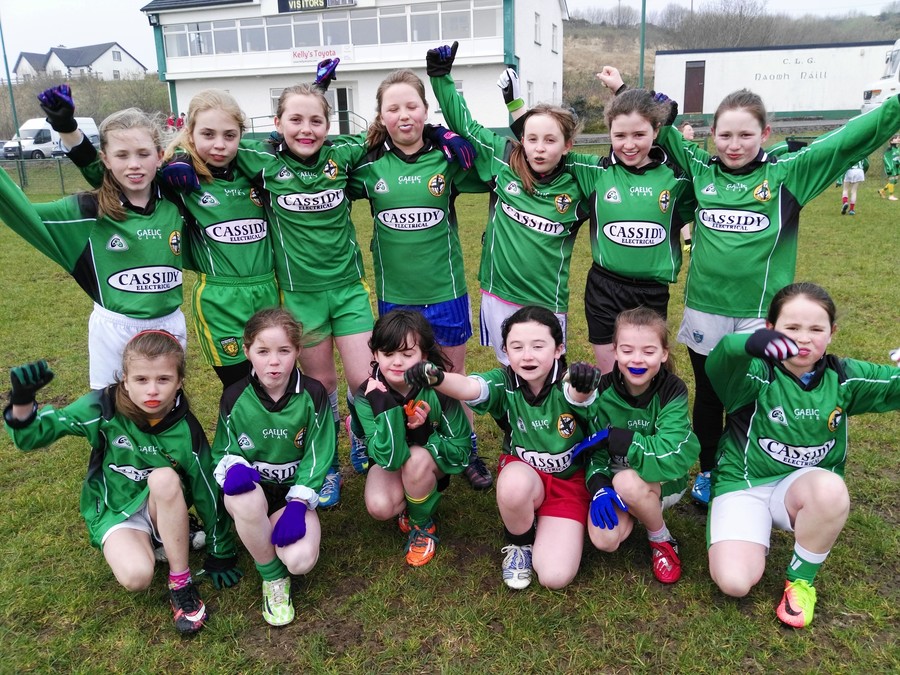 27th March 2017
We have now as a group walked/ran the same distance as it is from Donegal to Cork and onto Dublin on our "Map my Run" project. We are doing so well. Our next aim is to together clock up the distance it is from Dublin back to Donegal.
20th March 2017
Our "Map my Run" project is going very well, we have already all collectively ran/walked the same distance as it is from Donegal - Cork. We are now going to continue and our next aim is to reach Dublin on our map. Everyone in the school is enjoying this big challenge, it's great to track the distance we have travelled together on our big map.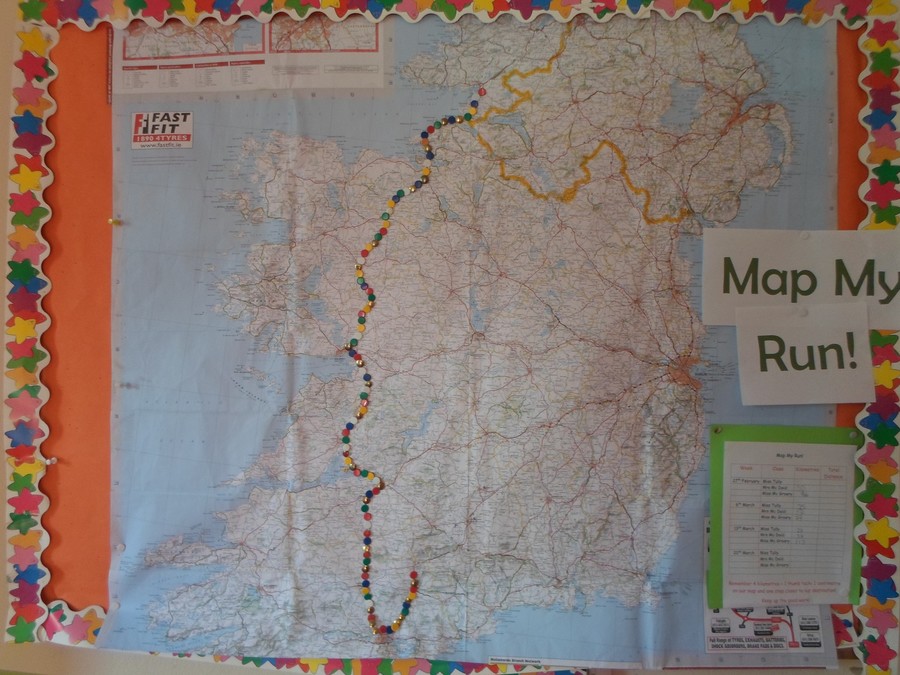 16th March 2017
Our school took part in the St Patrick's Day parade in Donegal Town. The weather didn't hold up but we braved the elements and sang all the way. Our theme for the parade was 'Donegal - the best place on the planet'. We highlighted all that is good about our own county through our imagery, floats and costumes. We have to say a huge huge thank you to all the parents who helped create a really impressive presentation on behalf of our school. Also thanks to all who walked with the children and helped supervise. Thanks to Daytona Transport for their buses that kept us all dry before the parade.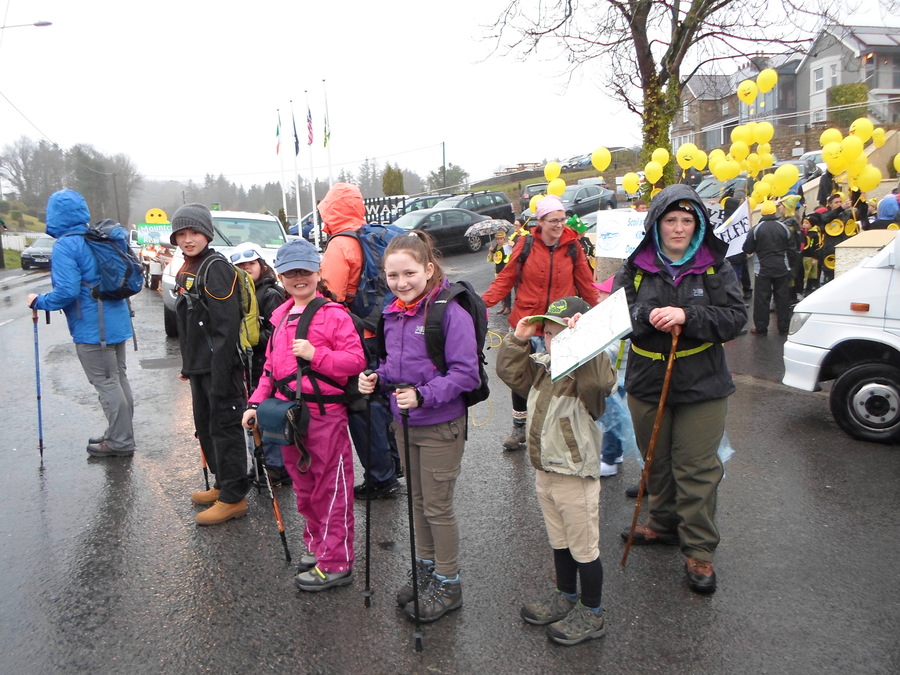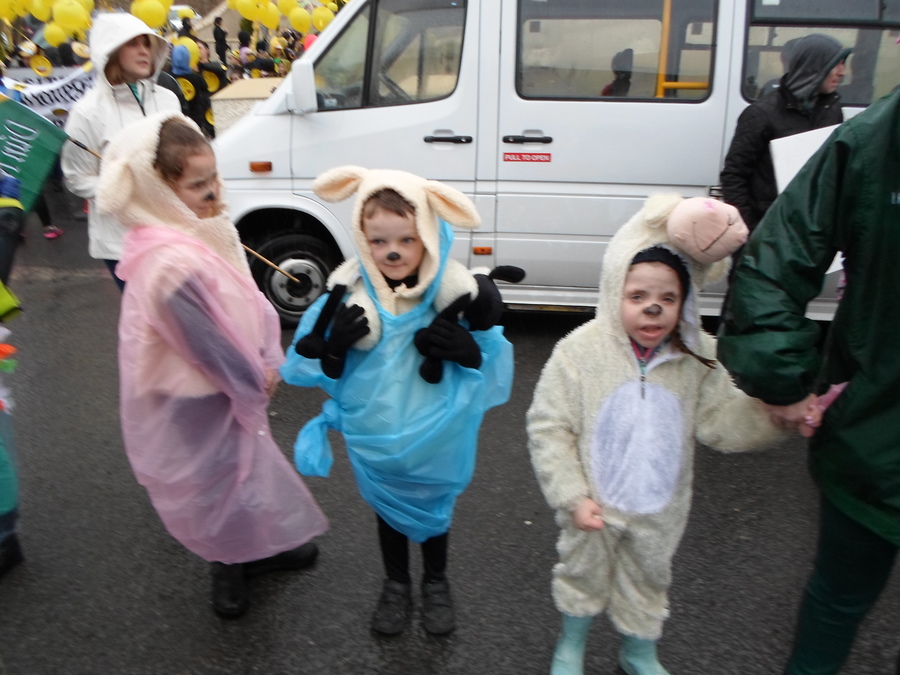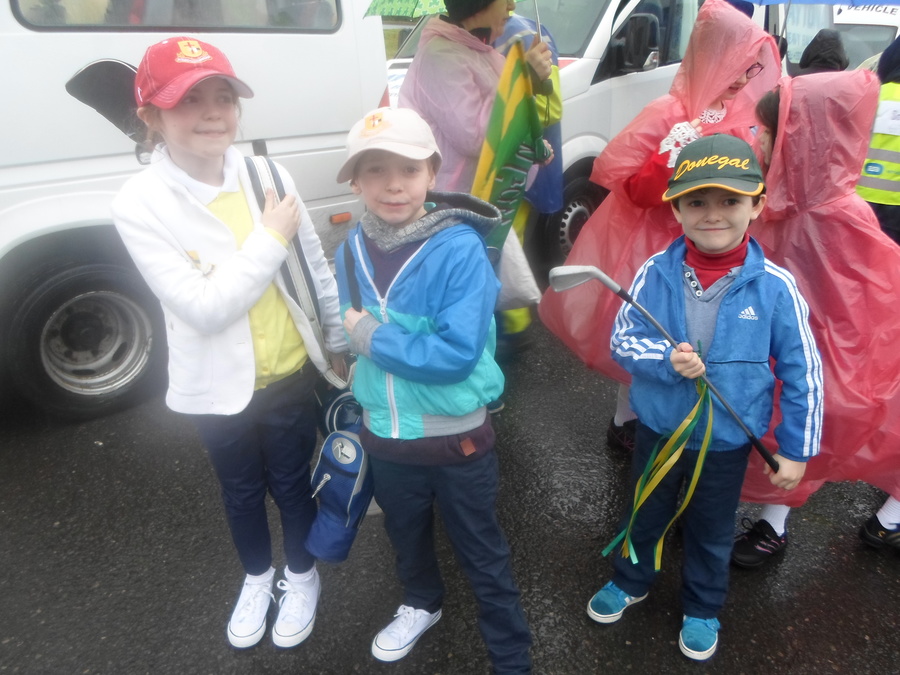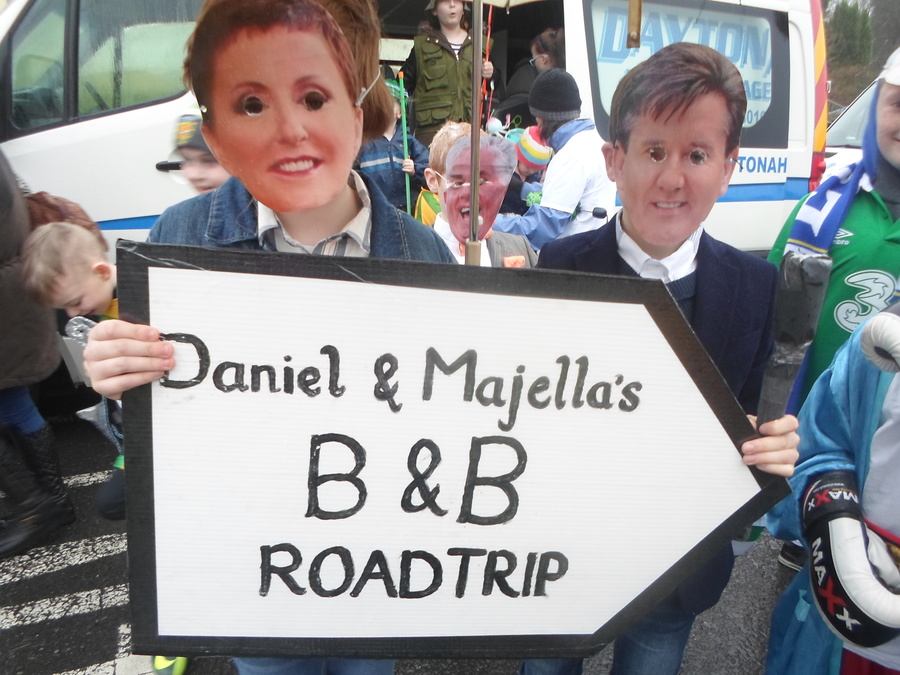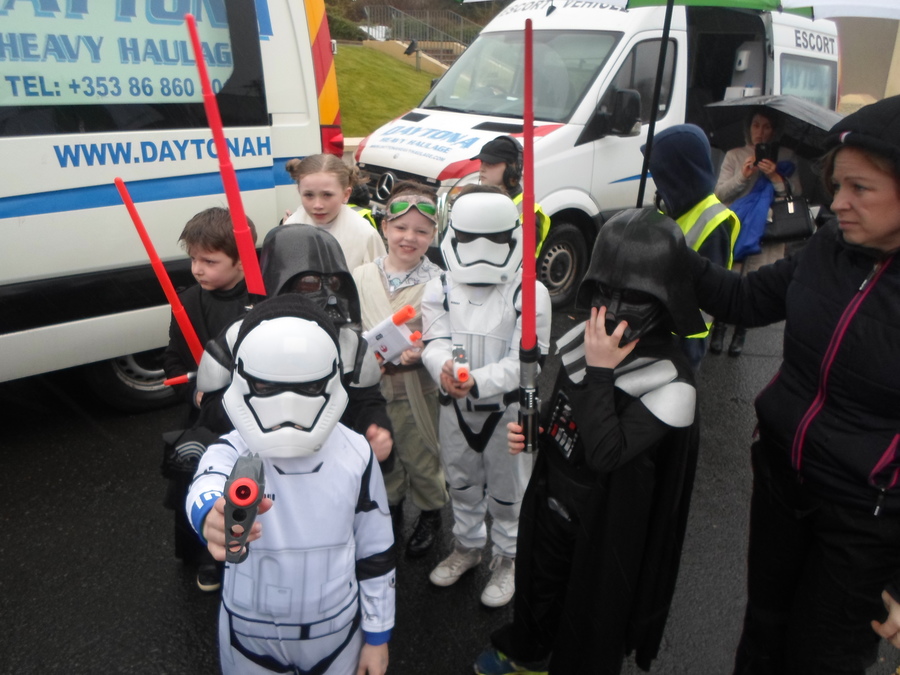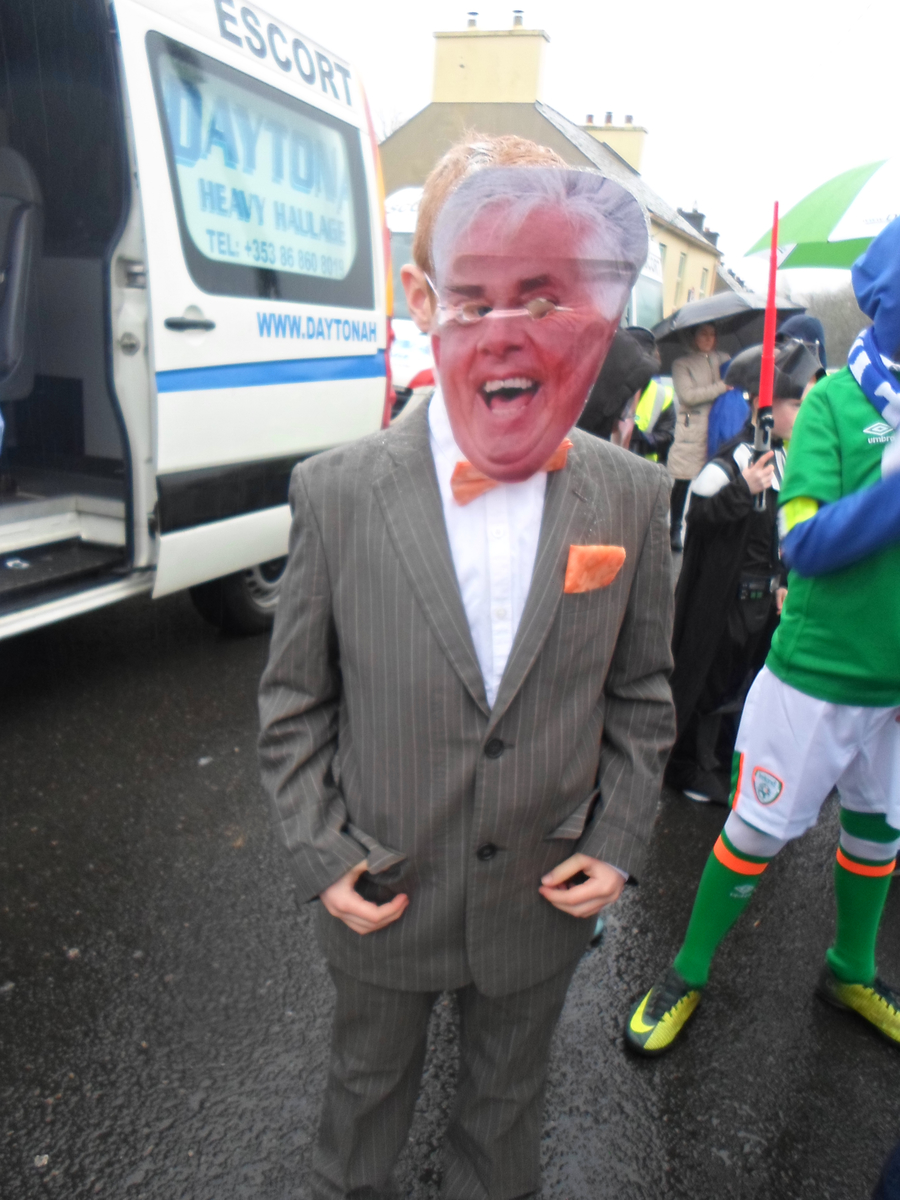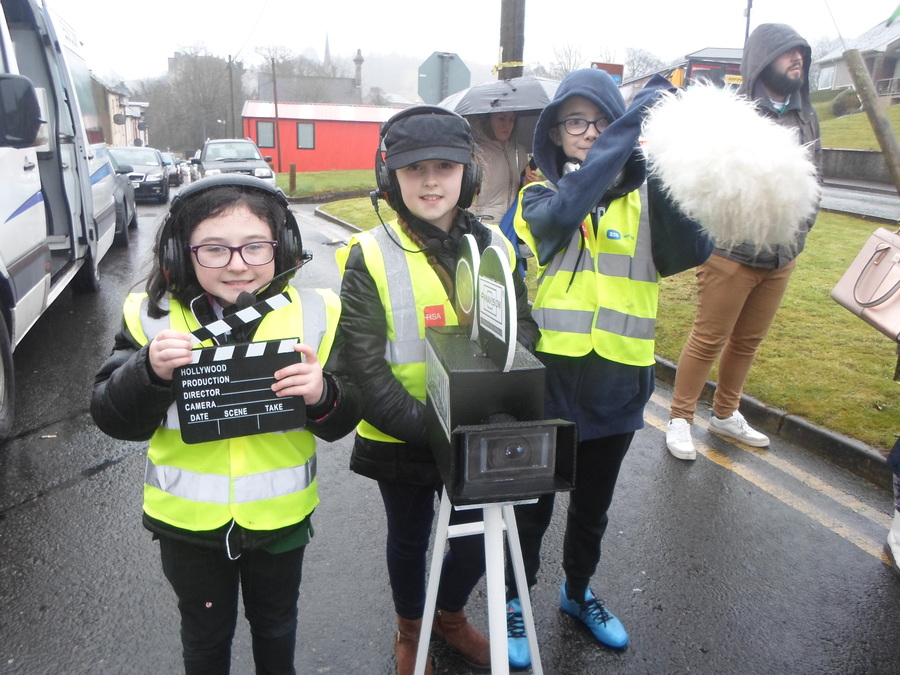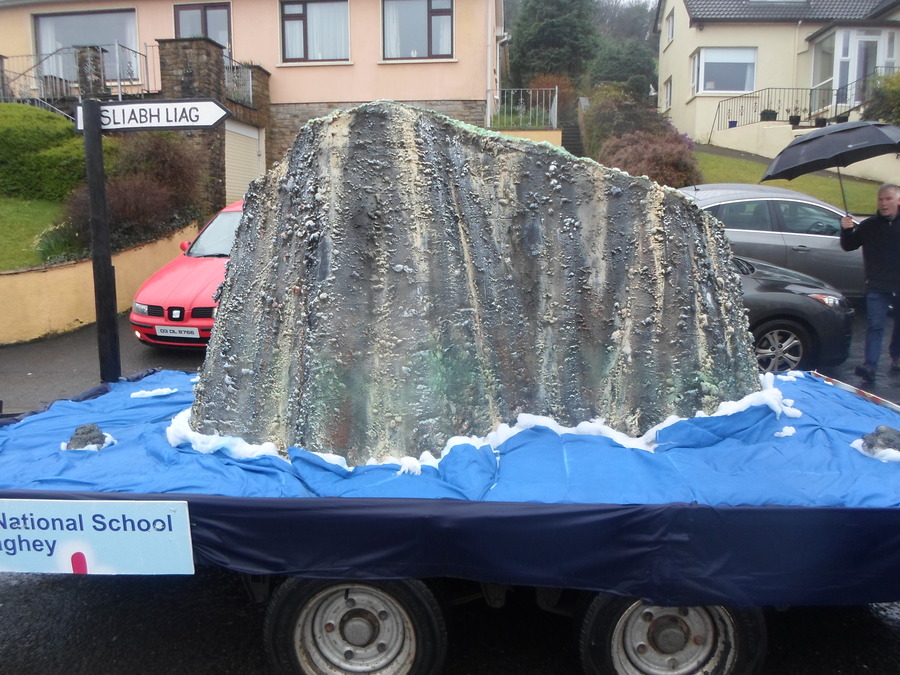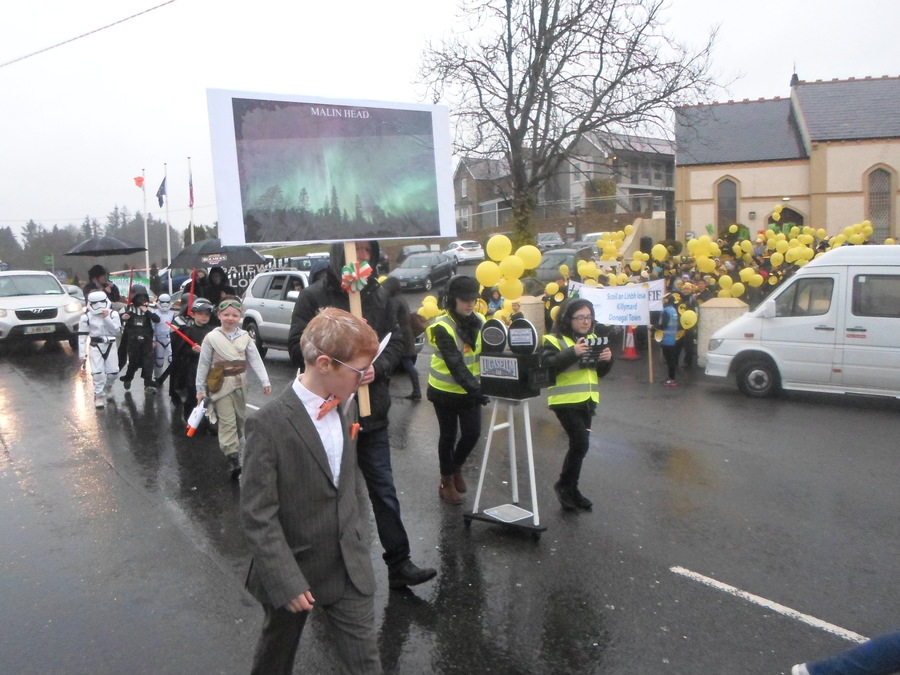 14th March 2017
Today the children in the senior room started their rugby training with coach Declan Bushell. Declan will be here every week until the Easter holidays. It is good for us to learn how to play rugby because it is not one of the most popular team sports in Donegal. We really appreciate getting the chance to play some rugby and thanks very much to Declan for coming into our school to coach us. We will be taking part in a blitz at Donegal Town Rugby Club on Thursday 30th March so we have to train hard until then, we are encouraged to practice during break times and at home.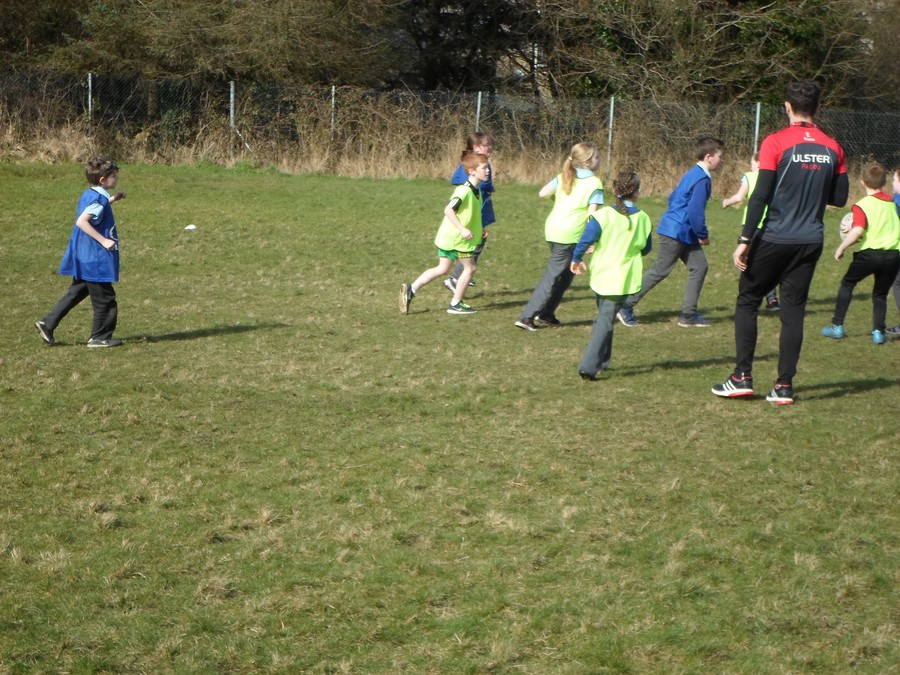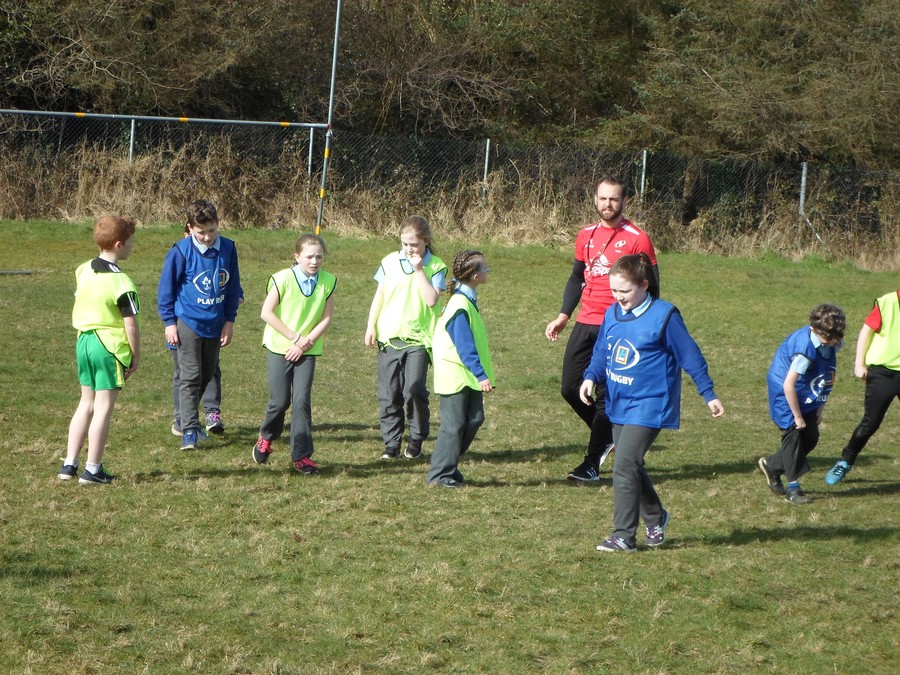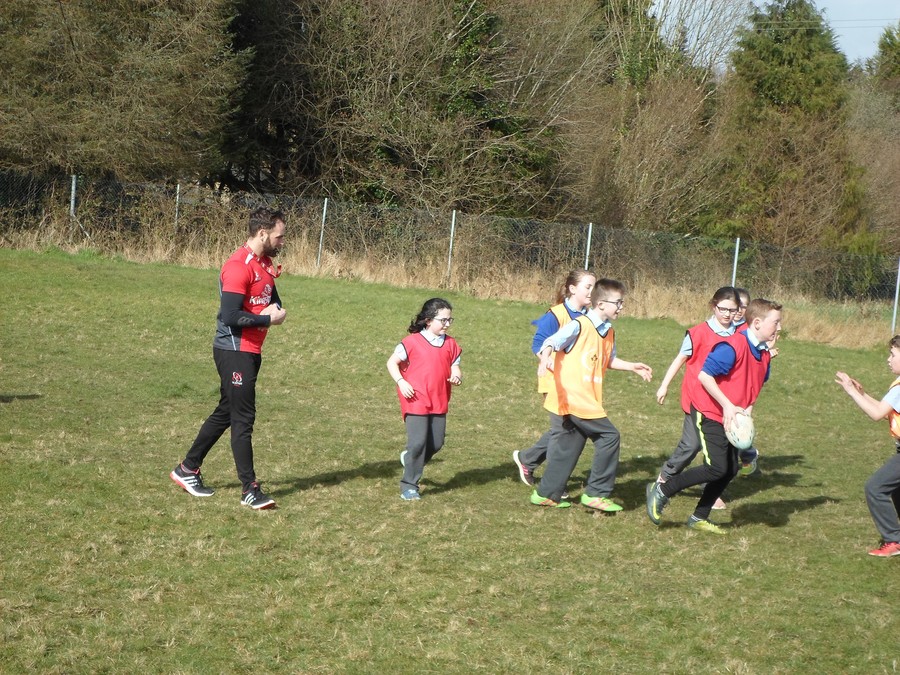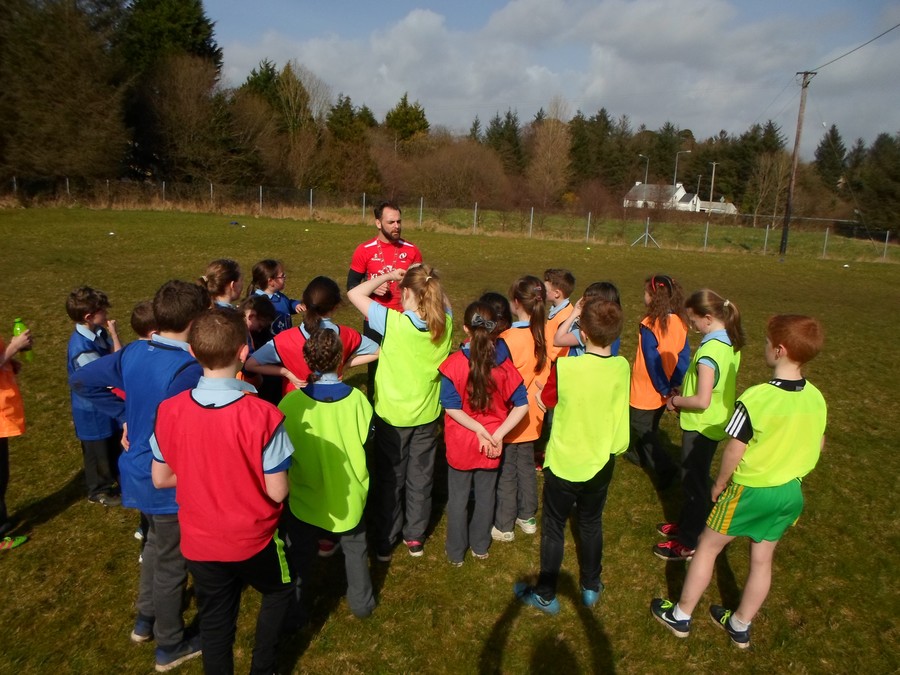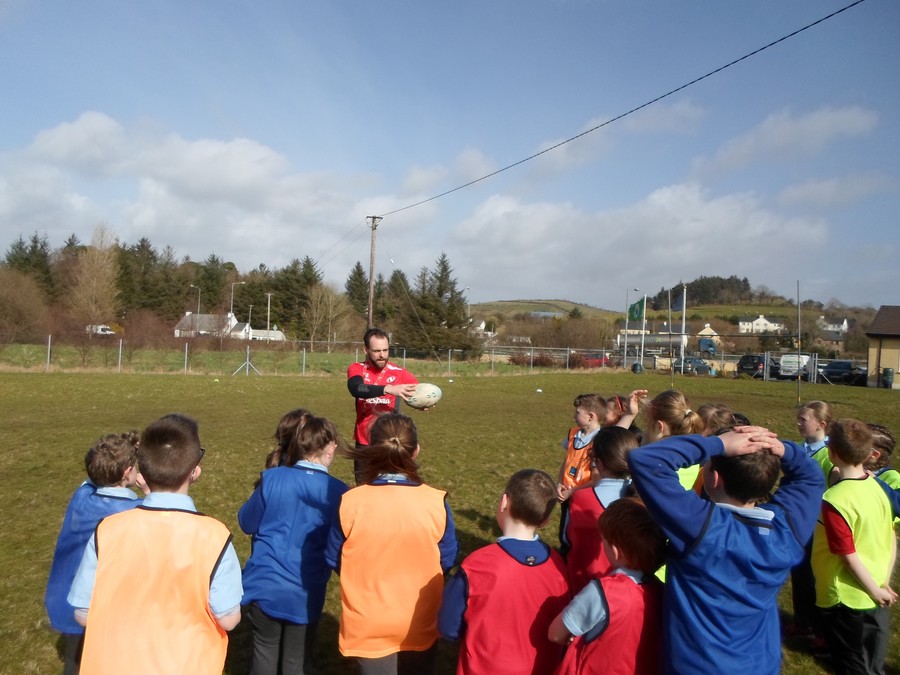 13th March 2017
As part of our Seachtain na Gaeilge activities we had a Ceili Class with Clement Gallagher today. Clement is a well known dance teacher and he taught us two full dances during our class. All of us enjoyed learning the Ceili dances very much, it is important for us to partake in traditional Irish dancing for Seachtain na Gaeilge and also it is a great way of exercising and having lots of fun at the same time. Thanks very much Clement for your great class, we really enjoyed it. Here are some pictures of us dancing.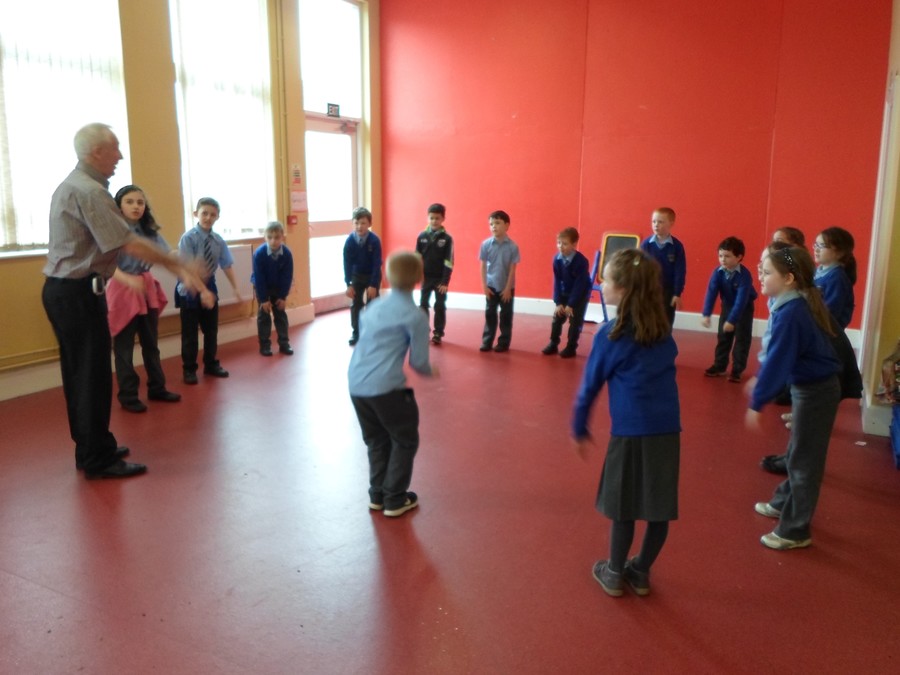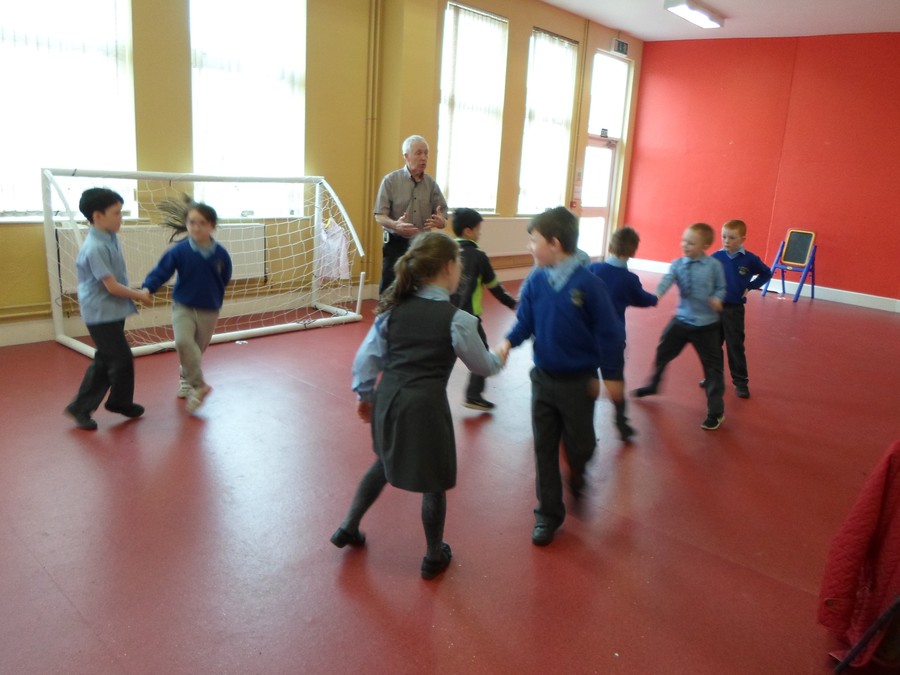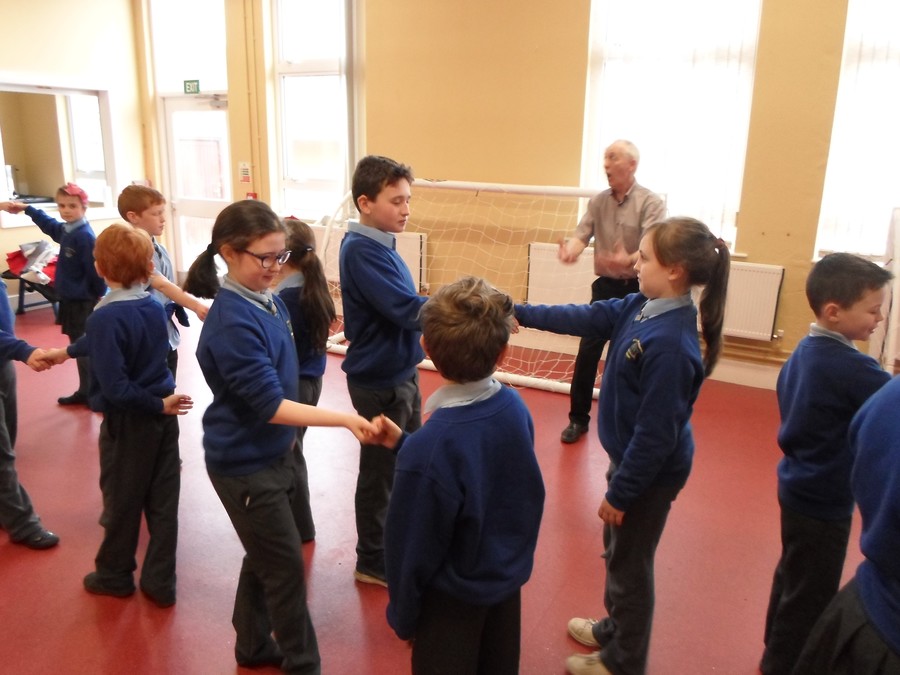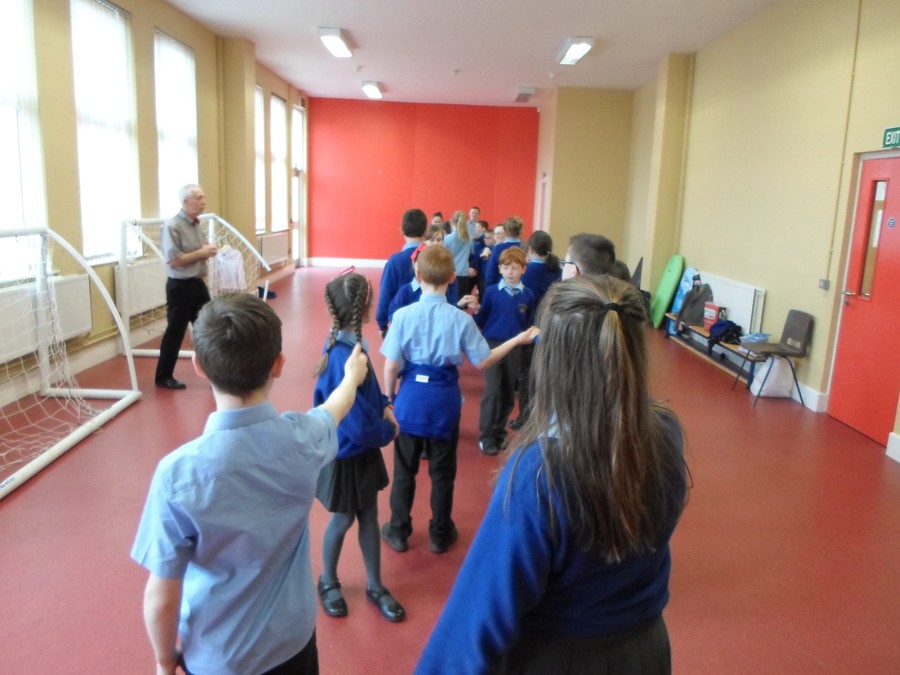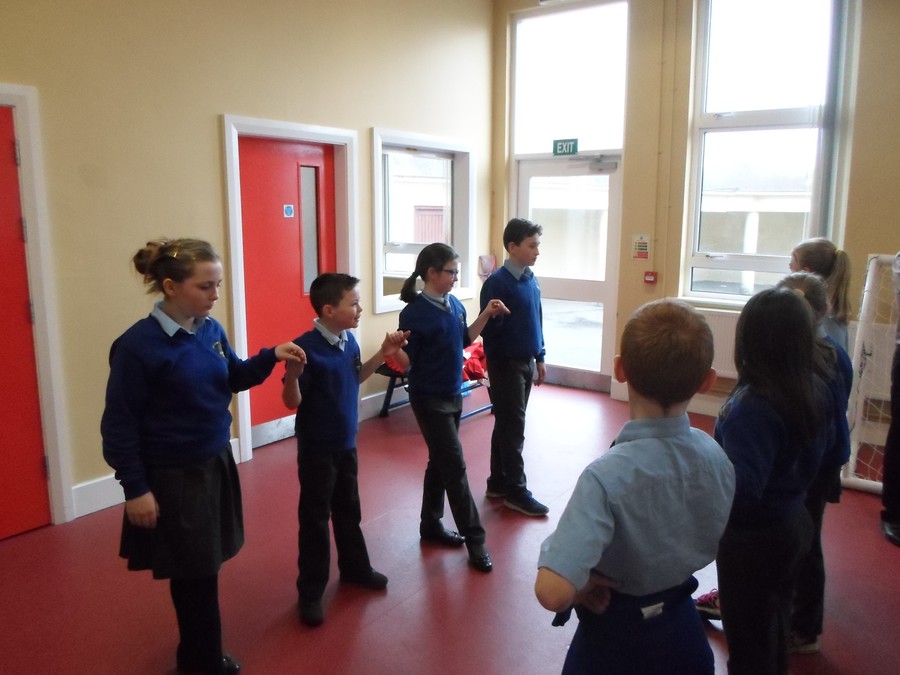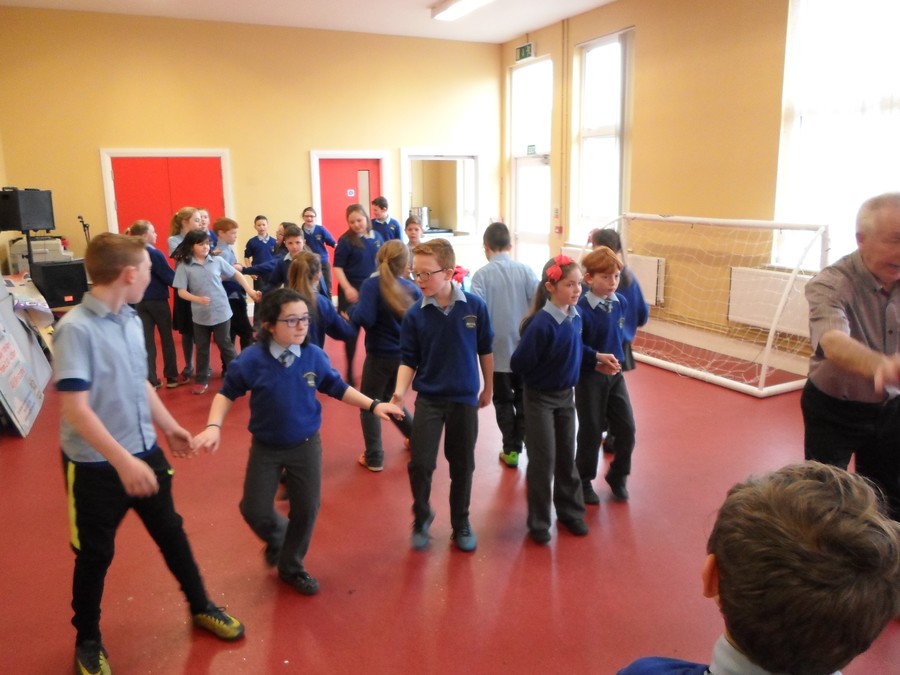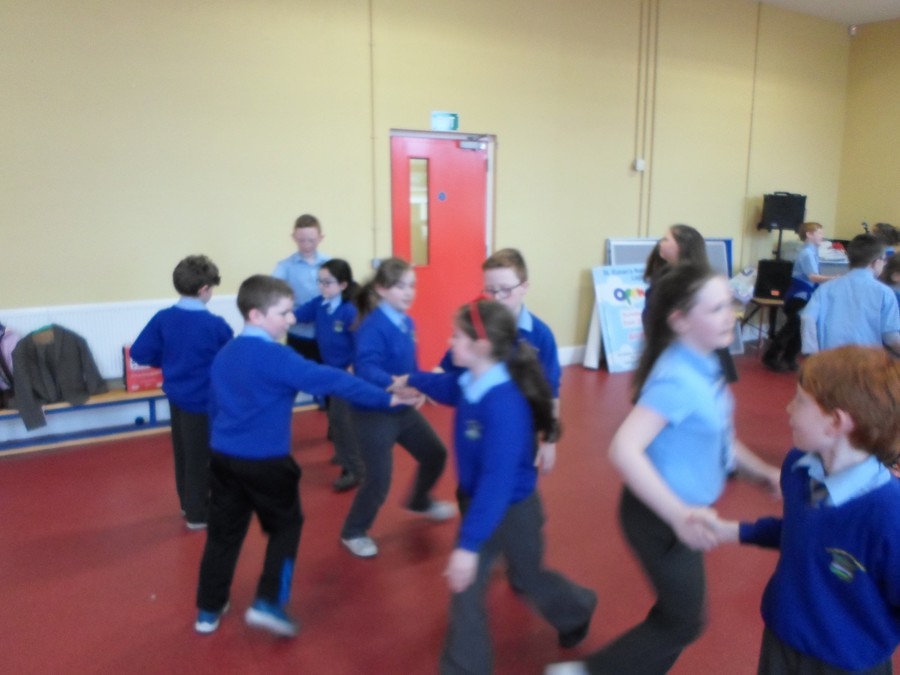 13 March 2017
Today we did Playground Games as part of our "Seachtain na Gaeilge" activities. We played various games as Gaeilge and it enjoyed it very much.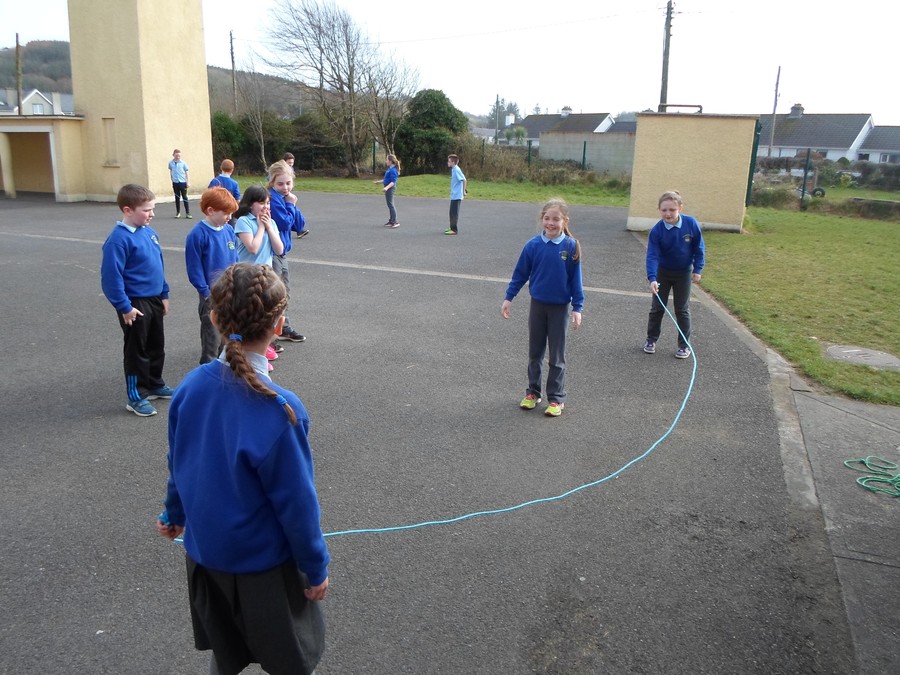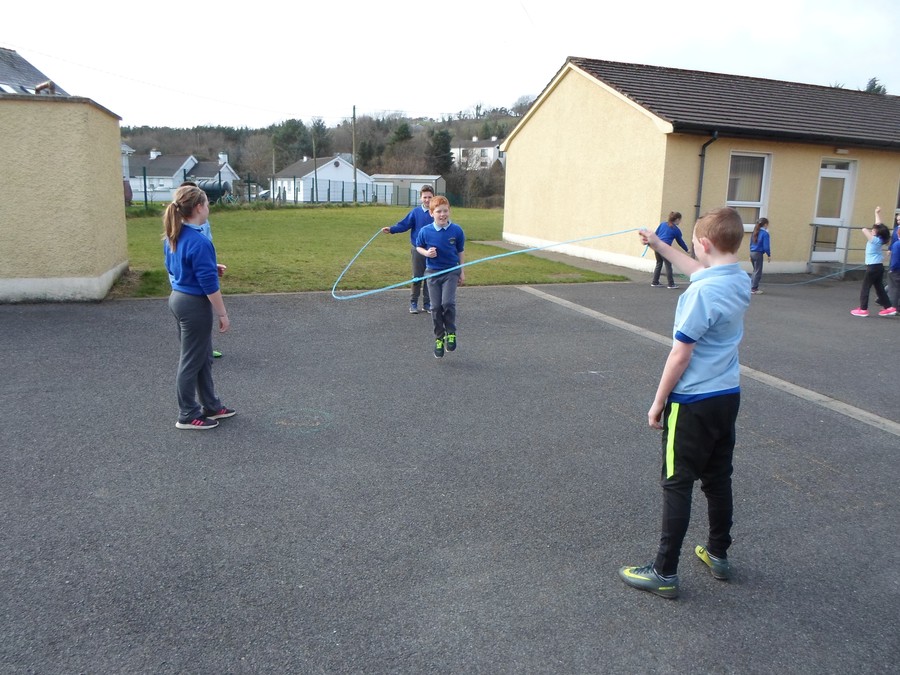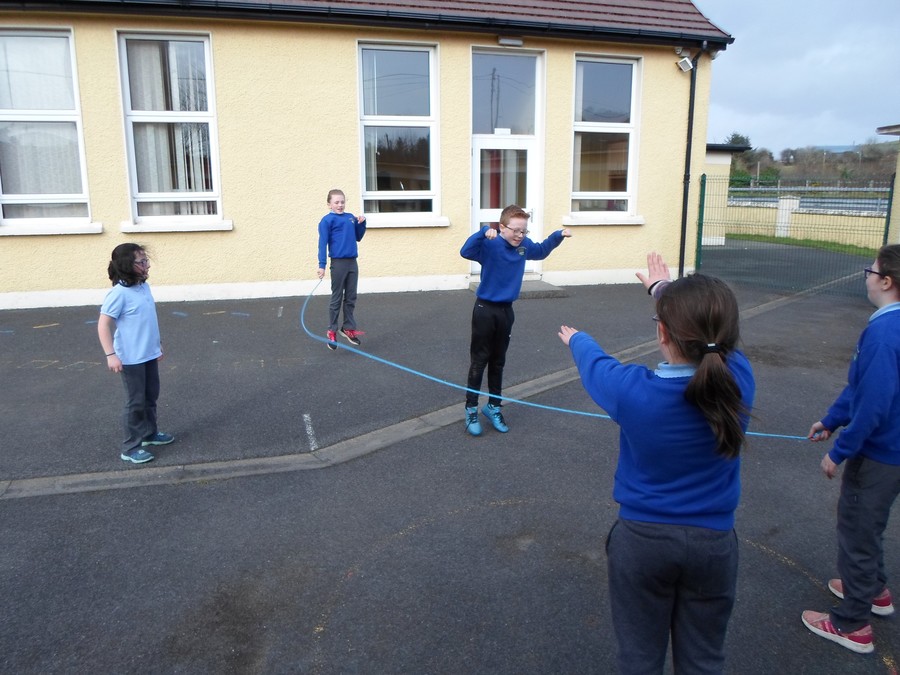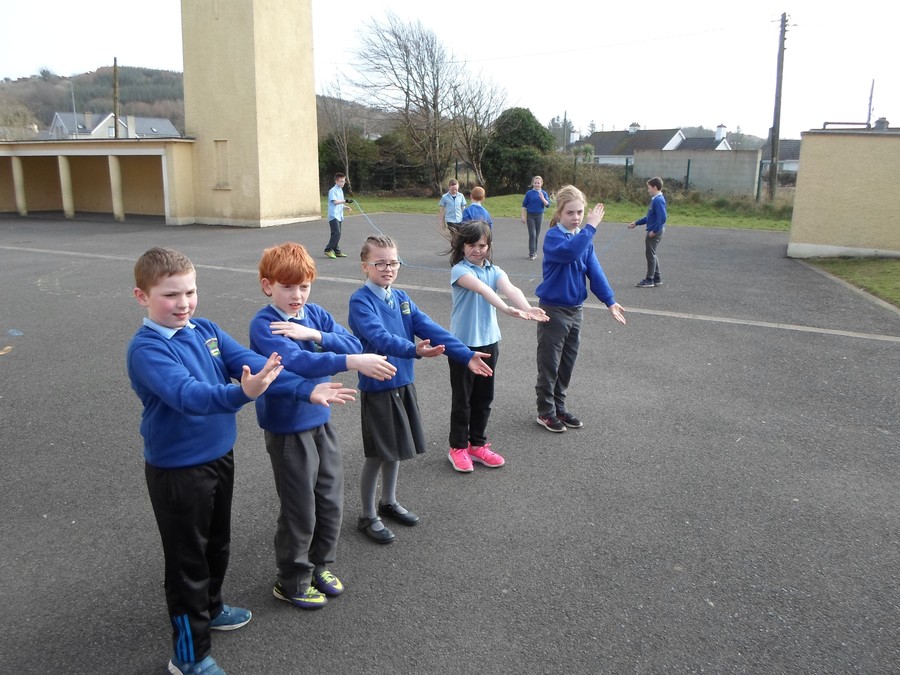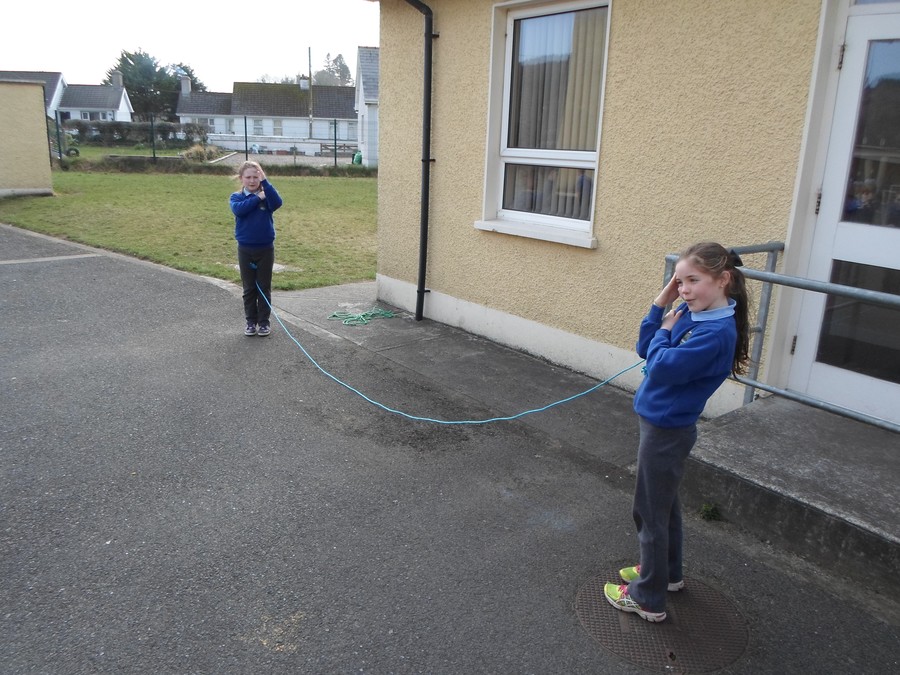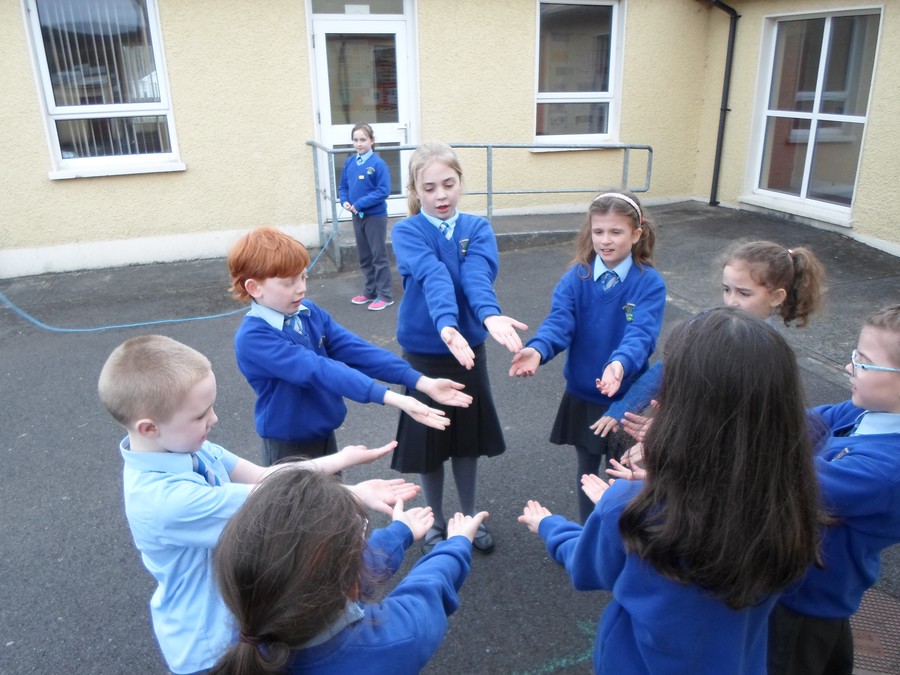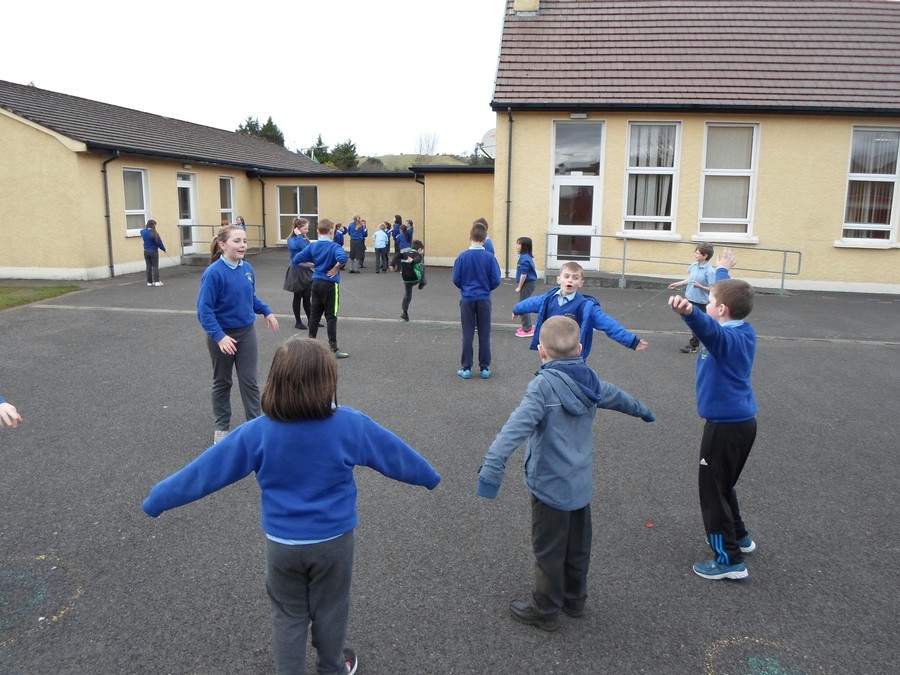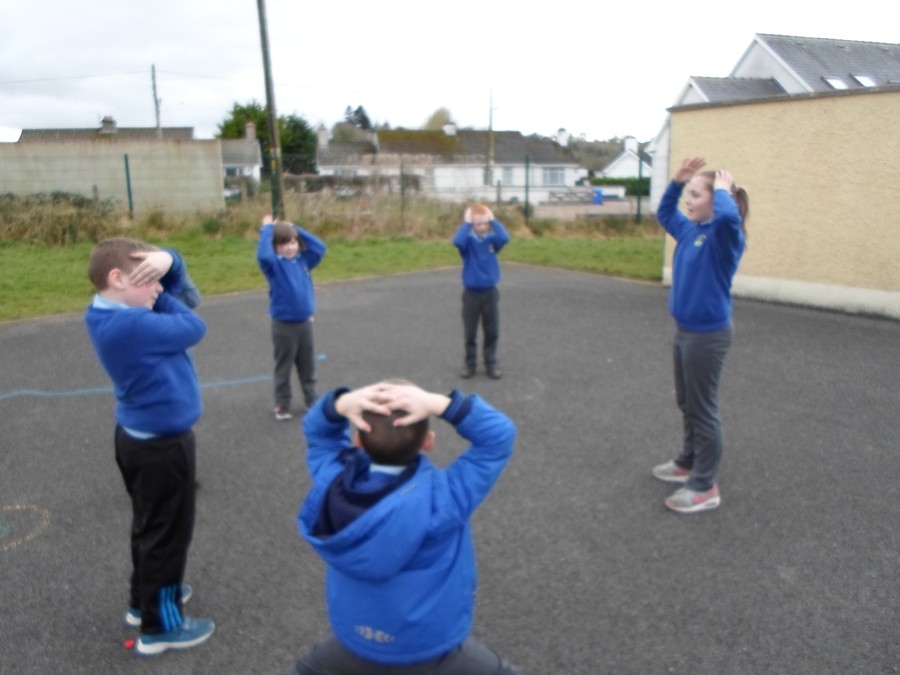 Monday 28th February 2017
Active School Committee Meeting
Super Troopers:
The boys and girls completed the six week Super Trooper Activity Journals. The ASC are to check these journals and those who completed the six week programme will receive active rewards (to be decided).

Seachtain na Gaeilge:
Seachtain na Gaeilge is on 1st - 16th March 2017. As we are focusing on the dance strand, it may be an idea to have some ceili dancing in the school as it links with both PE and Gaeilge. Mrs Mc Daid has found a Ceili dance teacher who could come in during Seachtain na Gaeilge. Miss Mc Groary has offered to teach traditional playground games as gaeilge. The teachers in this school sure do like to keep us busy!
22nd February 2017
Today we had a "Day of Action" in our school which included all the children and teachers in our school along with their parents and relatives walking to school in the morning. We met at Kee's shop in Laghey Village sporting our "Funky Feet" theme and we walked to school together. The children in the senior room also visited our local Recycling Centre in the evening, they walked there and back. Each class participated in "Go Noodle" during the day.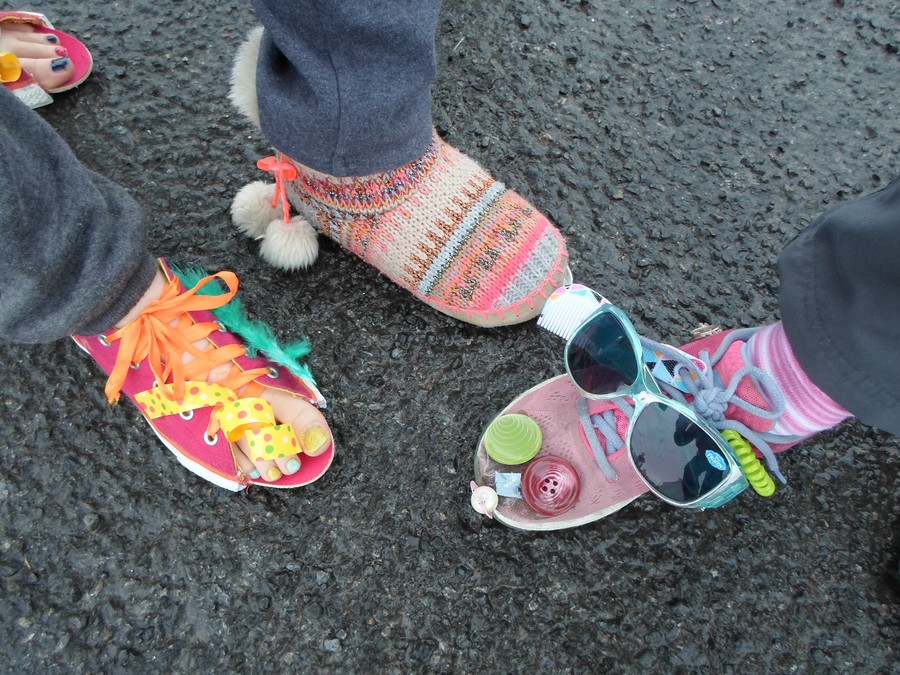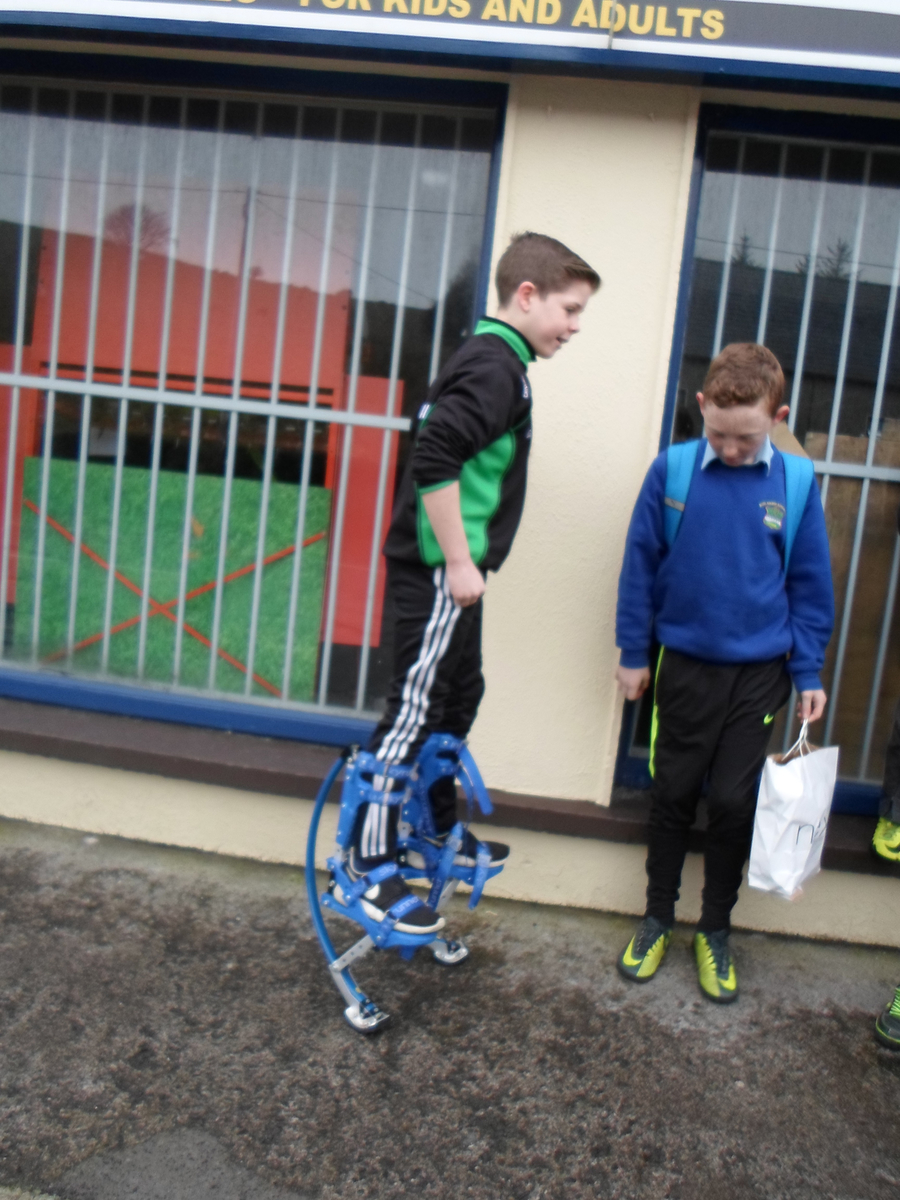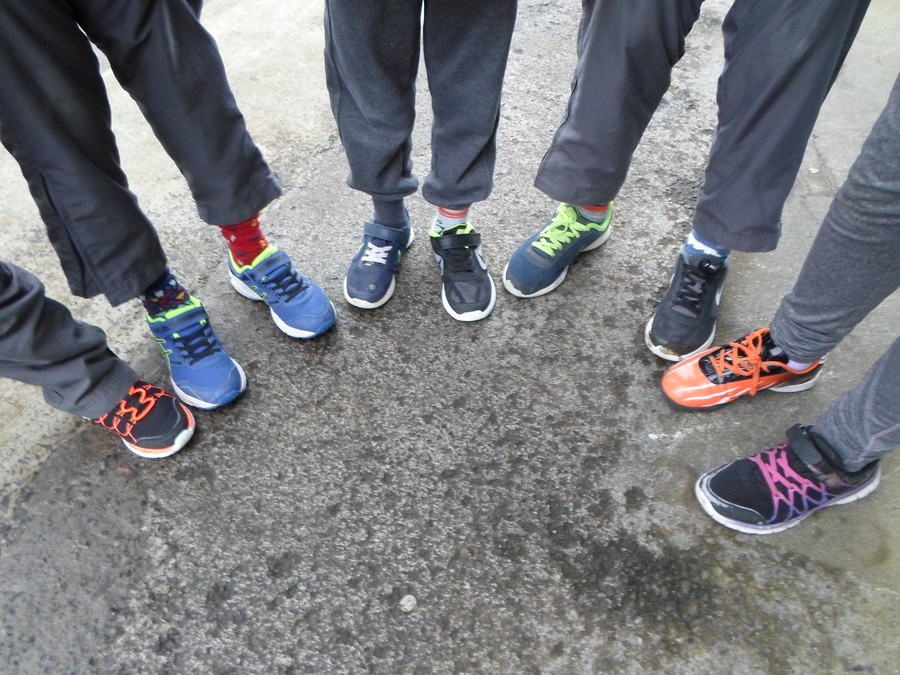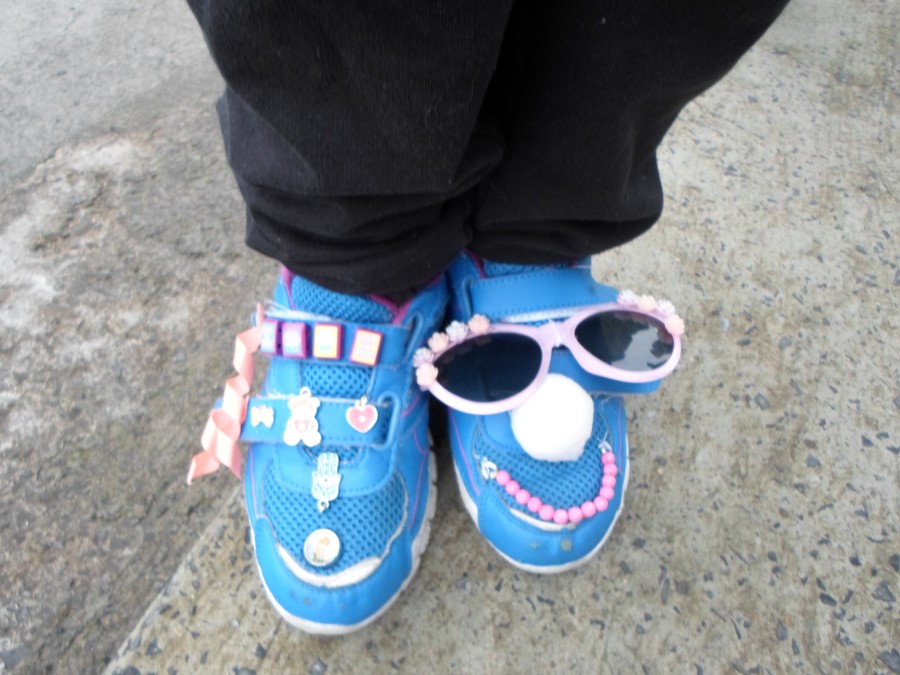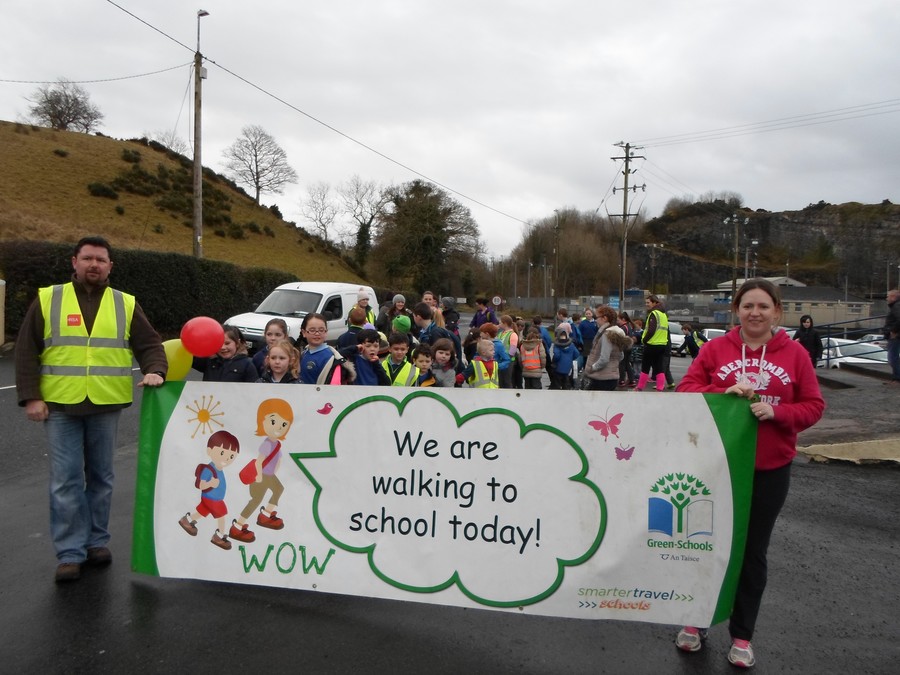 Map my Run
We have started a challenge called "Map my Run" at school where every Friday we go out to the football pitch and run around the perimeter together. We count how many times we run/walk around the pitch and we add it all up to make a total distance that everyone has travelled. On our first week we travelled a total of 82km. Our aim is to travel as far as we can collectively.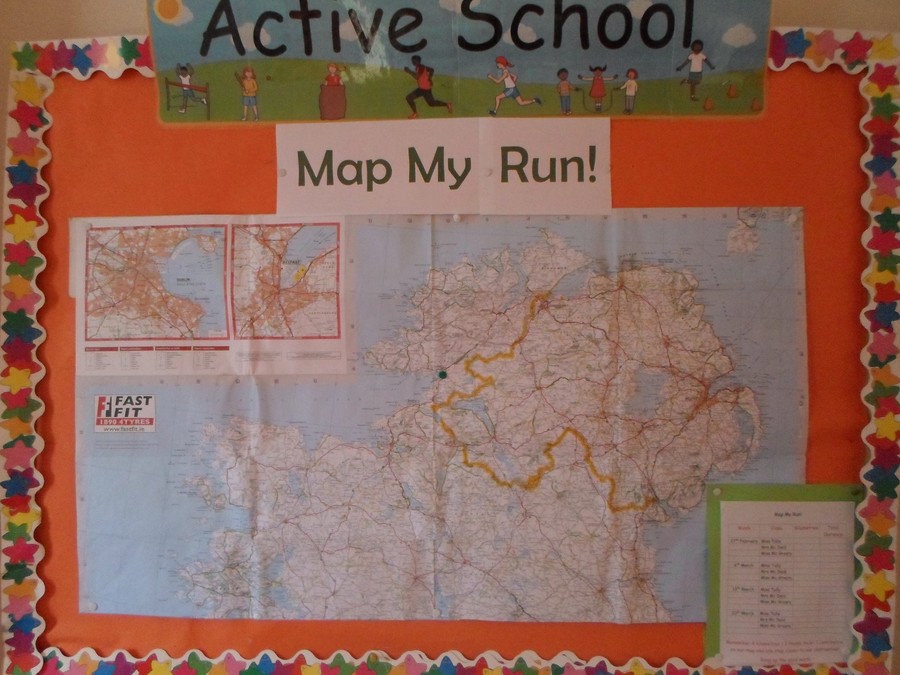 Structured Play
As part of our Active Schools project we partake in Structured Play during break times. We do lots of different planned sports and games. It means that we learn new games and activities and everyone gets involved in each of their groups. Because everything is planned in advance it runs very smoothly.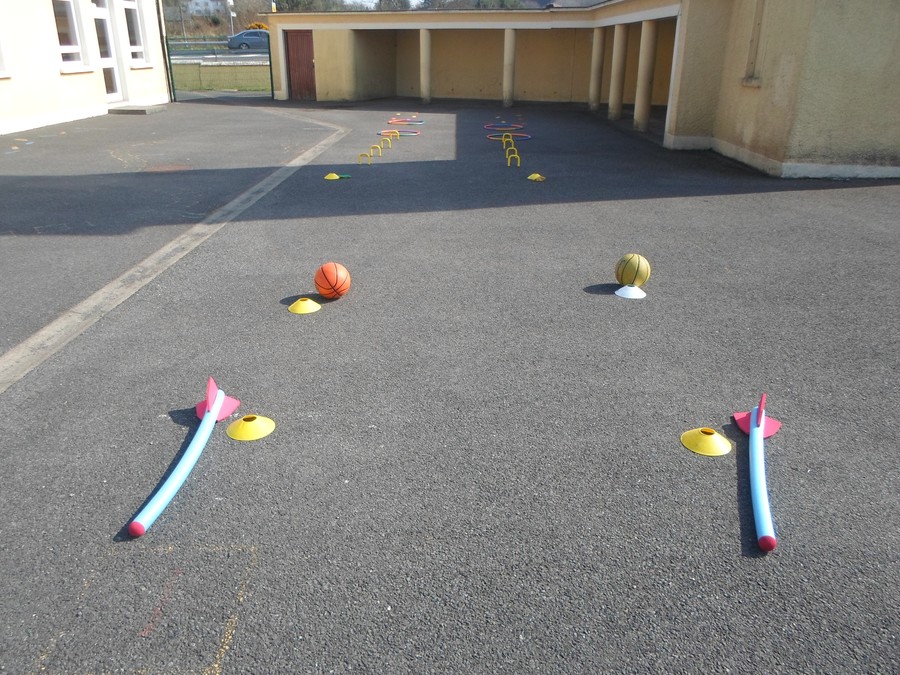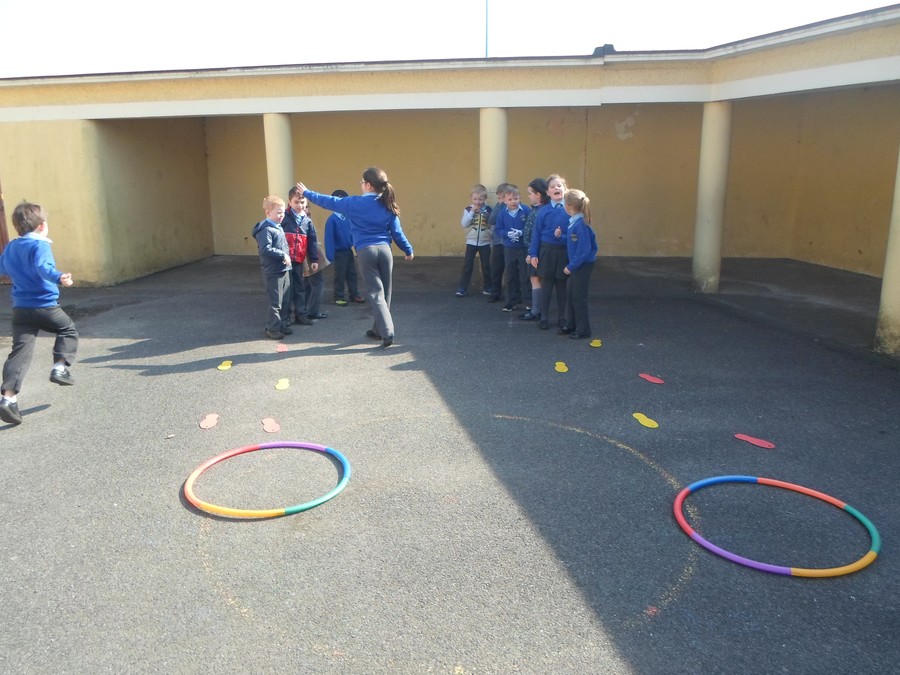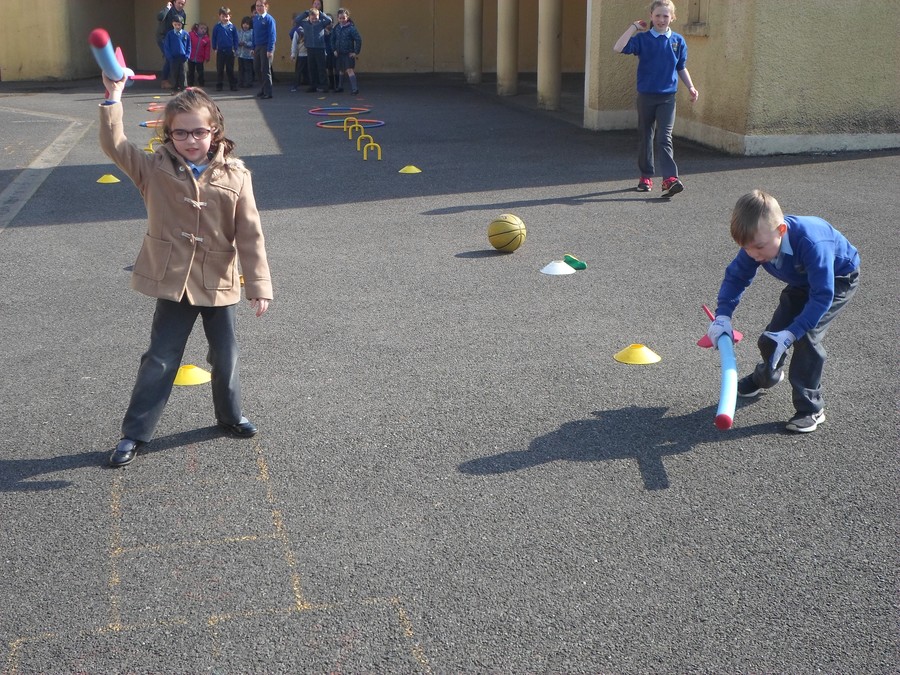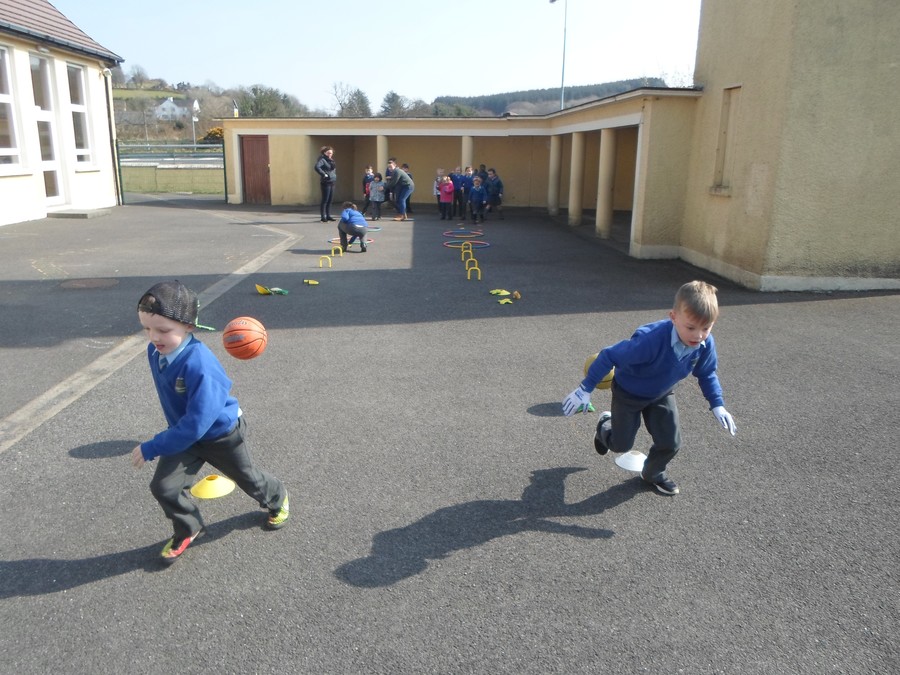 Active Lines
Every day after our breaks we line up and do our Active Lines exercises. Children are appointed to guide us through our Active Lines activities each day. We do lots of different exercises, jumping and running on the spot. We enjoy it very much and it keeps us active, fit and healthy.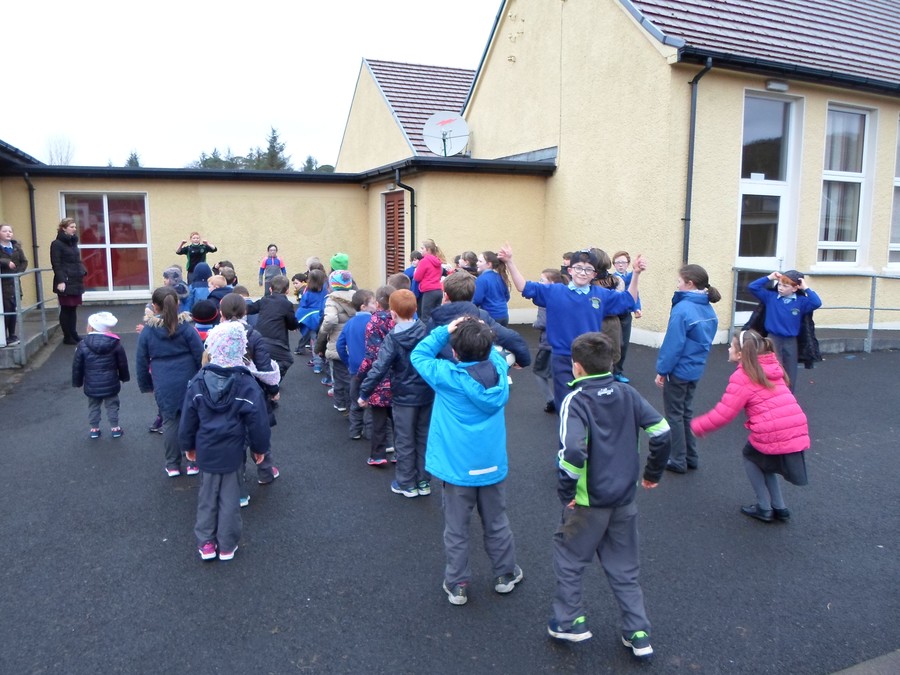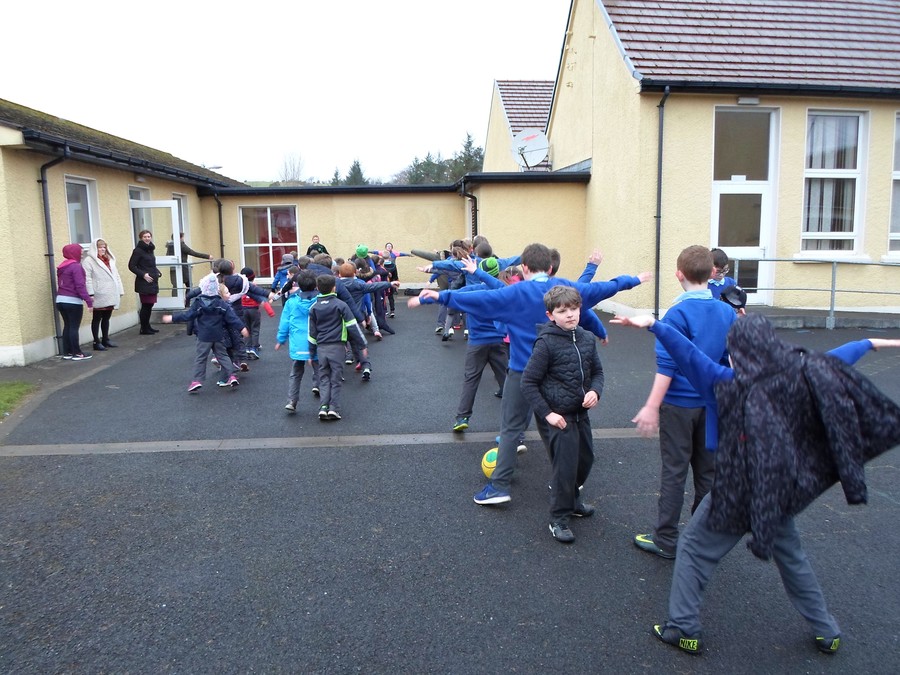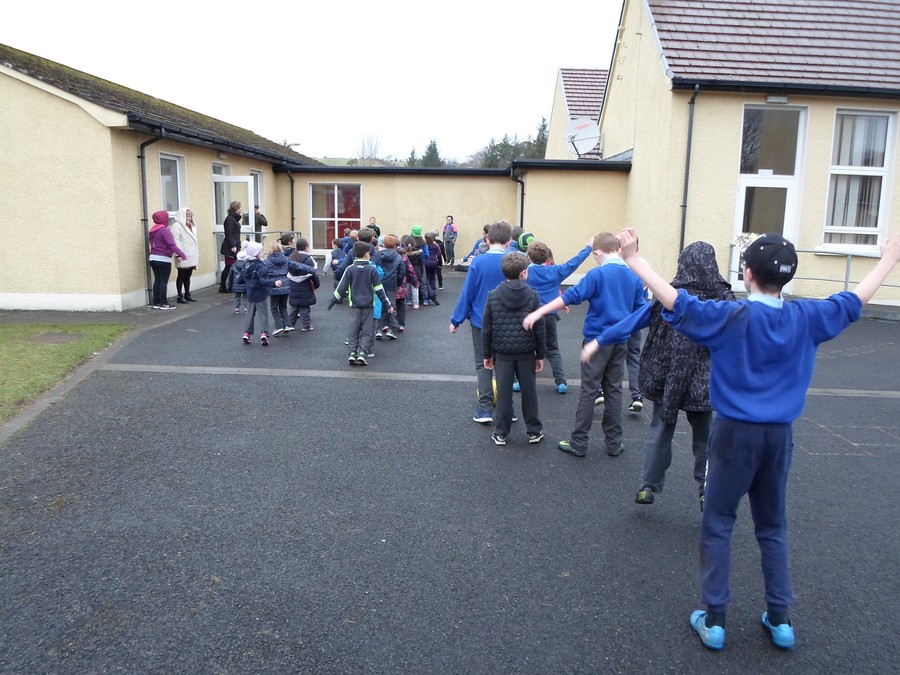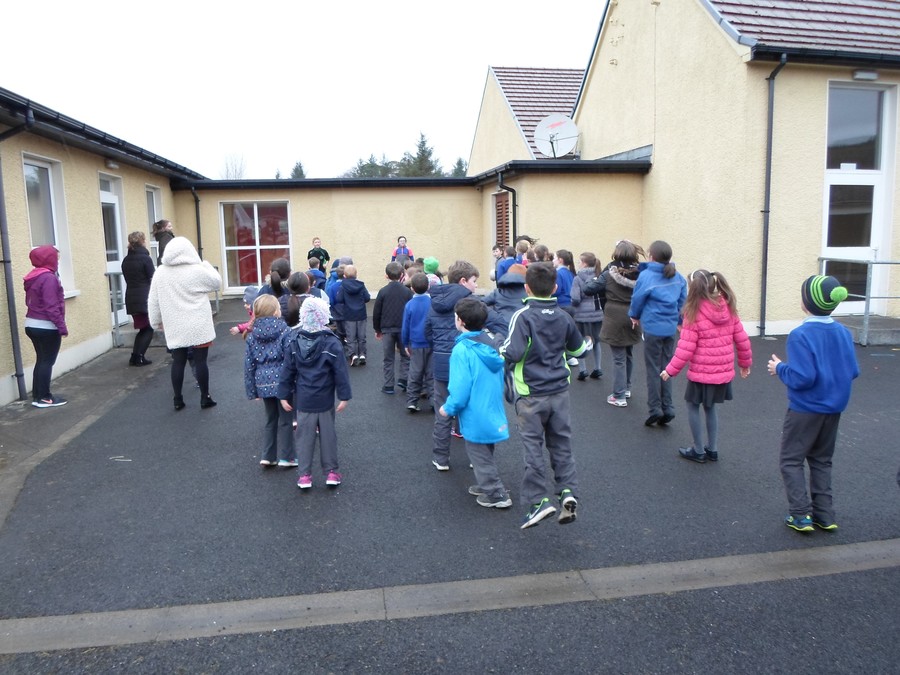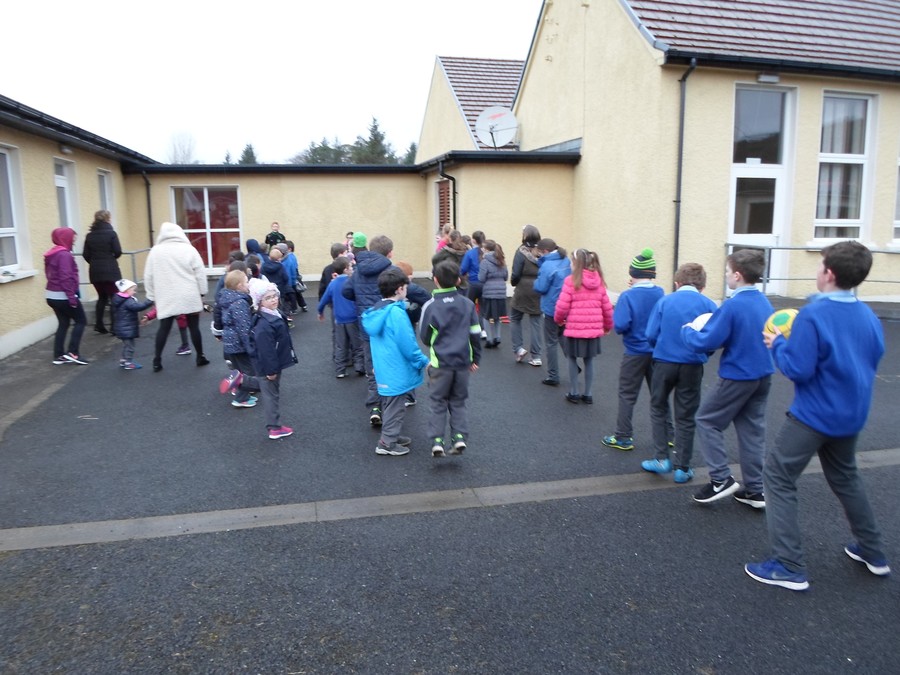 10th February 2017
Today Geraldine Thomas, a local dance teacher came in after school to do a jiving class with the staff as part of the Active School project. They had a one hour lesson and learned all the basic moves of jiving and put it all together at the end and were able to do a full jive. It was a very enjoyable evening for the staff and they are keen to have another class too. Thanks very much to Geraldine for your excellent class. Here they all are strutting their stuff on the dancefloor!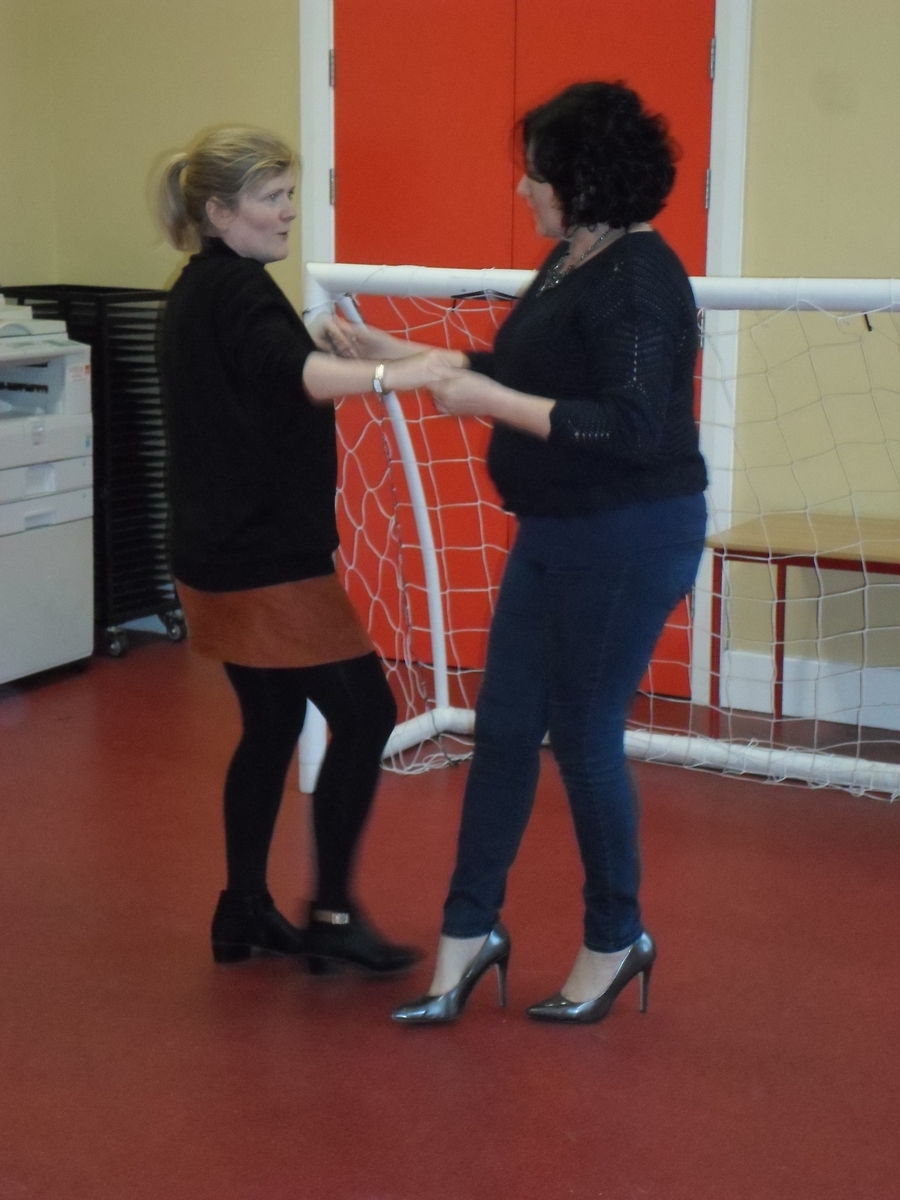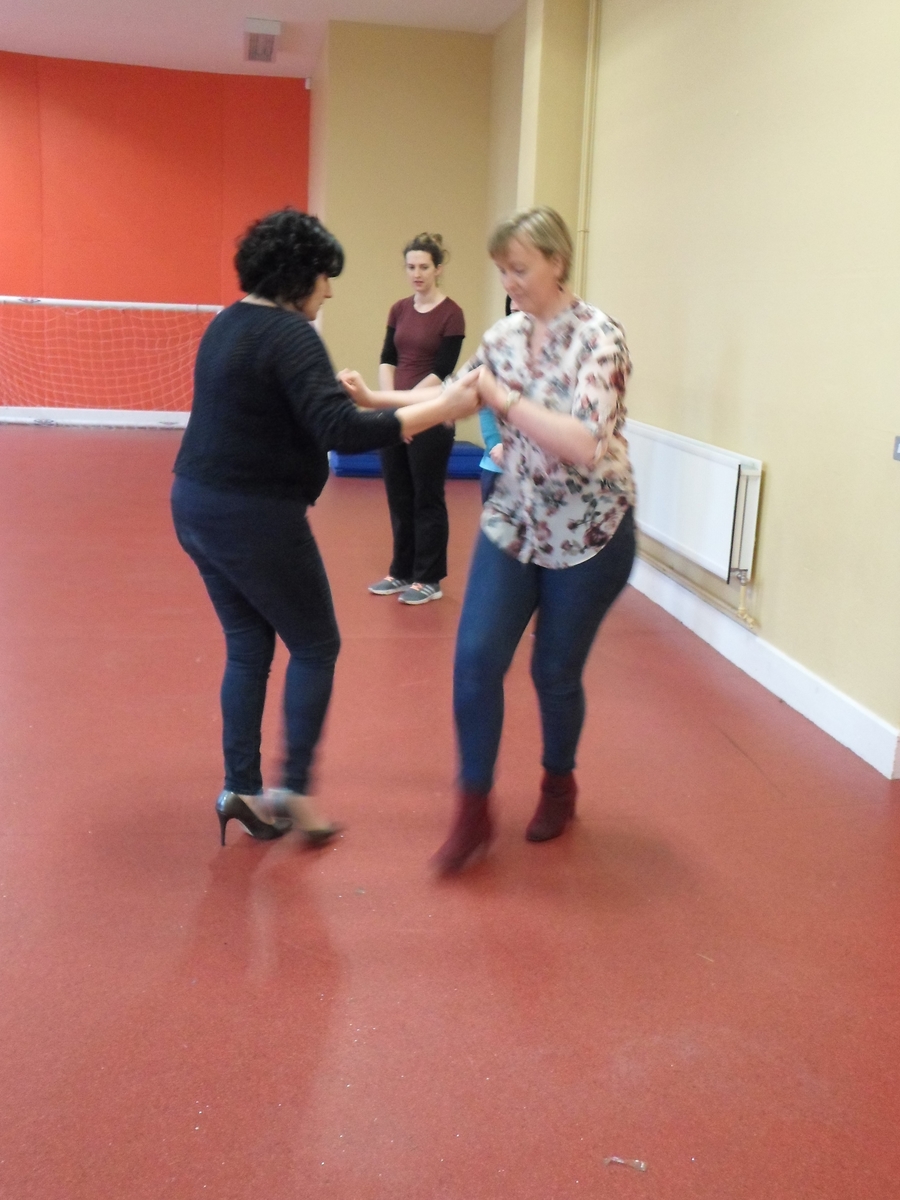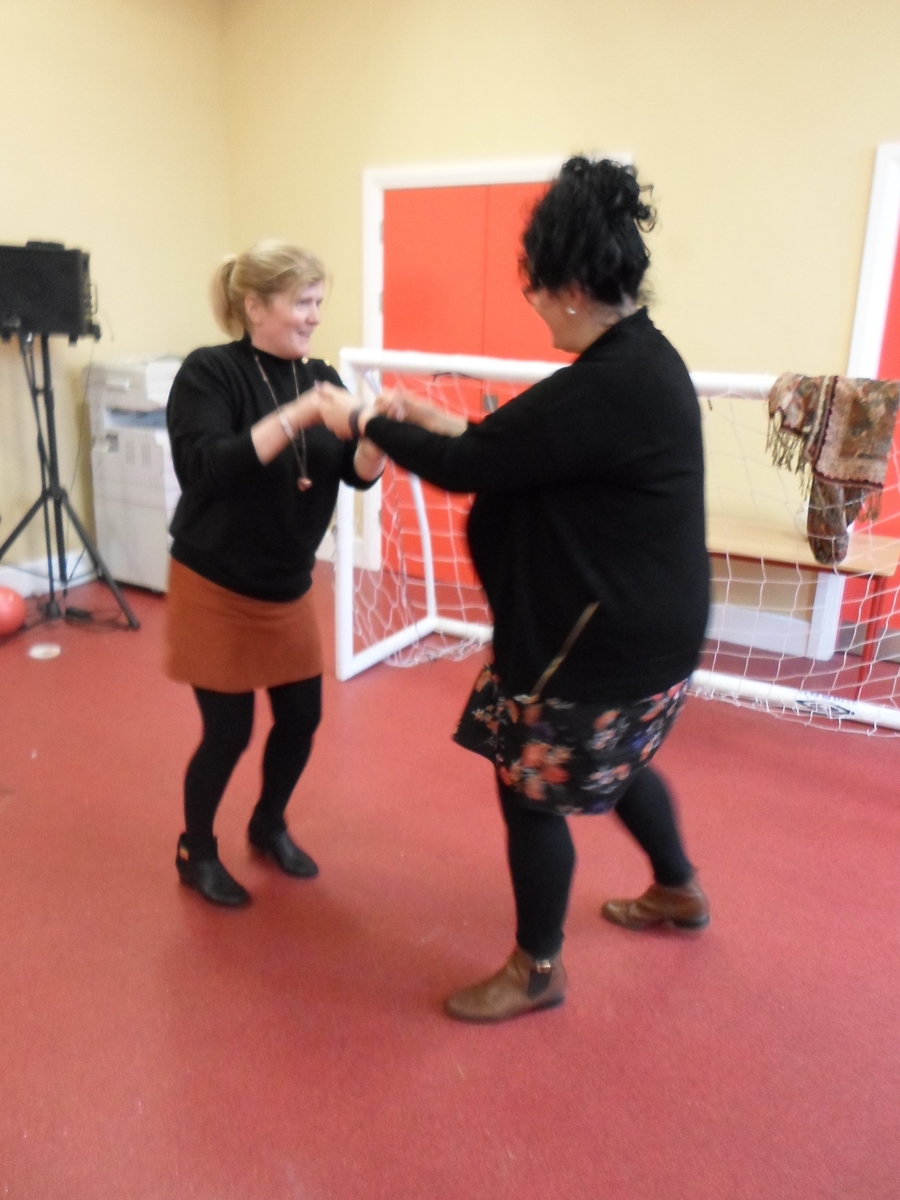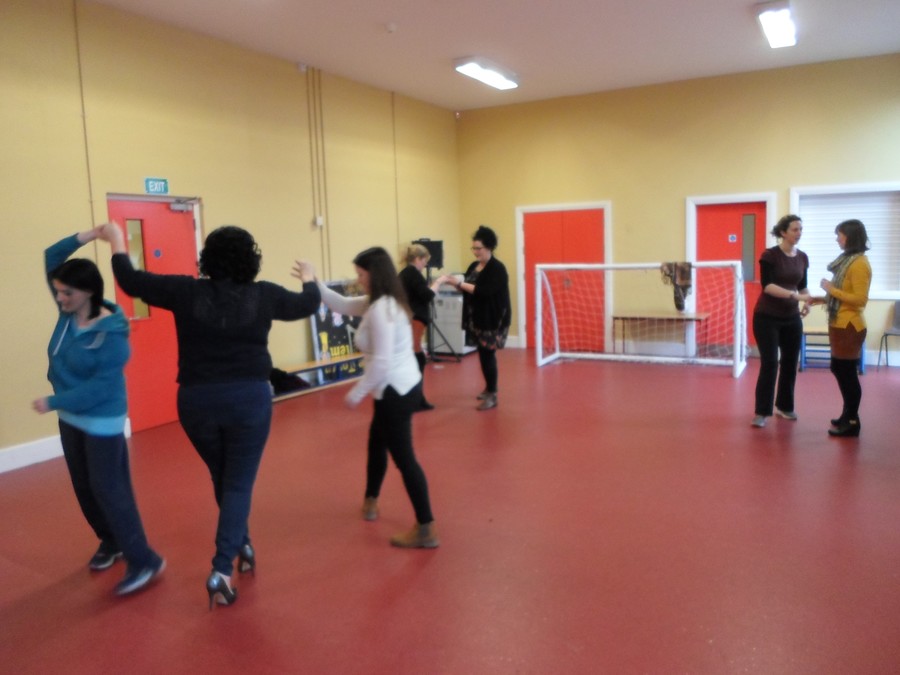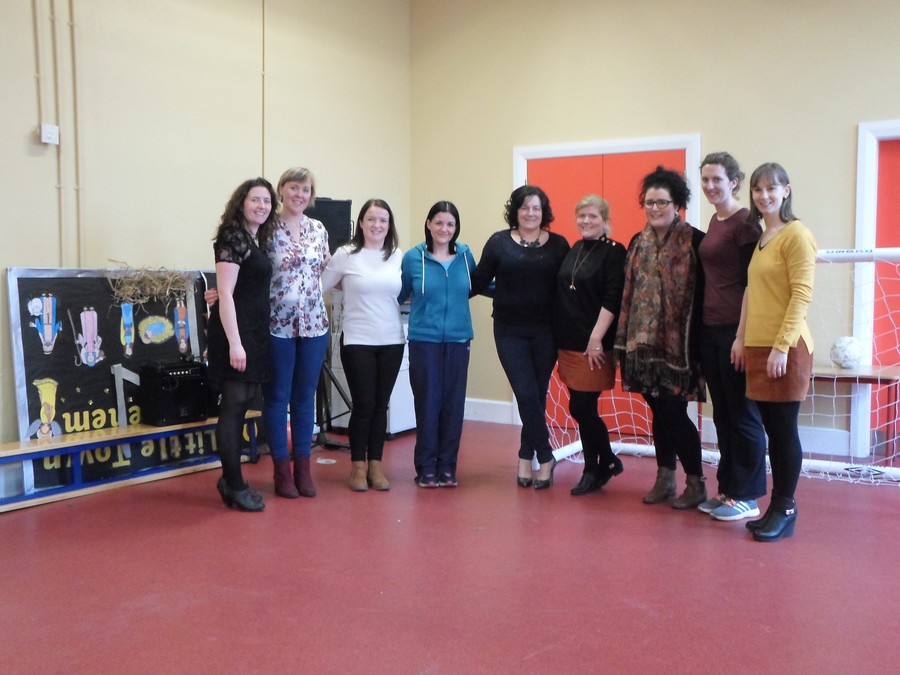 10th February 2017
Today our school took part in the Operation Transformation 10 at 10 challenge.
We were guided by a DVD and did lots of different fun exercises for 10 minutes at 10am. Our favourite move was the "Dab".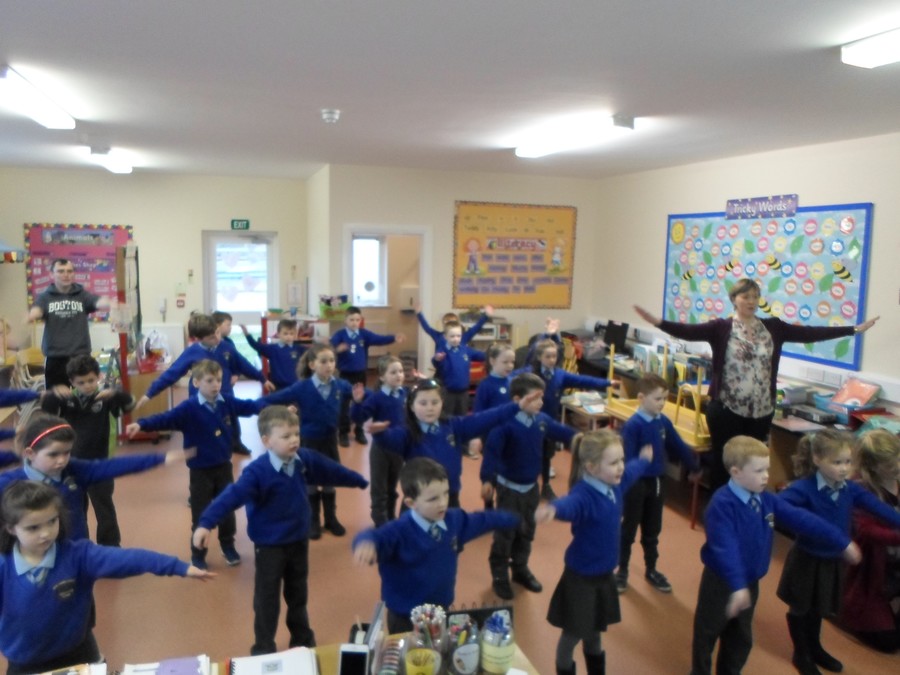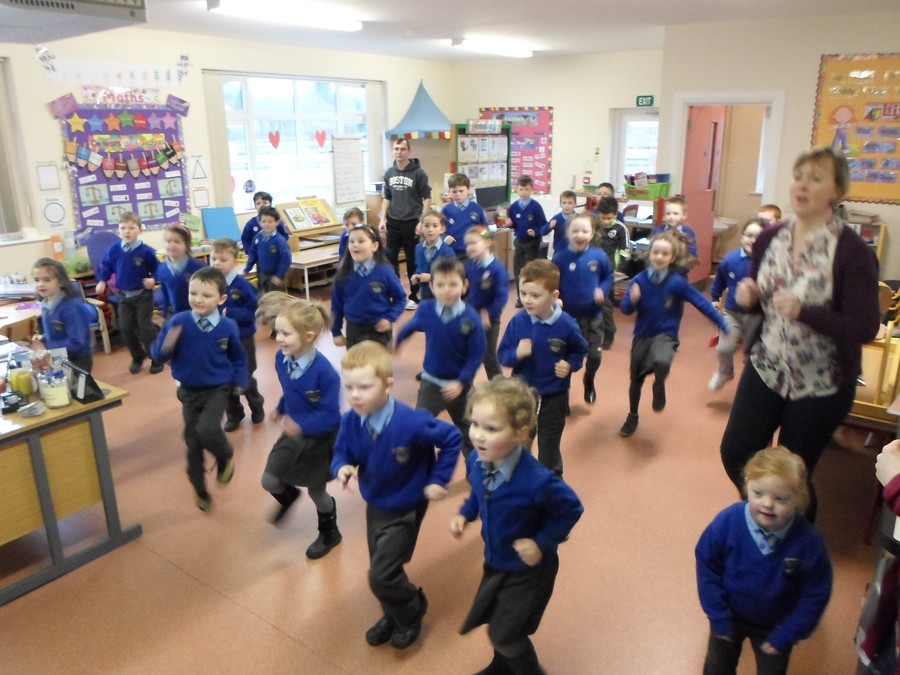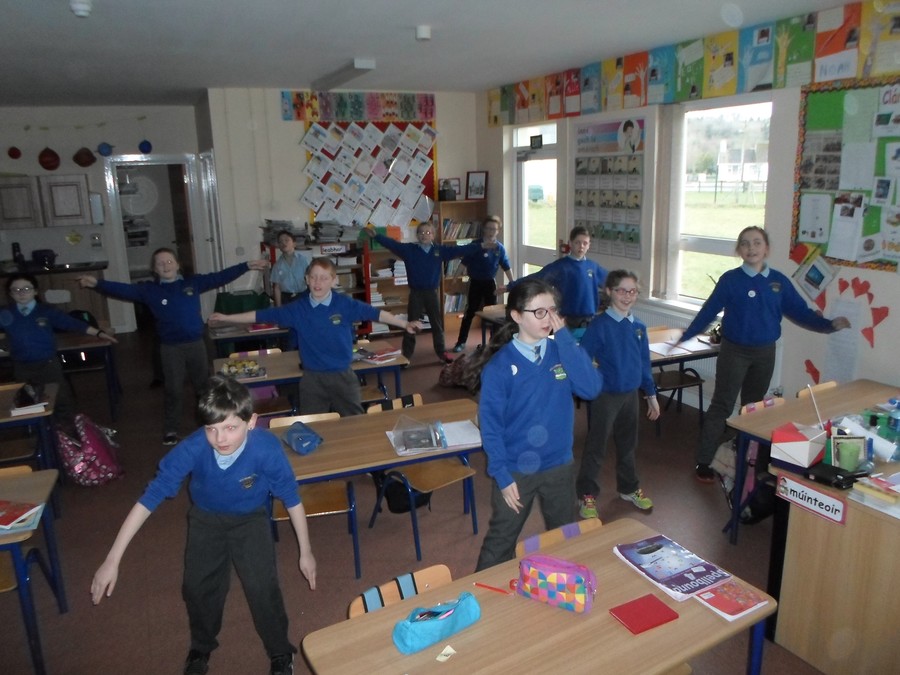 Monday 6th February 2017
Active School Committee Meeting


Structured play:
The ASC feel the structured play is not working very well and changes need to be made to the class groupings as the numbers aren't balanced. There is not enough activities for all the boys and girls. The ASC decided to split the structured play over three days - junior and senior infants, 1st and 2nd and 3rd - 6th. We will check the new groupings over the next few weeks.

Super Troopers:
The Super Troopers programme is going well, although the ASC feel not all children are giving it 100%. ASC to speak to the teachers about this.

10 day challenge:
We are currently on our 10 day walking challenge from Wednesday 1st Feb until Tuesday 14th February. During these ten days all teachers and children are encouraged to walk to school (park and stride). This will be recorded and active rewards given out at the end.

Day of Action:
We will then hold a day of action on Wednesday 22nd February. All teachers and children will walk to school on this day. The senior room are to walk to the Civic Amenity Centre also. All classes to do 'Go Noodle' in each classroom.

Map my walk:
On the day of action we will launch map my walk. This is a whole school non-competitive initiative where all children work together to walk/run, to see how far they get through Ireland. For every km they walk/run a thumb tack will be pinned on a map of Ireland on our Active School noticeboard. How far will we get through Ireland from now until Easter?

10 @ 10:
Operation transformation sent a letter to the school informing us that they want all schools to participate in the 10 @ 10. The ASC think this is a great idea. Miss Tully to speak to Mrs Mc Daid and pass on the website address to all teachers.

Line Leaders:
We spoke about the line leaders and the active lines. We think they are going very well. Some members felt we could make it better by choosing new active line leaders every fortnight.
6th February 2017
The 10 day Travel Challenge is going very well. Pupils, parents and staff are making a great effort every morning. We have an average of 30 pupils and 10 adults walking each day so far. Well done everyone! Keep it up.
Date for Diary: Wed 22nd Feb: Day of Action.
More details will be sent by letter!
1st February 2017
Today is the launch of our 10 day Travel Challenge. We have to make an extra big effort to get as many pupils and parents walking to school as possible.
"Ditch the Car, Ditch the Bus, Come on Guys & Walk with Us"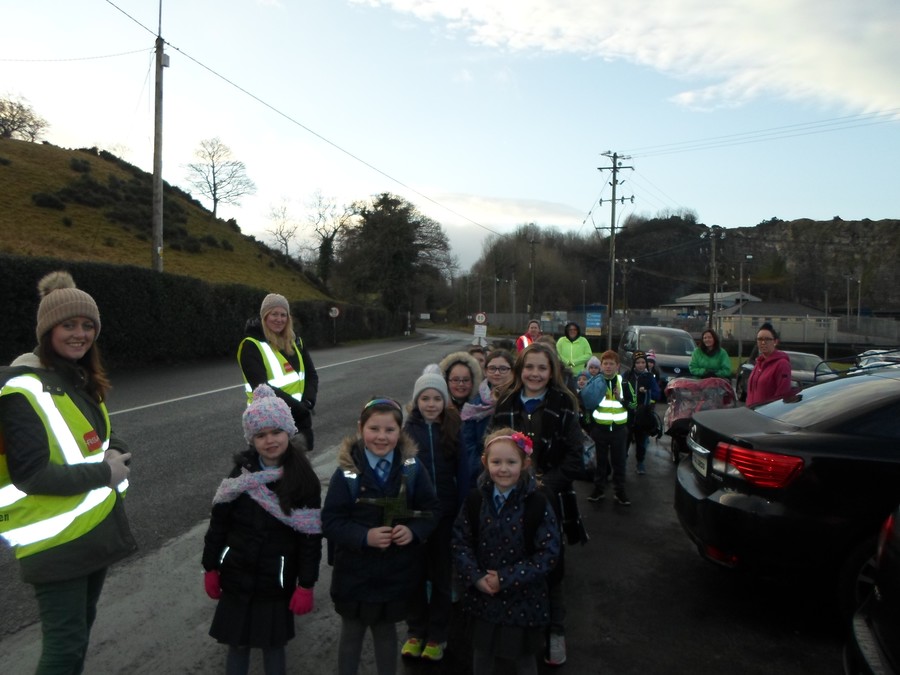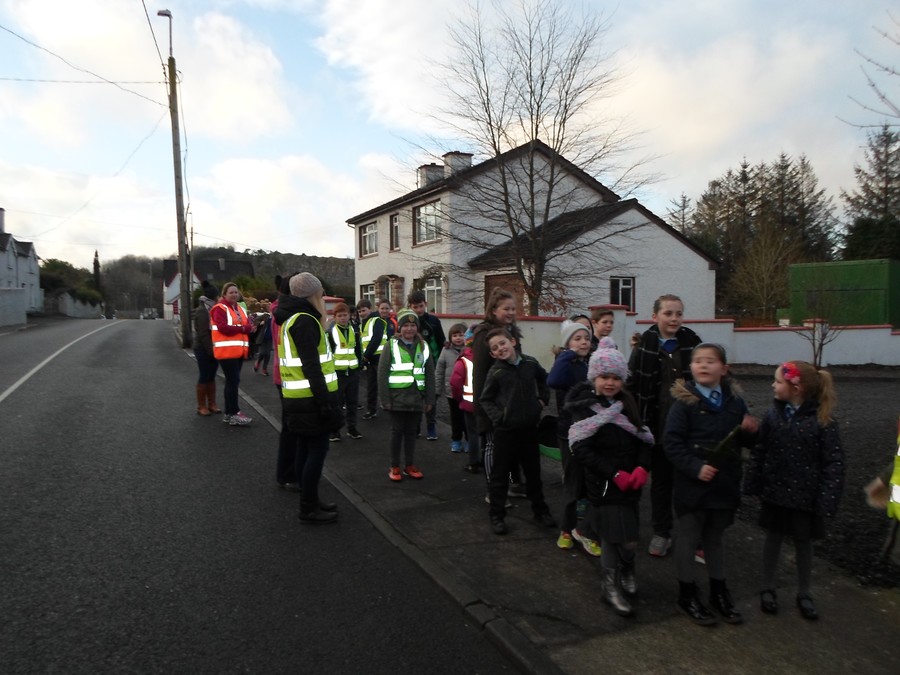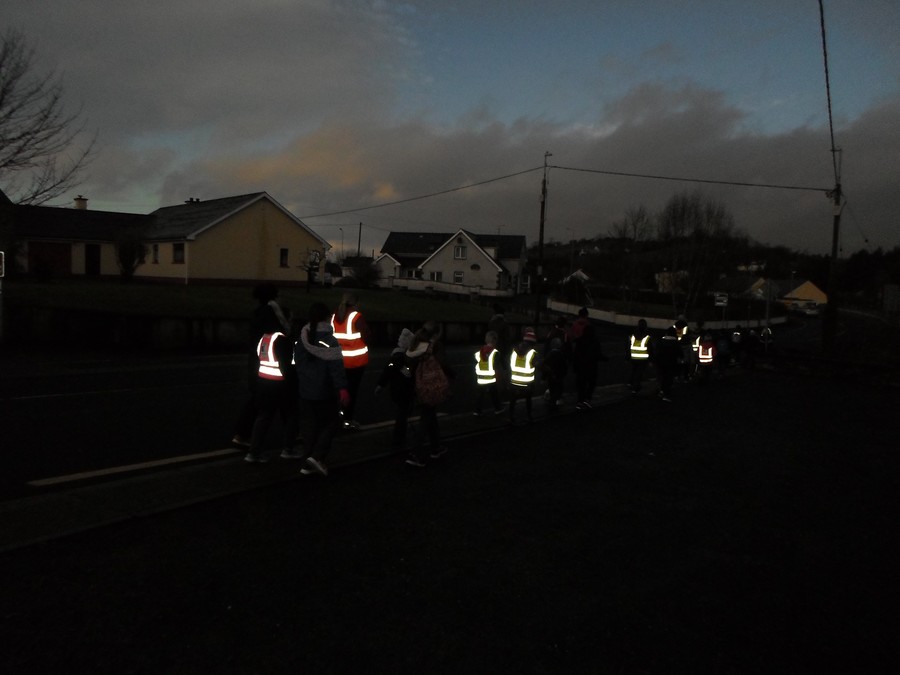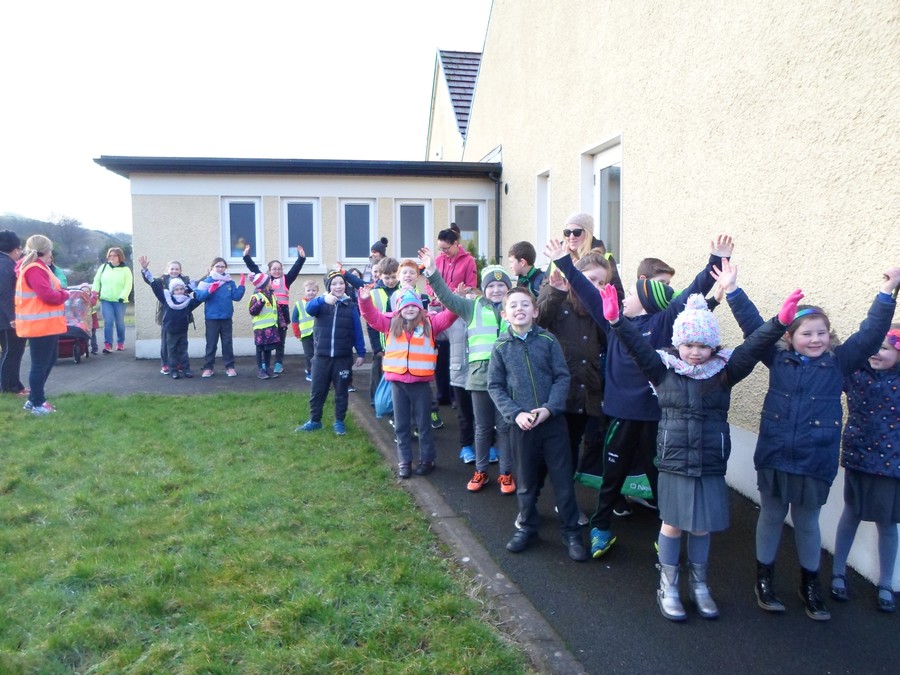 Donation
Thanks very much to Adrian Britton of Roadteam Ltd, Pettigo for their very kind donation towards our Active School project. It is very much appreciated and will help us to get our next Active School Flag.
Monday 16th January 2017
Active School Committee Meeting
Communication:
After analysing the parent and pupil questionnaires, we discovered that parents do not visit our school website very often. We discussed what we could do about this. We feel we could write a letter from the Active Schools Committee to inform the parents whats going on in our school. Also a lot of parents are not aware of websites that can encourage physical education. We will create a list of good websites and notify the parents of these.
Sports Clubs:
ASC to do a survey of the children's favourite sports clubs.
GAA:
The boys in the senior room are doing lots of GAA practice at break times. Even some boys who NEVER play GAA are practicing and improving their GAA skills. The Active Schools Committee are going to really encourage the 2007 girls and up to practice their GAA skills.

Active Golden Time:
We feel the Active Rewards are going very well!

Super Troopers:
The Super trooper programme started last week. So far its been a great hit. ASC will monitor booklets to ensure they are fully completed. Teachers are giving less homework to encourage more physical activities at home.

Swimming Lessons:
The senior room children have started their swimming lessons (six weeks) in the Central Leisure Centre. So far so good.
Dance:
From the pupil questionnaires it was clear that dance was the least liked strand by the children. For this reason we have chosen dance to be the focused strand. We need to make this more fun for the boys and girls. The ASC feel the online 'Go Noodle' dance programme worked very well in the senior room. This could be introduced in the the other classrooms. ASC to ask Mrs Mc Daid if we could get a dance teacher into the school.
11th January 2017
Today the senior classes started their swimming lessons in the Central Hotel Leisure Centre, Donegal Town. There will be 6 lessons in total. Everyone enjoyed their first lesson very much. To be able to swim is a very important skill to have and the children are very grateful to have the chance to learn how to swim. Thanks to Miss McGroary for organising the lessons and to the parents who have volunteered to help out with supervision.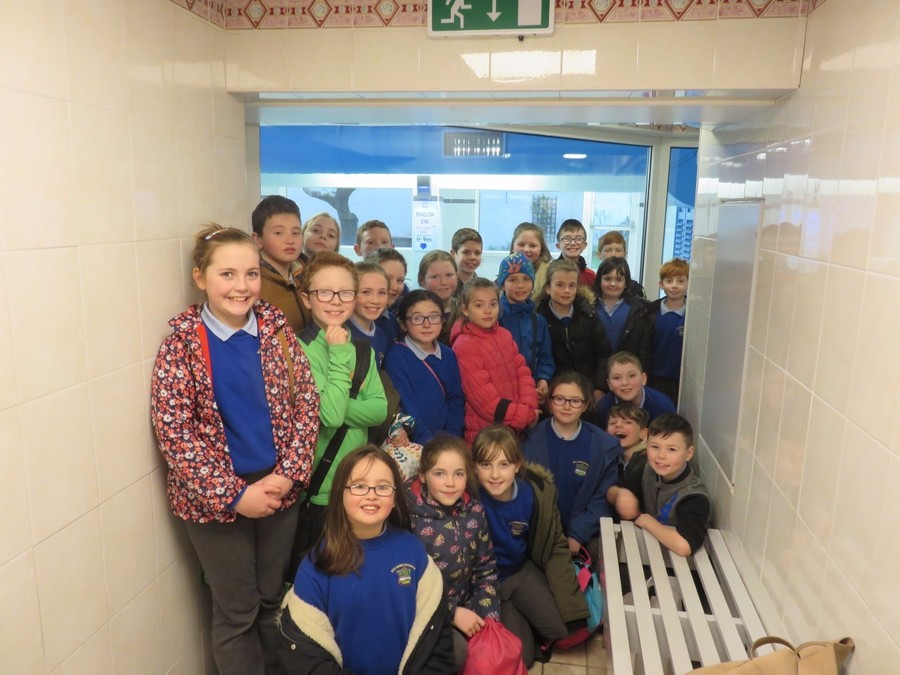 20th December 2016
We presented our Christmas Concert in Laghey Parish Hall. It was a great night and the hall was packed to capacity. The children walked to the Laghey Parish Hall for rehearsals leading up to the event.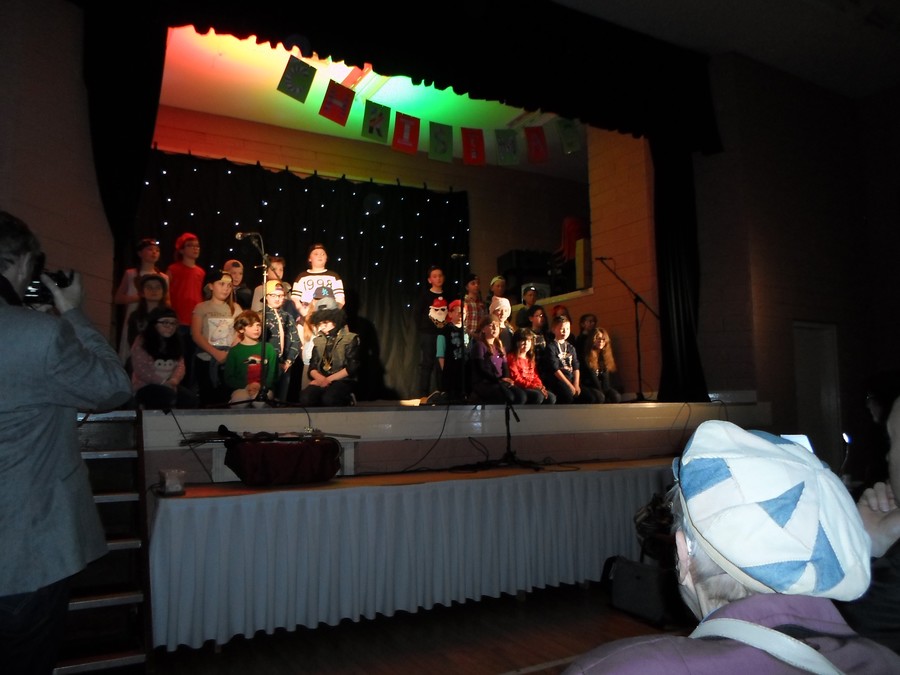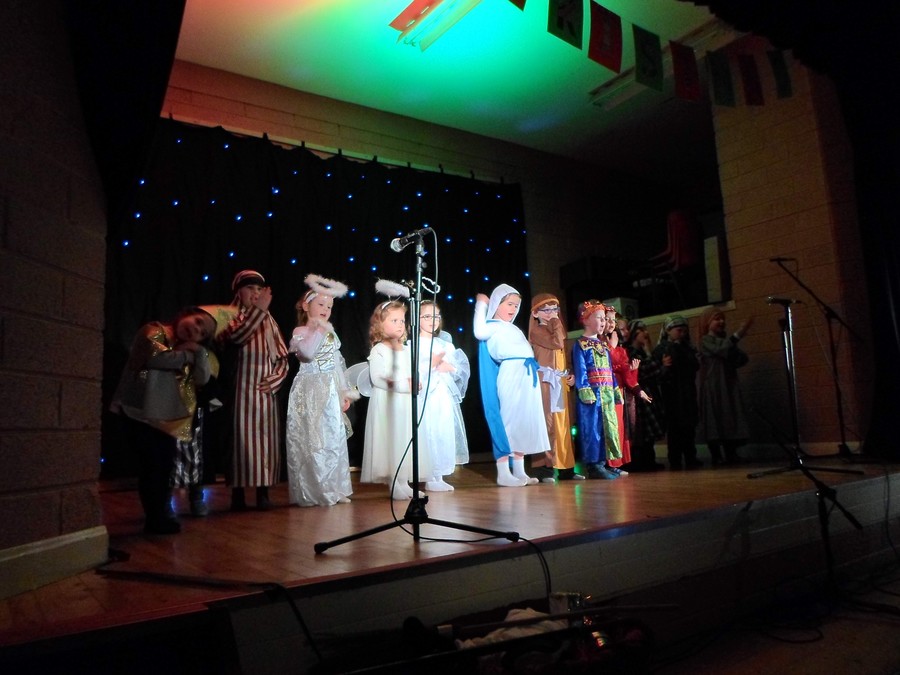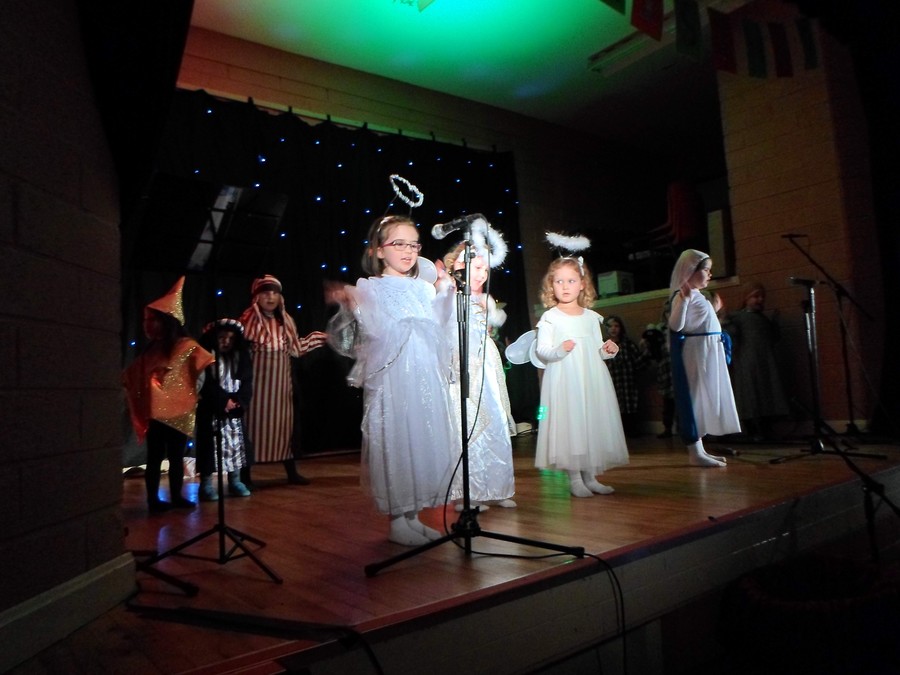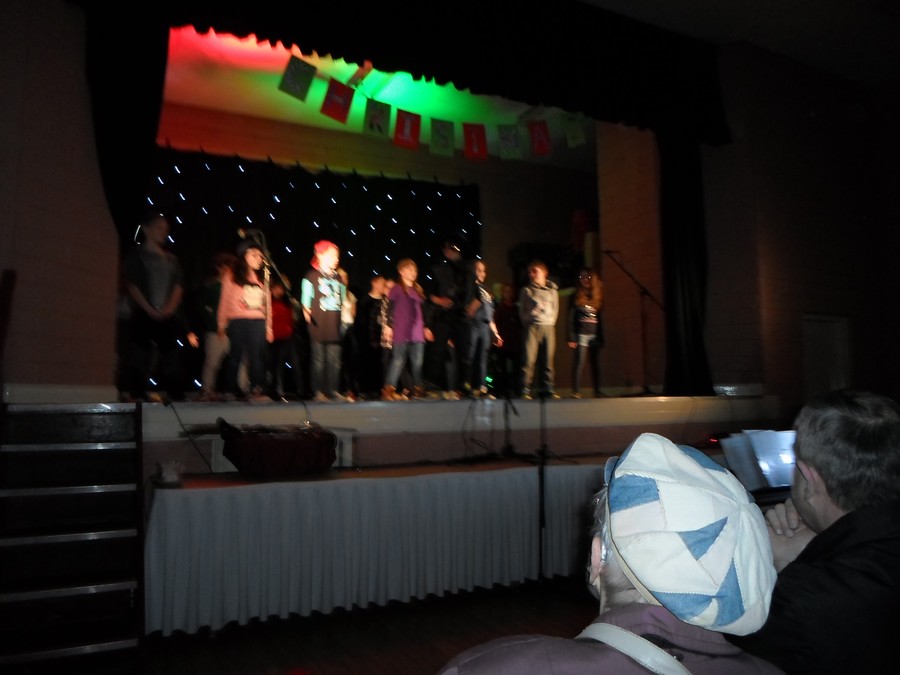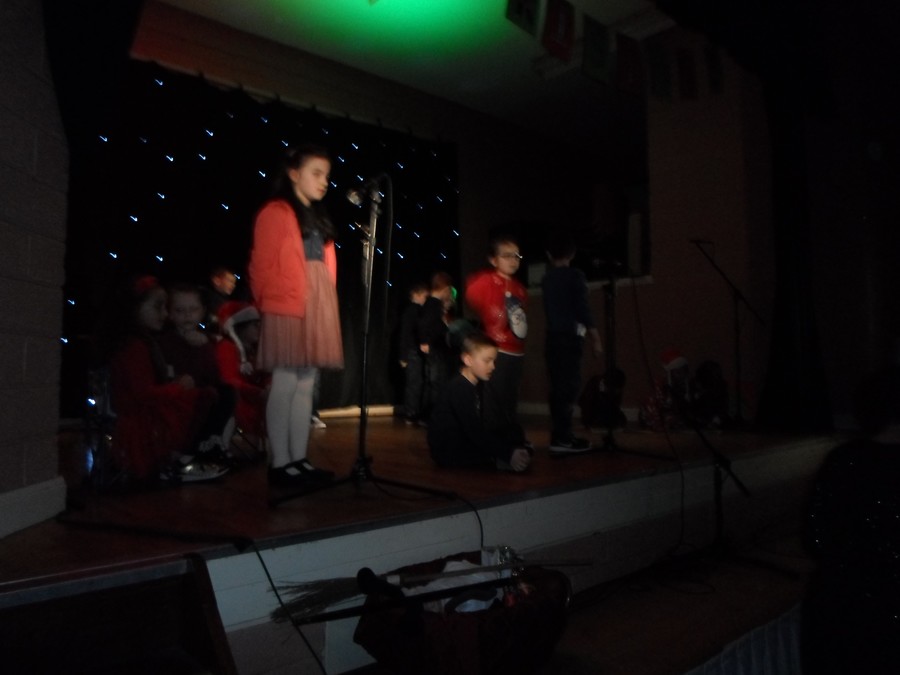 Friday 9th December 2016
Active School Committee Meeting/Assembly


The ASC told everyone the results of the survey and launched the new structured play timetable for the new year. The timetable below is to be placed on our new ASF notice board for the children to check.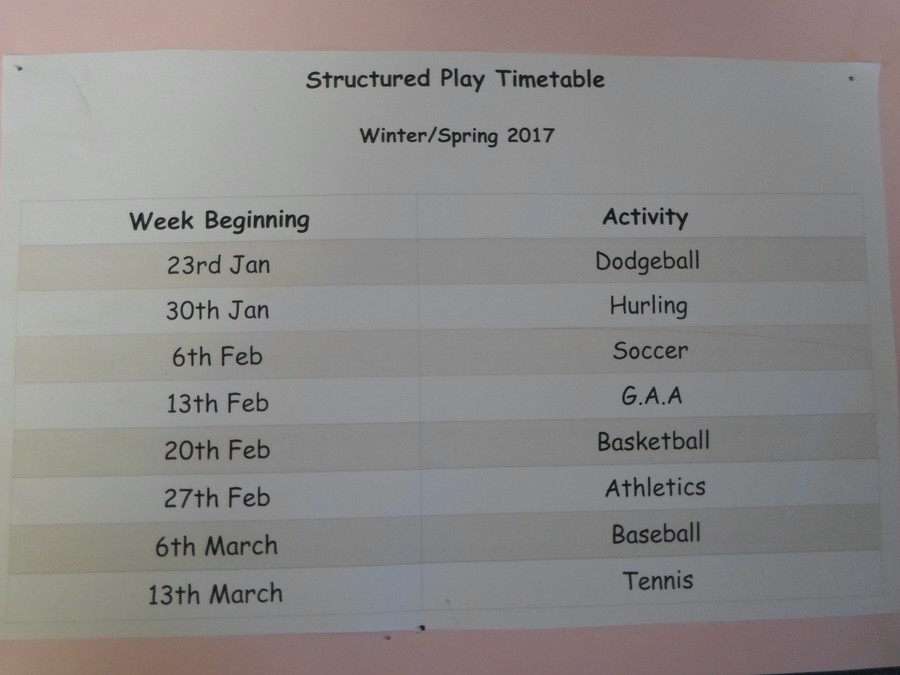 The ASC also told the boys and girls about the new line up activities and the 'walk when you talk' rule in the yard at break times. Everyone thought this was a great idea!
Miss Tully told the school that as part of our 'Active Christmas Activity' we would be walking to Laghey Parish Hall for numerous days in December for our rehearsals. This is to start next week!
The ASC said they would like to see everyone working hard on their GAA skills for the Cumann na mBunscoil that will be starting very soon.
Mrs Mc Daid announced that the ASC had a new idea for our rewards at school and launched 'Active Golden Time' on Friday's for boys and girls who do very good work in class. There was a big cheer!
The boys and girls were reminded about the suggestion box in the school office.
Mrs Mc Daid passed on some information about 'Super Troopers' a new active activity journal for the school. The ASC decided to implement it after Christmas.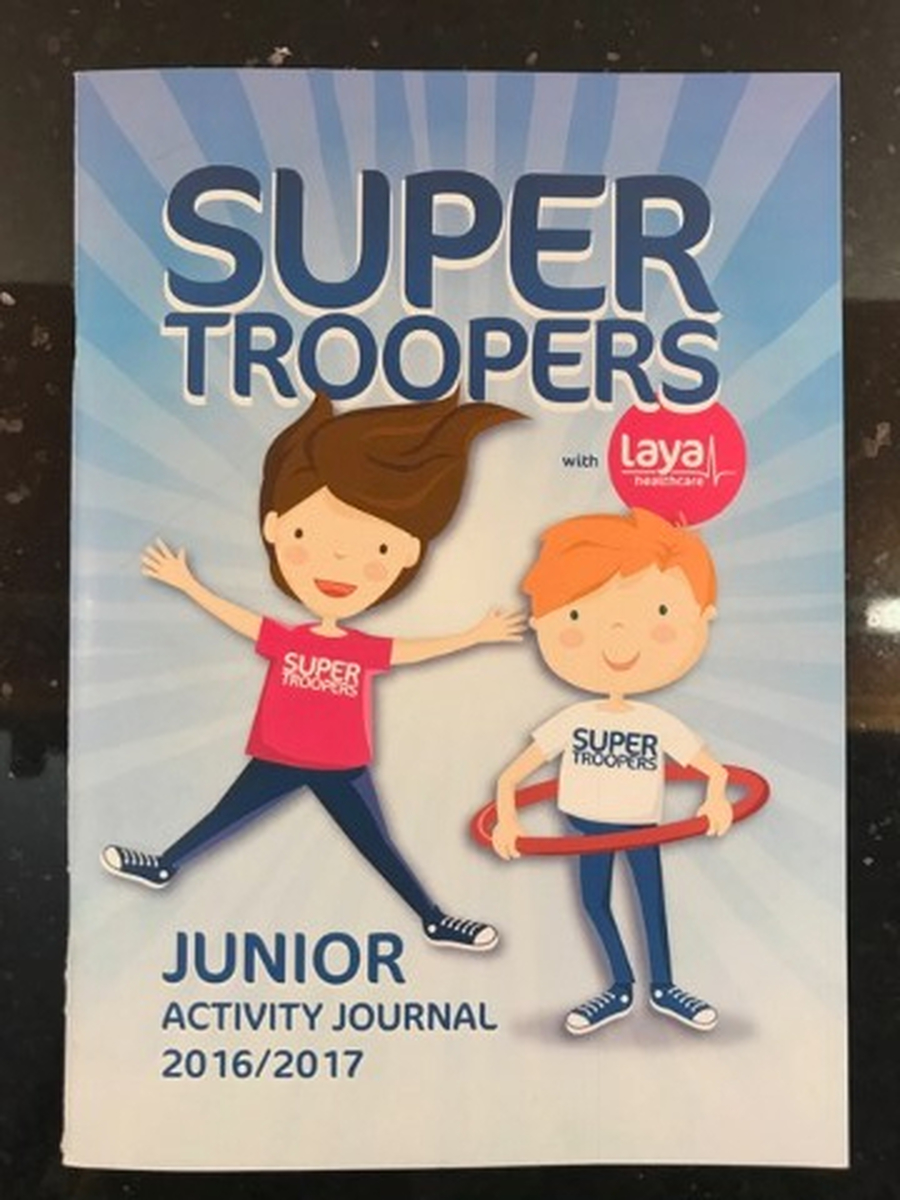 Tuesday 22nd November 2016
Active School Committee Meeting


Results of Survey/Structured Play:
The results of the survey were used to set up the new structured play timetable.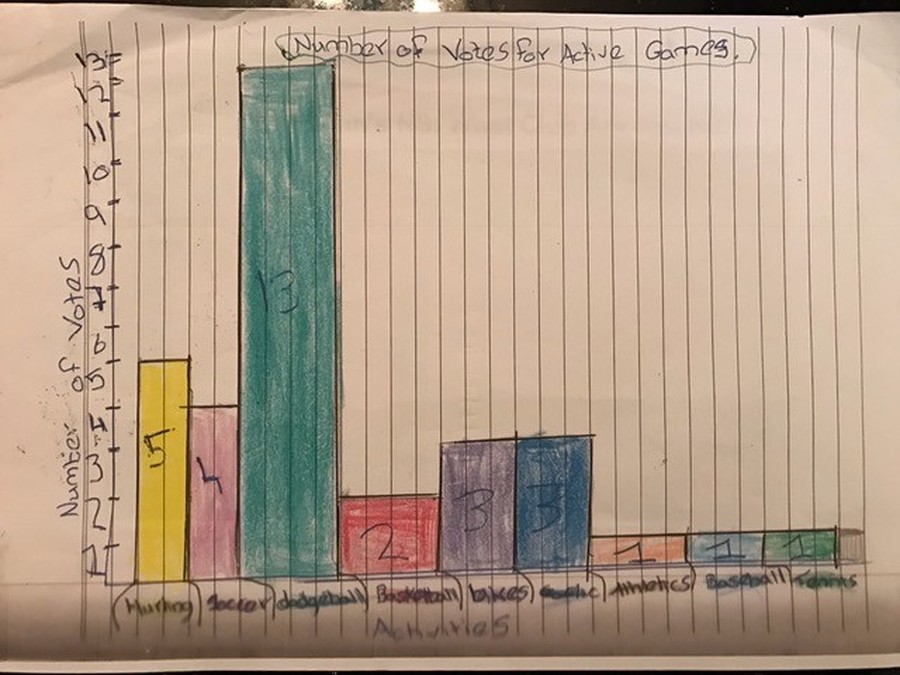 Active line ups:
Active lines to be organised from next week, making sure all the boys and girls are active waiting in their lines to come in to the school after each break.
GAA:
As our school is participating in Cumann na mbunscoil, GAA skills will be targeted.
Information:
We spoke about how we could tell others about the ASF by Assembly, Our Website, Social Media, Facebook, Posters or a notice board.
Active Christmas Activity:
The ASC think that we should do an active activity for Christmas like the Halloween activity! We decided that we will be very busy with our Christmas production so maybe we could walk to Laghey Parish Hall for our rehearsals.
Active Rewards:
The ASC think we should ask the teachers to change the rewards system in our school to active rewards Eg. Active Golden time.
Parent/Pupil questionnaires:
The committee feel we need to get information from the parents and pupils about activities in our school. Questionnaires to be filled out and returned as soon as possible.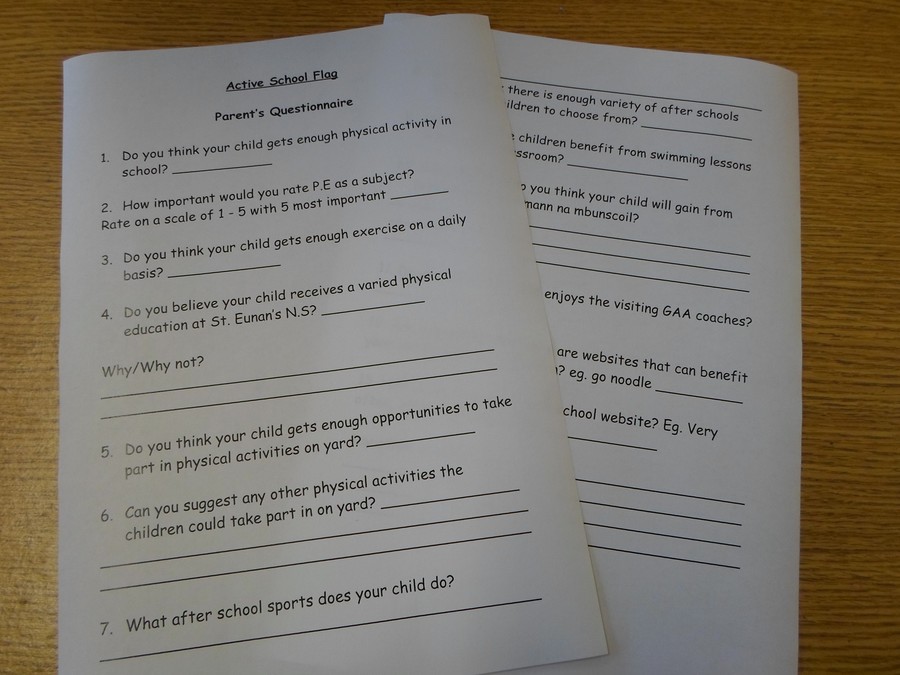 Wednesday 9th November 2016
Whole School Meeting
Winning Slogan: Ditch the car, ditch the bus, come on guys and walk with us. The ASC asked the boys and girls in the senior room to design the posters. The ASC told the other boys and girls about the new suggestion box that is in the school office. The Walk on Wednesday is successful with lots of families walking. The Bizzy Break activity programme used during wet play is working really well and is led by Emily.
Here is a picture of the winning slogan: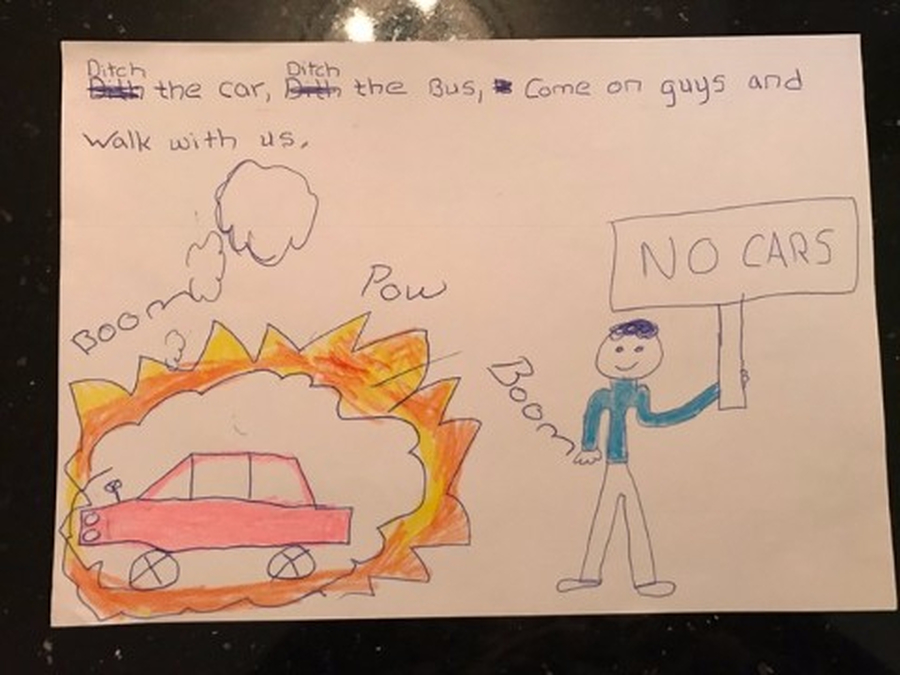 28th October 2016
We had our Halloween Party at school today and then we got our October midterm break. All the pupils and teachers dressed up in their Halloween costumes and everyone looked great. There was so much effort put into the costumes and they all looked brilliant, thank you to the pupils and their parents. We had assembly and a Halloween disco. Everyone enjoyed it very much. Here are some pictures: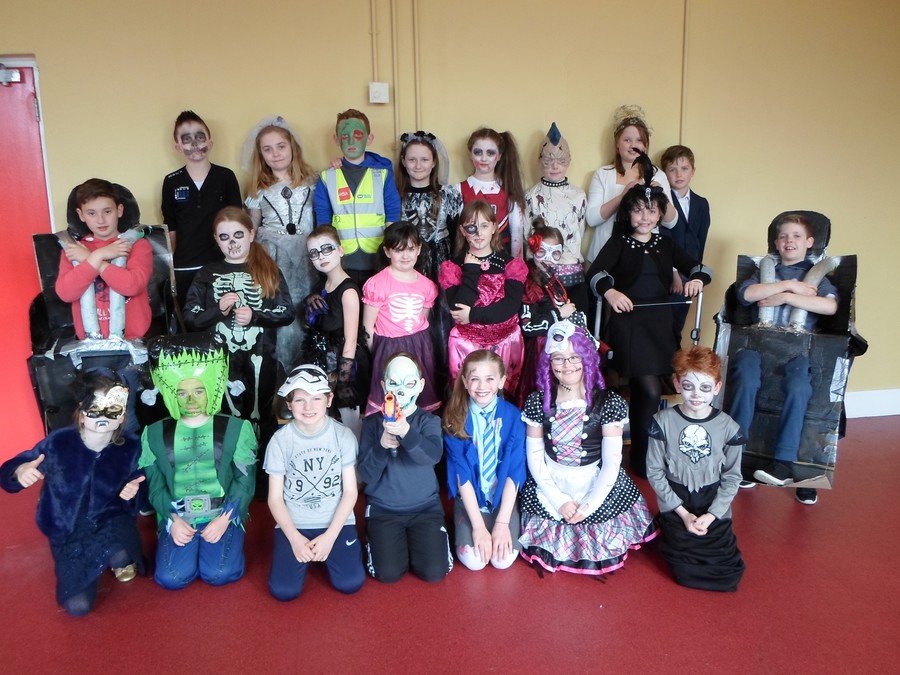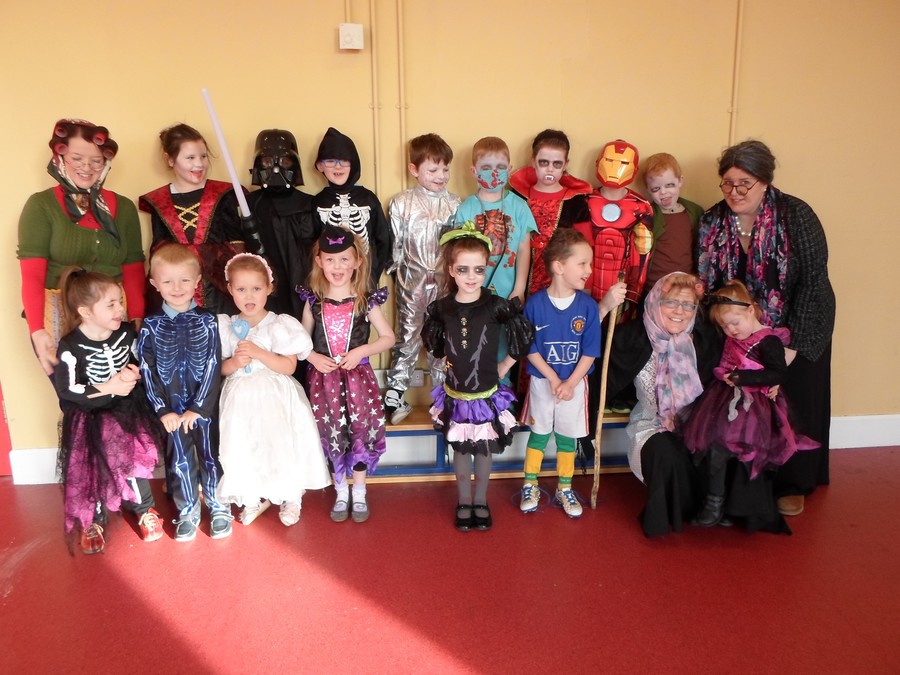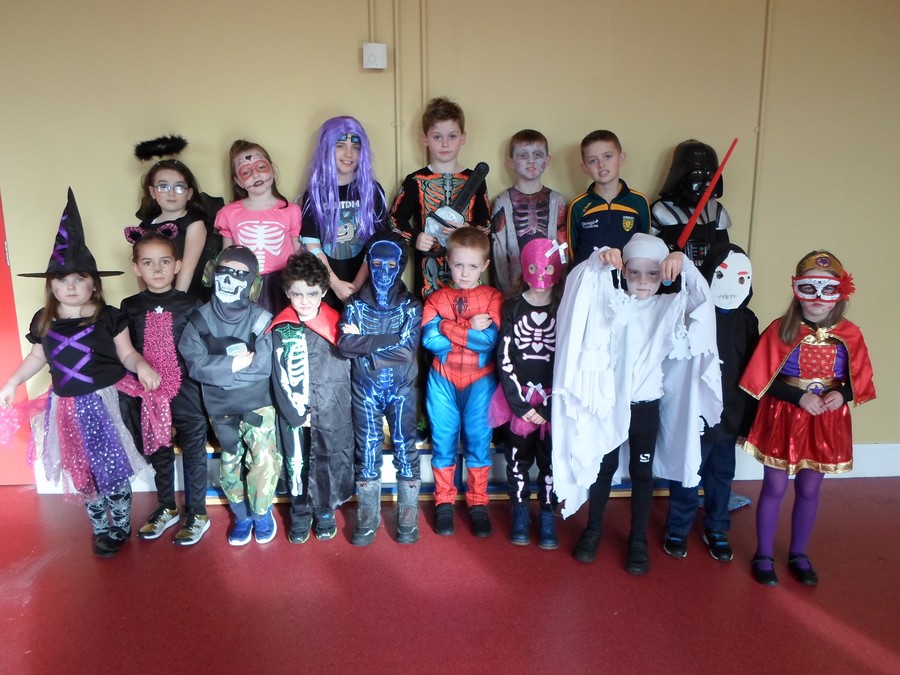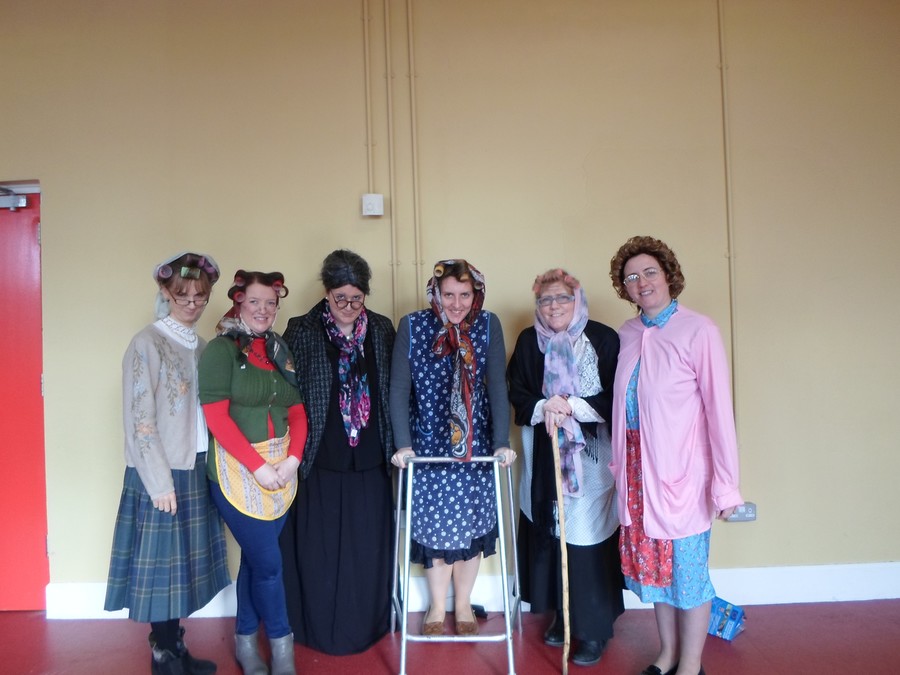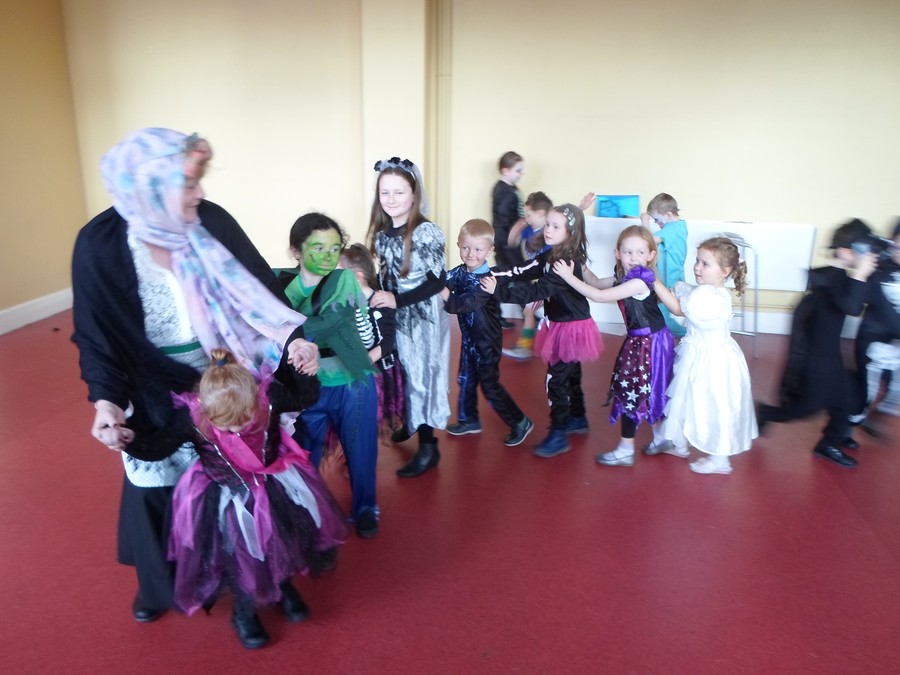 20th October 2017
We have introduced a "SUGGESTION BOX" for the children to post their suggestions for activities and sports they would like to do and also suggestions for any improvements we can make to our Active School programme. The children have lots of ideas that they want to post into it.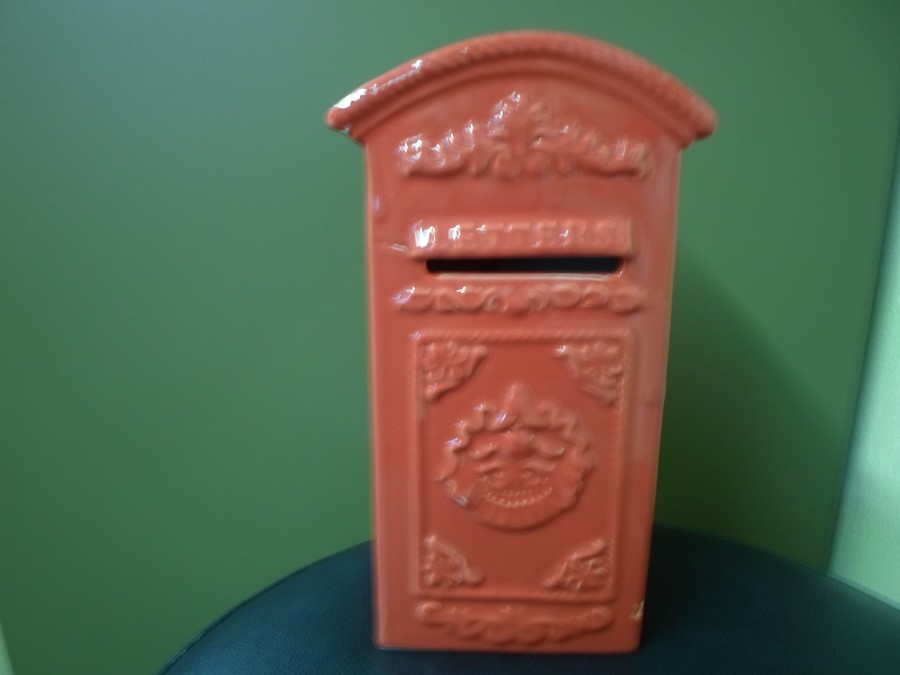 Thursday 20th October 2016
Active School Committee Meeting
Today we had a quick meeting to discuss the ASF slogans that the teachers passed on to Miss Tully. We decided to let the children vote on the top 6 slogans. This is to be done after the mid term break. We will then ask the senior boys and girls to design posters with the new slogan to put up in the school and around the locality. We also decided to place a suggestion box in the office with Menie and tell all the boys and girls about the suggestion box when voting for our ASF slogan. The ASC thought it would be good to have a Halloween Disco before our mid term break. The meeting thought this would be great fun and active! Children to be told this at the next whole school meeting. Miss Tully told the ASC that the staff attended 'Be Active' training. This is related to setting up after school sports activities.
12th October 2016
Today a few of the players from the Naomh Brid/Pettigo boys U-16 team along with their manager Michael Calvey visited our school with their Divisional Final cup which they recently won. We were delighted to have photos taken with the players and their cup and we are very proud of their great achievement in winning the Divisional Final. Congratulations to all the players, managers, coaches and mentors.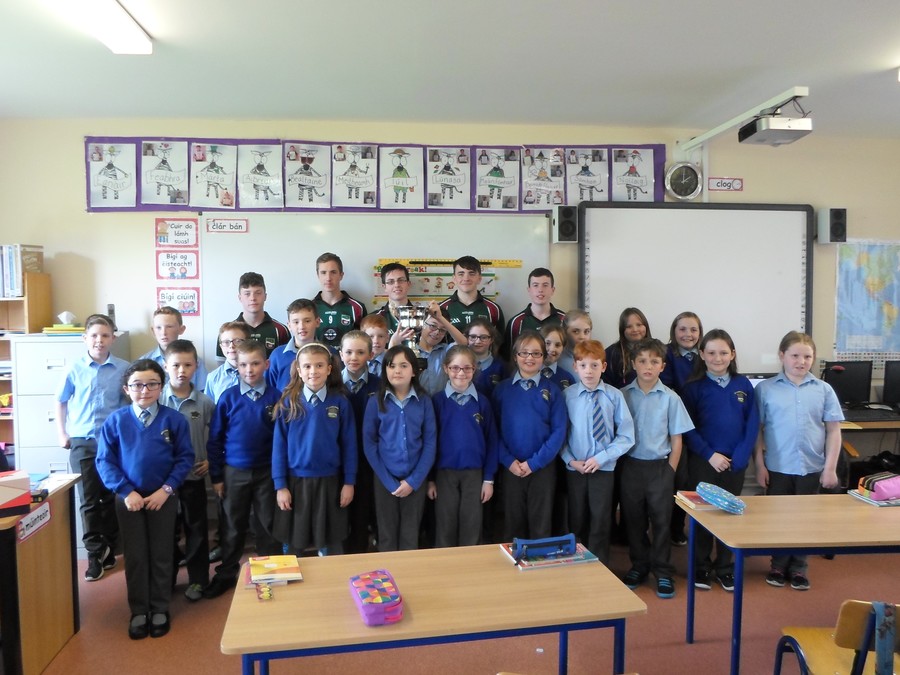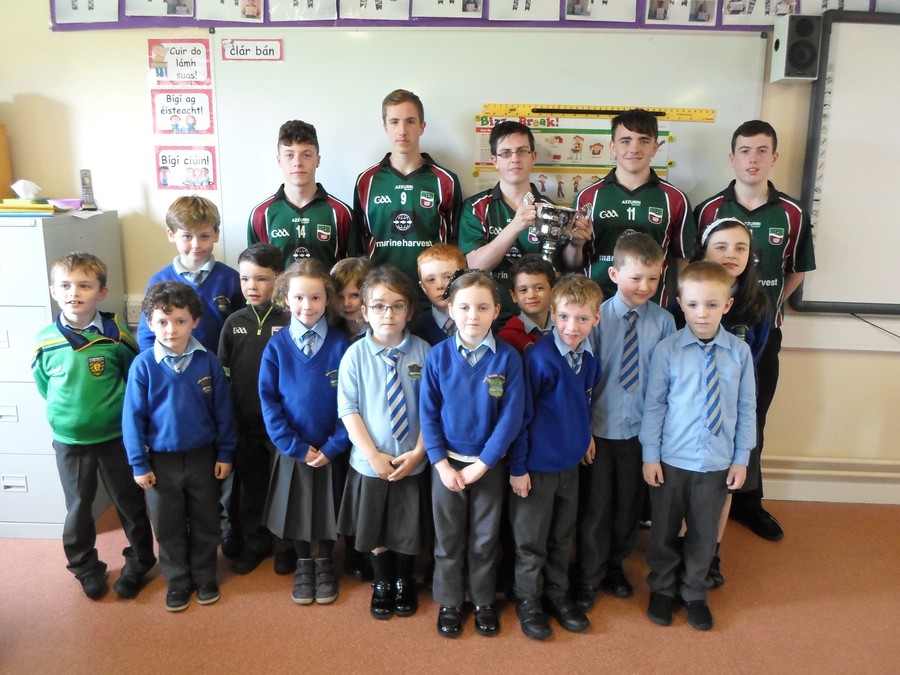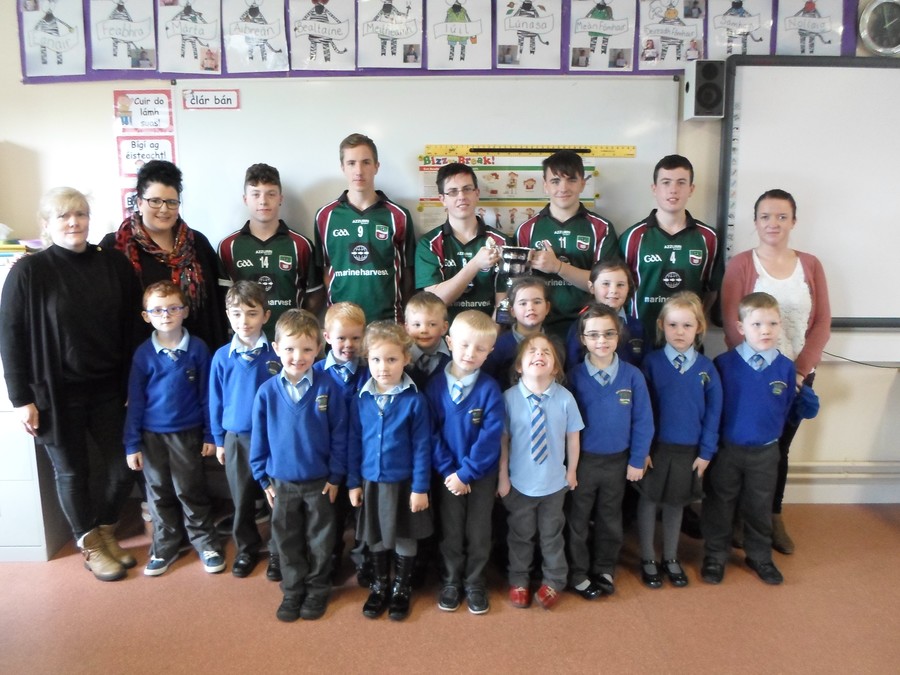 Walking to School
The children are very active and making a special effort to walk to school with their parents each morning. Emily and Liam are recording the number of walkers each morning.
October is International Walk to School month so it is important that we all make a good effort.
We are continuing to have large numbers of walkers for our "Walk on Wednesday" WOW.
Last month Ms McGroary's class achieved the Golden Boot Award for having the highest percentage of walkers in their classroom. Many congratulations to them!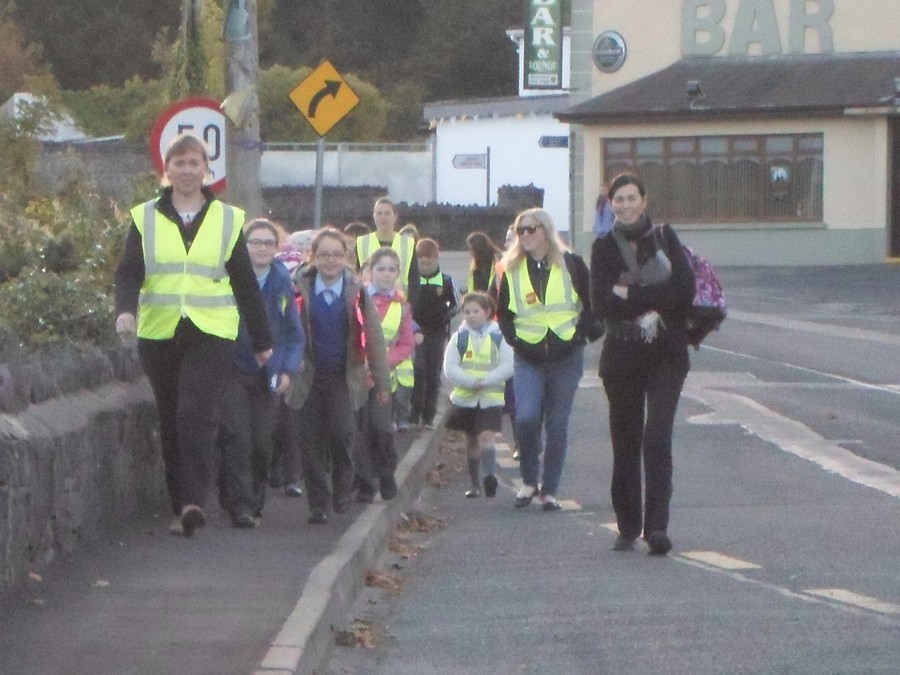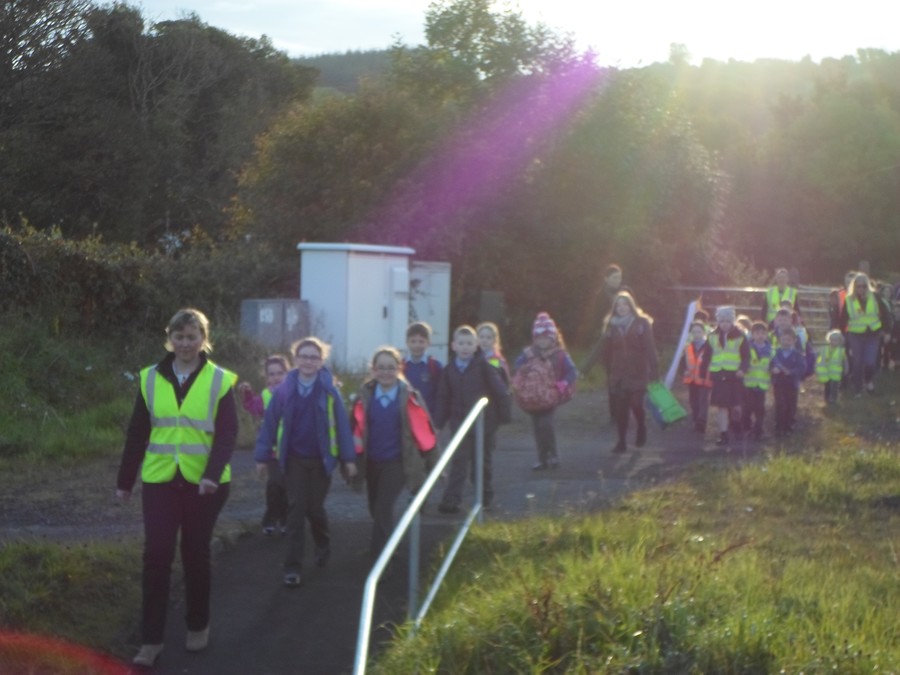 11th October 2016
Today we held a training evening for teachers on "Be Active ASAP", an afterschool programme for children. Kirsty delivered the workshop and the teachers really enjoyed the evening.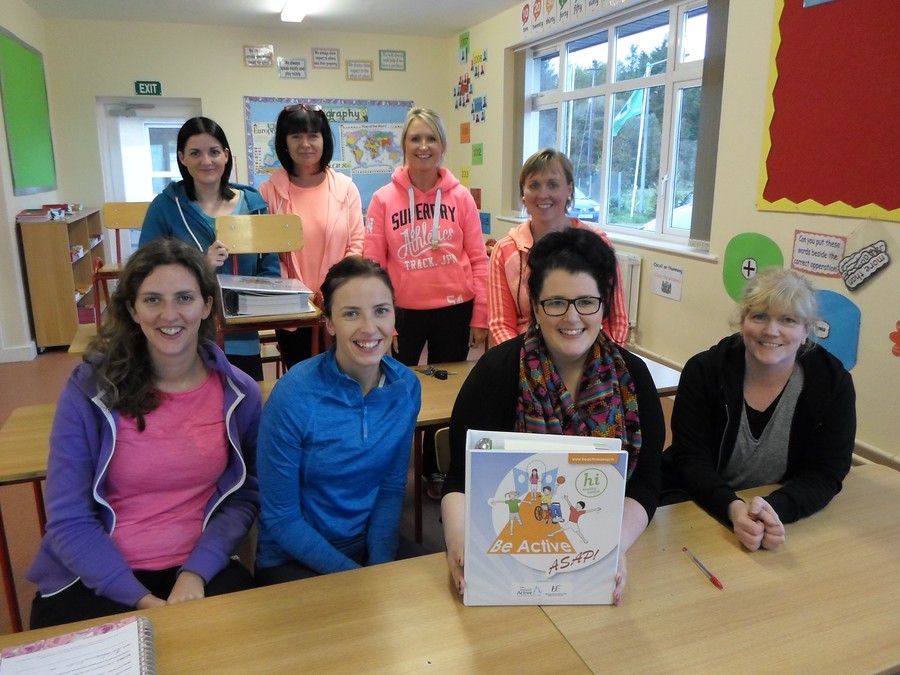 4th October 2016
The Active School Flag Committee met today to elect a secretary and write a plan for the year ahead. ASC (Active school committee) to carry out a survey with all the children in the school to see what their favourite sports are for structured play. It was decided to delay the structured play until the weather improves. Results to be studied at the next ASC meeting. All children to be asked to help to think of a new Active School slogan. We think it would be a good idea to offer an 'Active reward' for the winning slogan. The ASC to initiate 'Walk of Wednesdays' where all the boys and girls and their parents are encourage to walk to school. This is to be recorded each week. Mrs Mc Daid to ask the parents association to organise supervision for safe walking.
26th September 2016
We have elected our new Active School Committee for the school year 2016/2017. They are really looking forward to encouraging, promoting & sustaining physical activity in our school.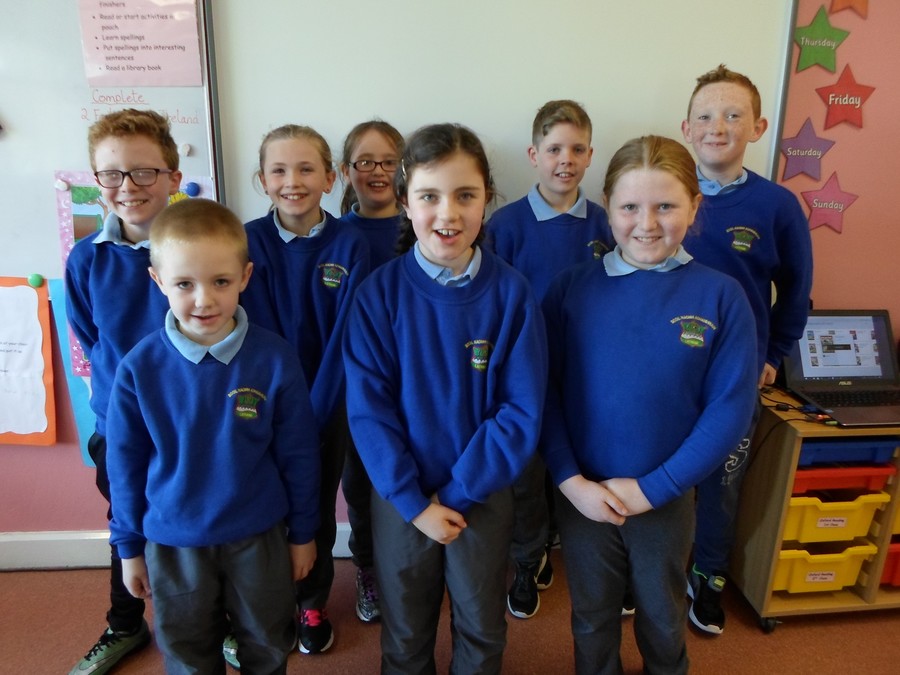 22nd September 2016
We were delighted to have a speaker from the RSA in our school today to talk to all the children about road safety. As we are working on our fourth Green School Flag which is 'travel' and are continuing to work on our Active School Flag this presentation was very valuable to all children as a lot of them walk to school each day. The children were enthusiastic about it and learnt valuable information to keep them safe.
The children in the school received certificates and prizes from the RSA for their participation in the Road Safety Presentation.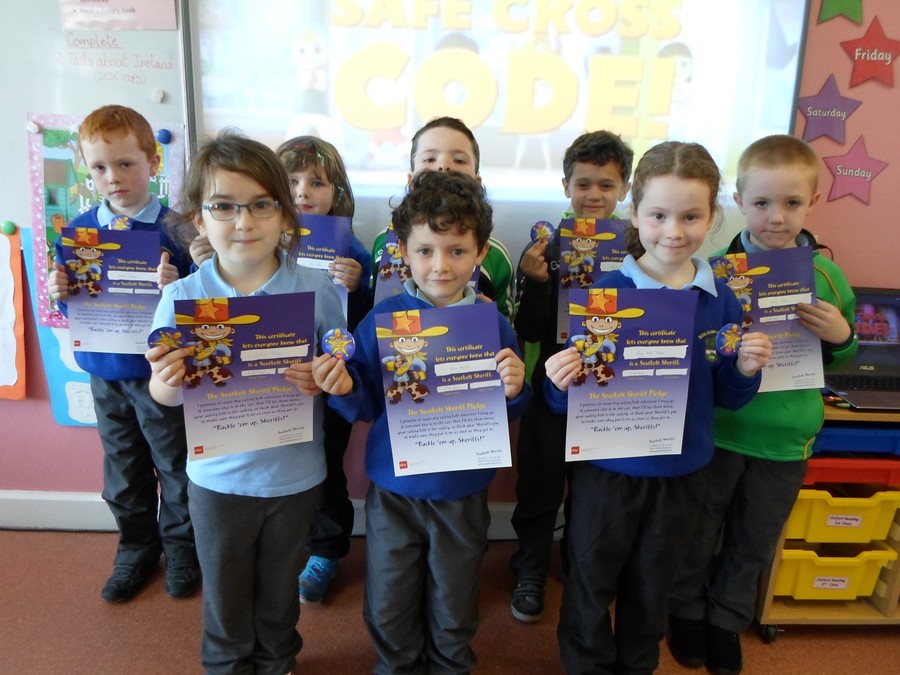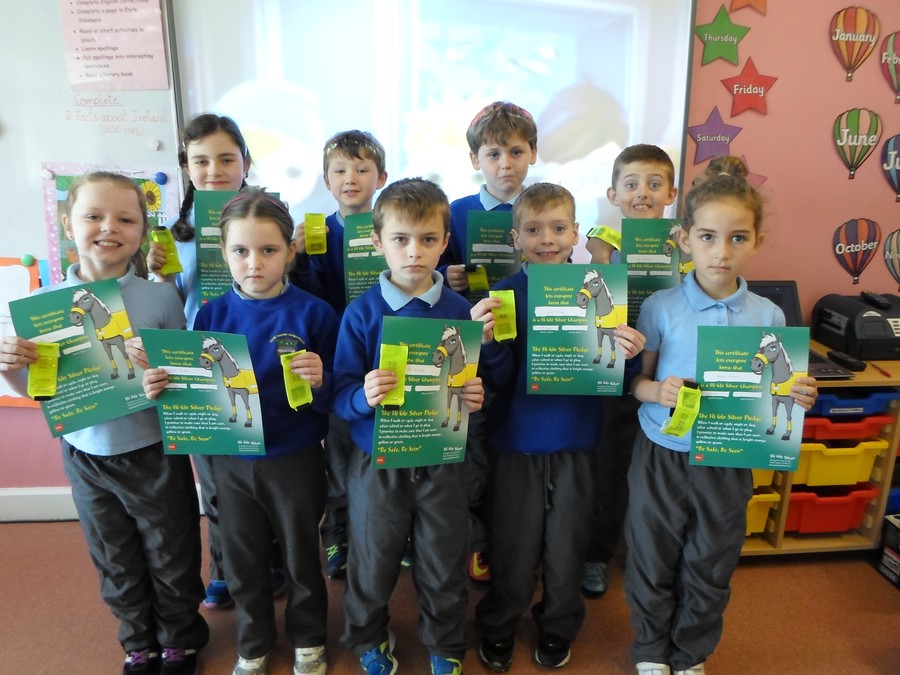 16th September 2016
As part of our 'Healthy Eating Policy' we created a display board to highlight the amount of sugar in various foods. We were shocked at some of the findings. Some foods may not be as healthy as you think!!!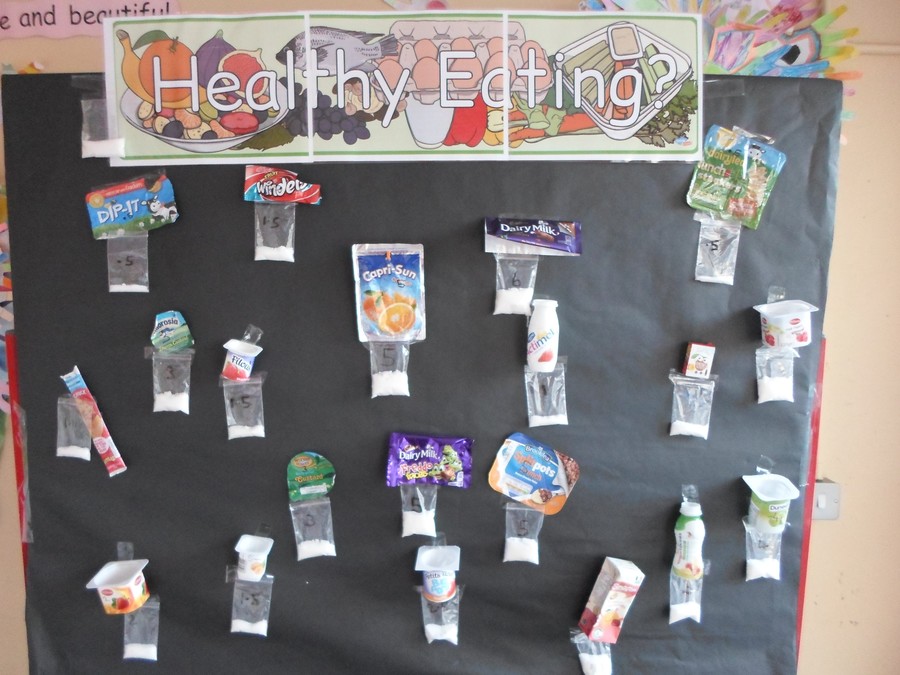 12th September 2016
Due to the wet weather we had the perfect opportunity to introduce the 'Bizzy Break' activities to the new pupils in our school.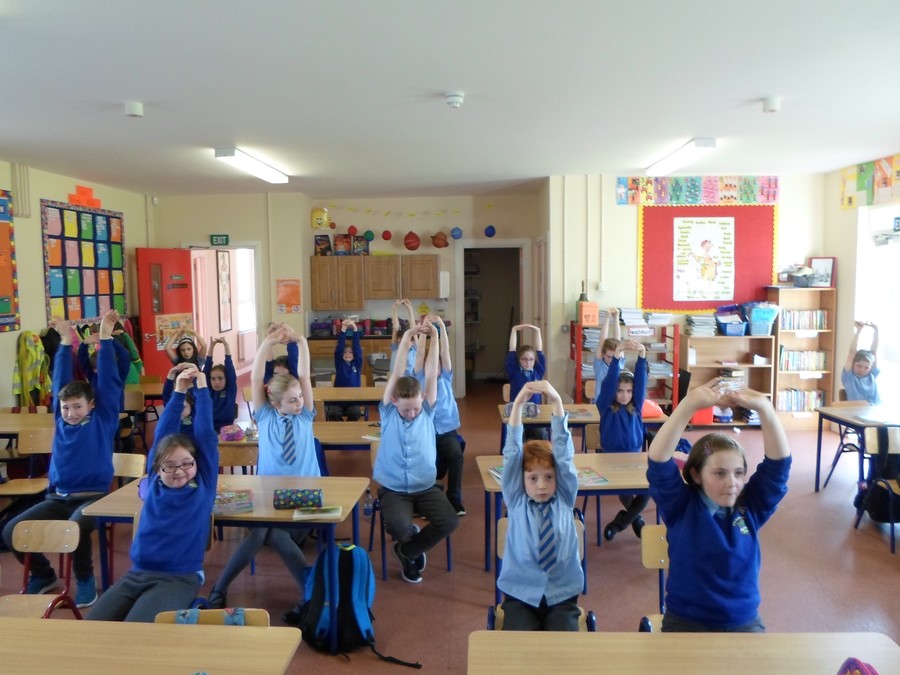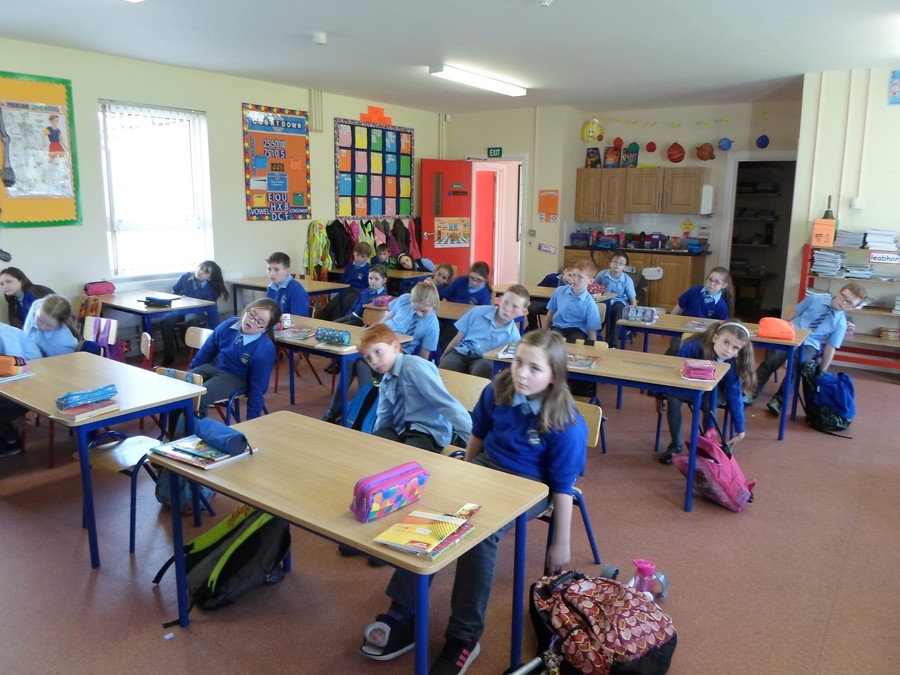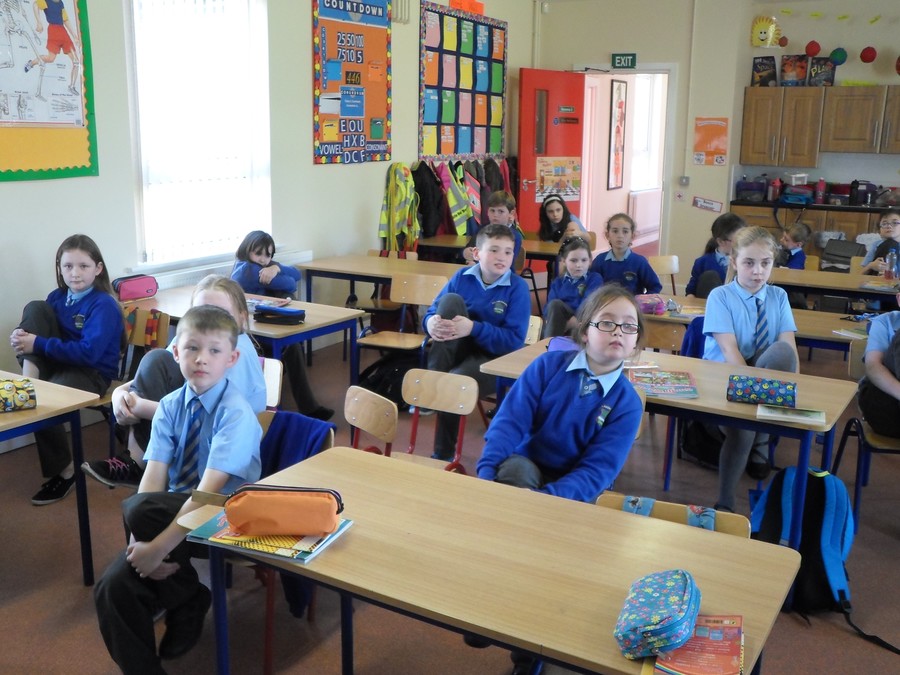 1st September 2016
OUR YEARLY PE PLAN
We have drawn up our PE plan for the year and the teachers have done a stocktake and check of our equipment. We hope to incorporate a variety of sports and activities this year and we will focus on our "Dance" theme for the active school flag.