Current News and Events
8th January 2021
Happy New Year to all of our school community!

A letter has been emailed to all parents about our remote learning.

The teachers will be in touch with you on Monday morning. We're really looking forward to re-connecting with the boys and girls.

Daunting as home schooling is we're all here to support you.

We can do this!!! Enjoy the weekend everyone.
21st December 2020
Each year, the children go on a cinema trip as a Christmas treat. Unfortunately, this year we are unable to do this so we thought we'd bring the cinema to our school. Today was movie day and each class watched a film of their choice.
As well as this, the Parent's Association very kindly arranged for each child to get a Supermacs meal in school. The happy faces speak for themselves!! Thanks so much for our wonderful Parent's Association.
18th December 2020
Secret Santa!
Oh what fun we had today! 5th and 6th Class unwrapped their Secret Santa gifts. They each had a name of another person in their class and got each other such thoughtful and funny gifts! So much fun and it was a great feeling to open a present early. Practice run for Christmas morning!!
17th December 2020
Our Advent Calendar Reading Initiative.
1st and 2nd class are enjoying the countdown to Christmas by opening a door in their advent calendar and choosing a special book to read each day. They also received a kind motto to follow each day. Our elf Harry will be delighted with our extra reading and good deeds!!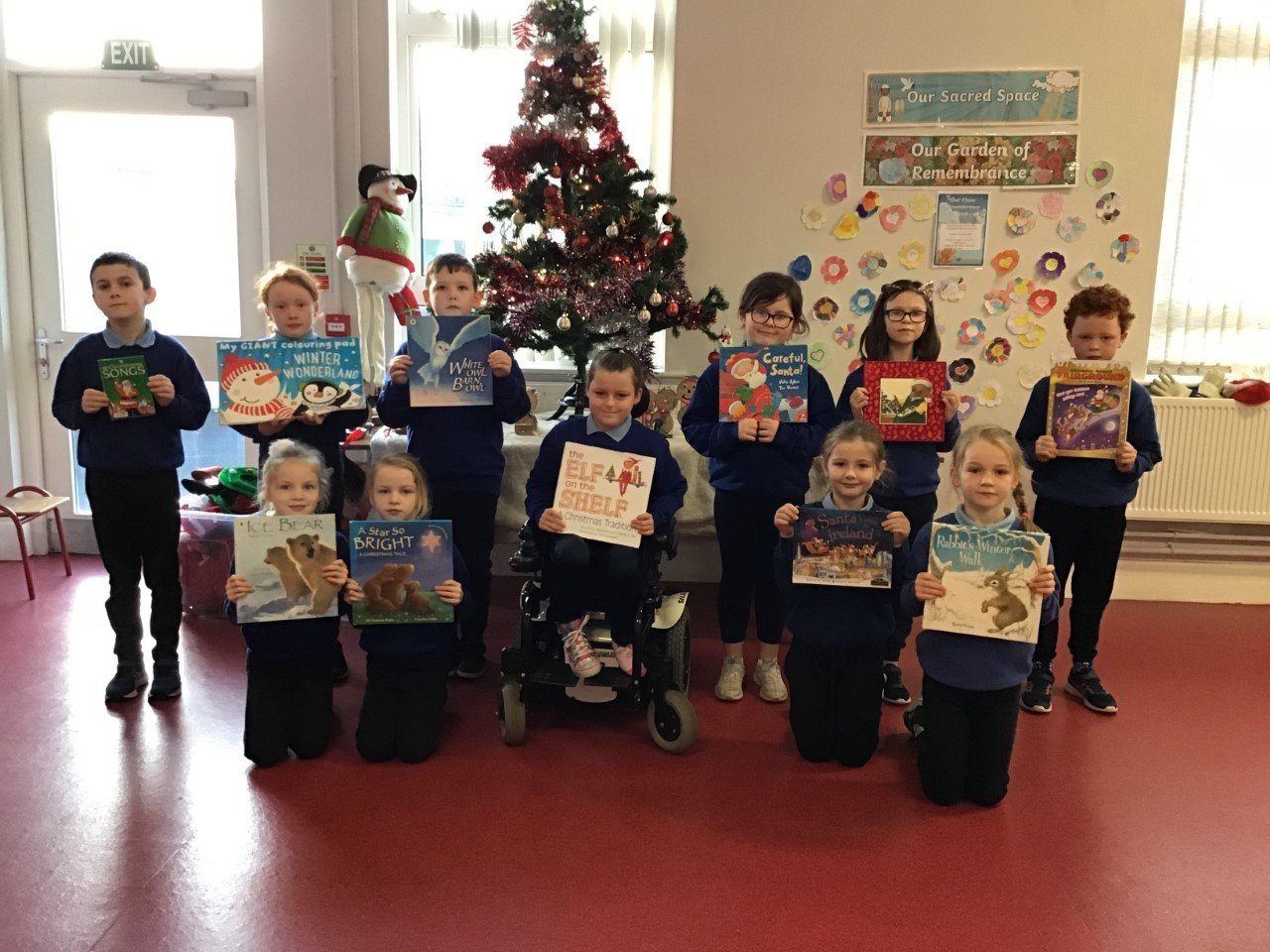 16th December 2020
Sneak peak at our Christmas Production! Keep an eye out for our video soon!!
12th December 2020
The boys and girls in 3rd and 4th class decided to make Christmas cards for the residents of Aras Mhic Suibhne in Mullinasole. The had some very thoughtful messages in them and they wrote a little about themselves too! We hope the residents enjoy them.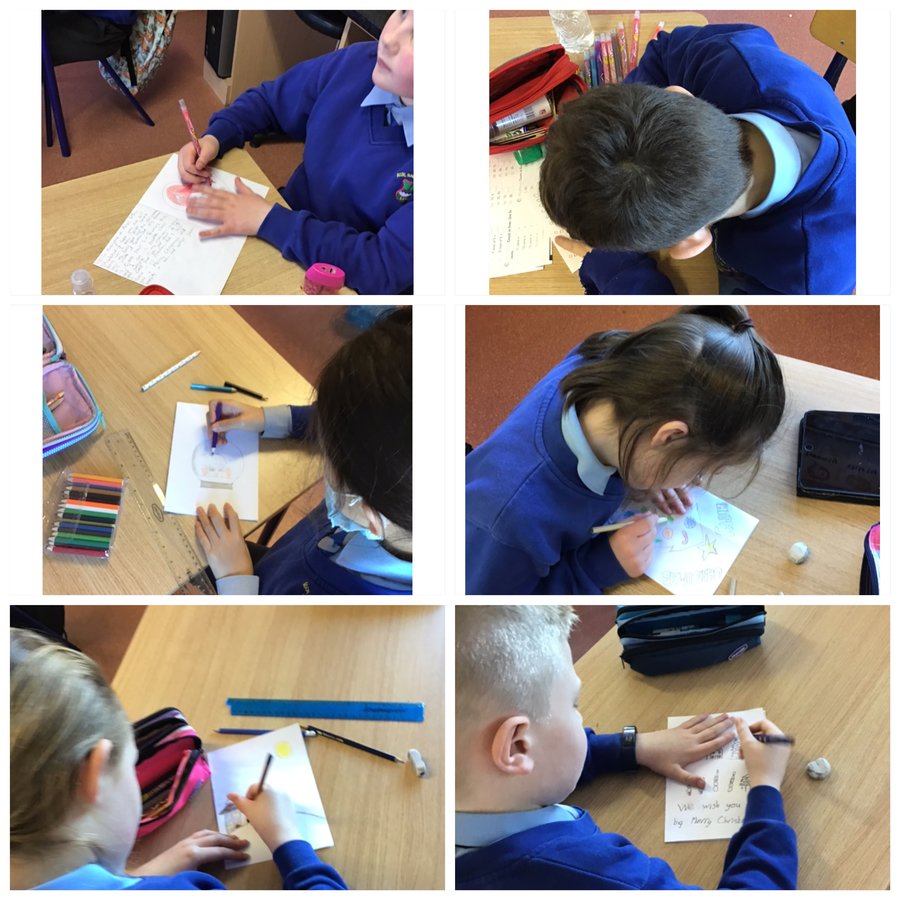 10th December 2020
Our Elf Harry
Harry the Elf has arrived in First and Second class. He appeared in a glass jar and left a note to say he was in quarantine. Yesterday he made a dramatic escape from quarantine on a tight rope and surprised the class after lunch break! He has already messed up the storeroom but was captured by our art snowmen! He has informed us that he will be reporting back to Santa every day!!

Typed by Caoimhe
2nd class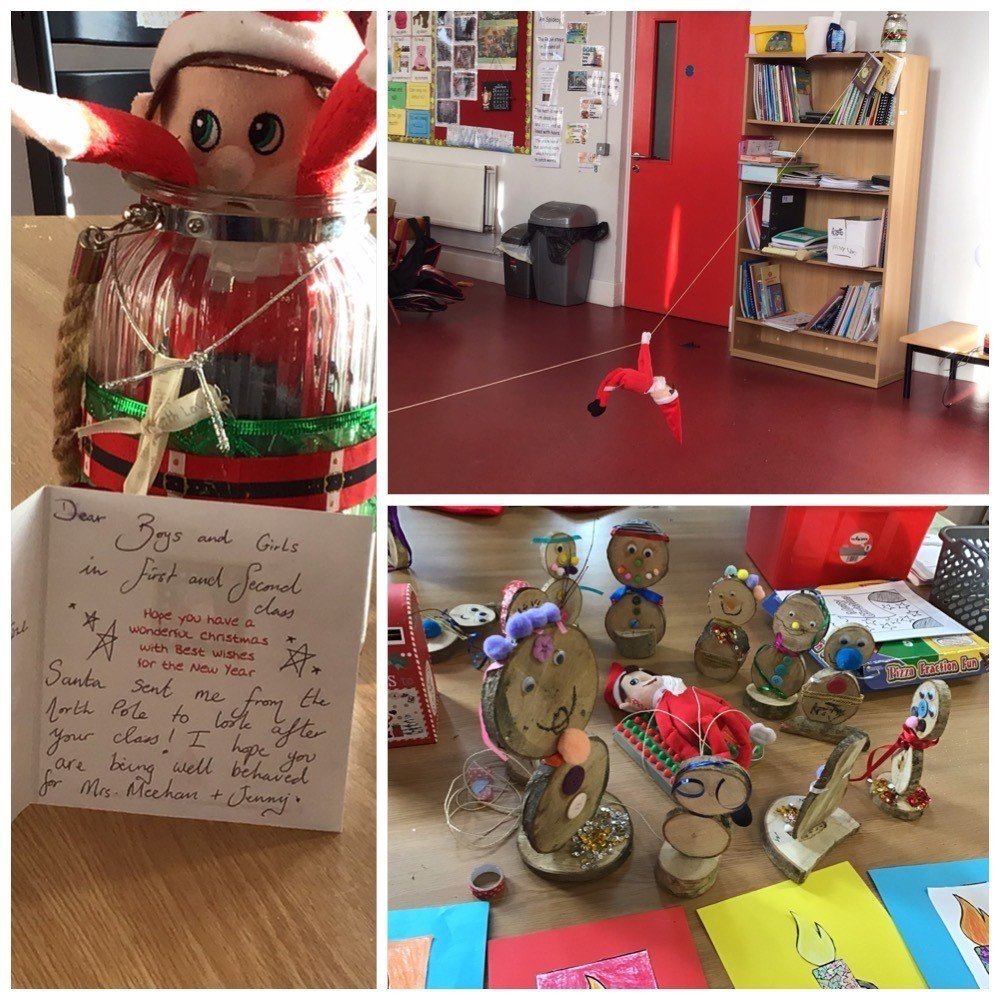 7th December 2020
James the Elf is back in Miss Tully's classroom!!
Last week a parcel arrived from the North Pole. There was great excitement! Can you guess who was inside (in his isolation jar!!!)
On Friday James escaped from his isolation jar and transformed the classroom into a disco! He has been up to mischief since!!!
Rumour has it there are two more elves roaming around the other classrooms too!
We would like to introduce our new SET teacher Ms Cróna Brady to our school. Ms Brady will be working alongside Mrs Meehan's and Miss McGill's classes. Wishing you every success and a huge warm St Eunan's welcome to you!!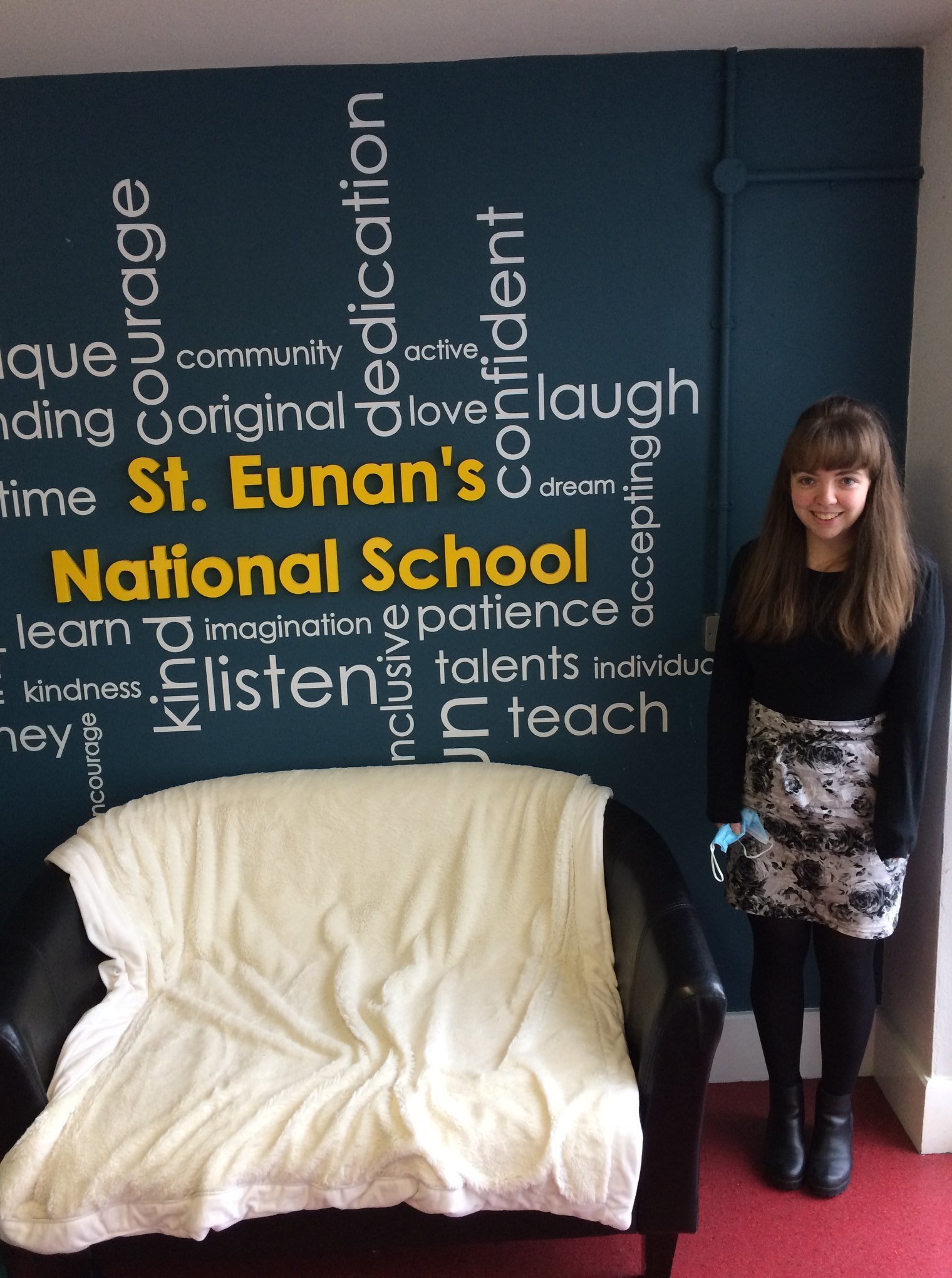 26th November 2020
Christmas Countdown
How many more sleeps until Santa comes?

Ask someone is 3rd or 4th Class and they're sure to know!

The children in Miss Mc Gill's class are filling in Santa's beard each morning and cannot wait until they get to the bottom row.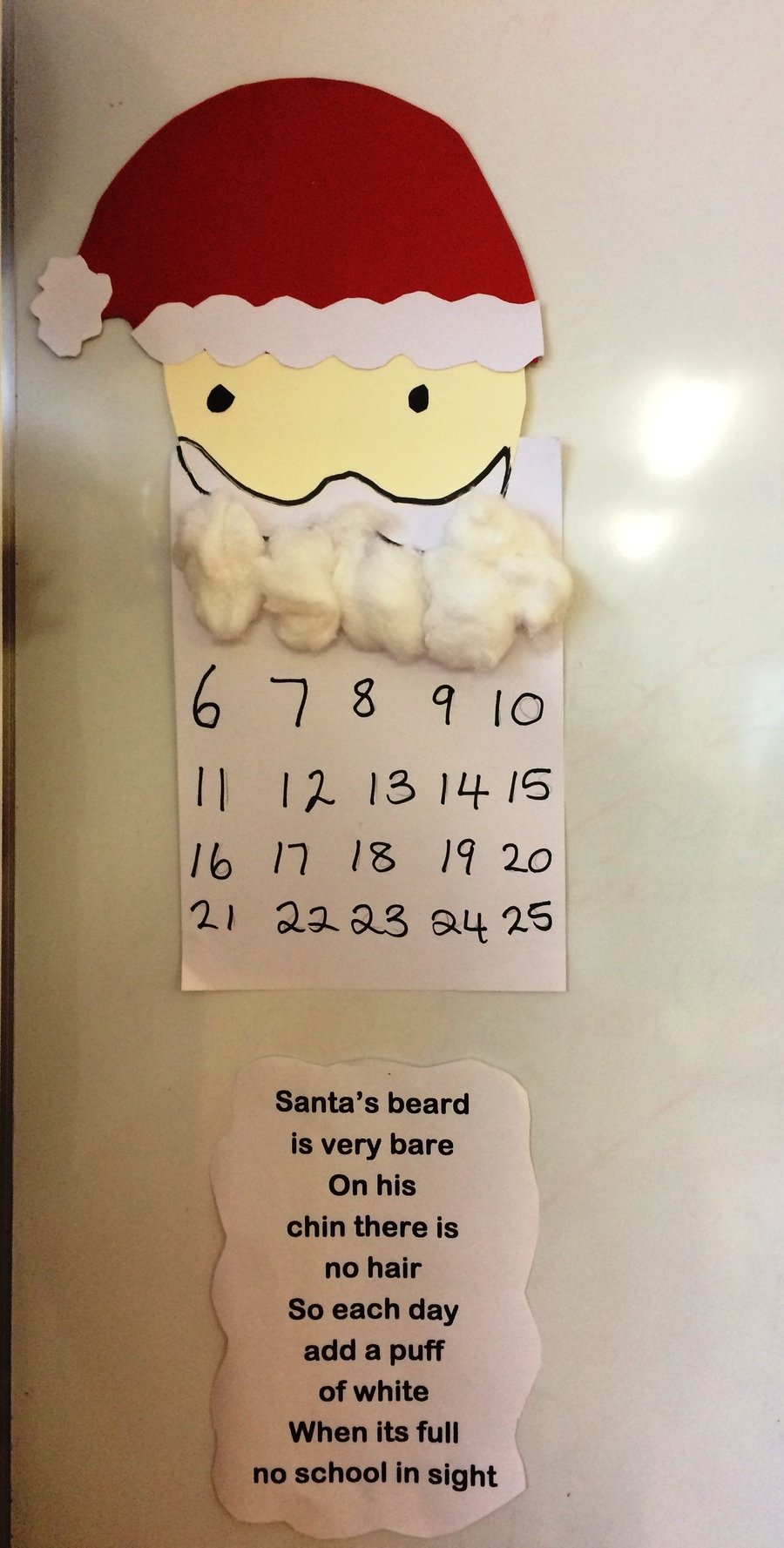 24th November 2020
A Love of Horses meets a Love of Art!
We absolutely love Lana's artwork! So many hours were spent painting and perfecting this fabulous piece of art. We hope you find a nice place at home to display this beauty. Well done!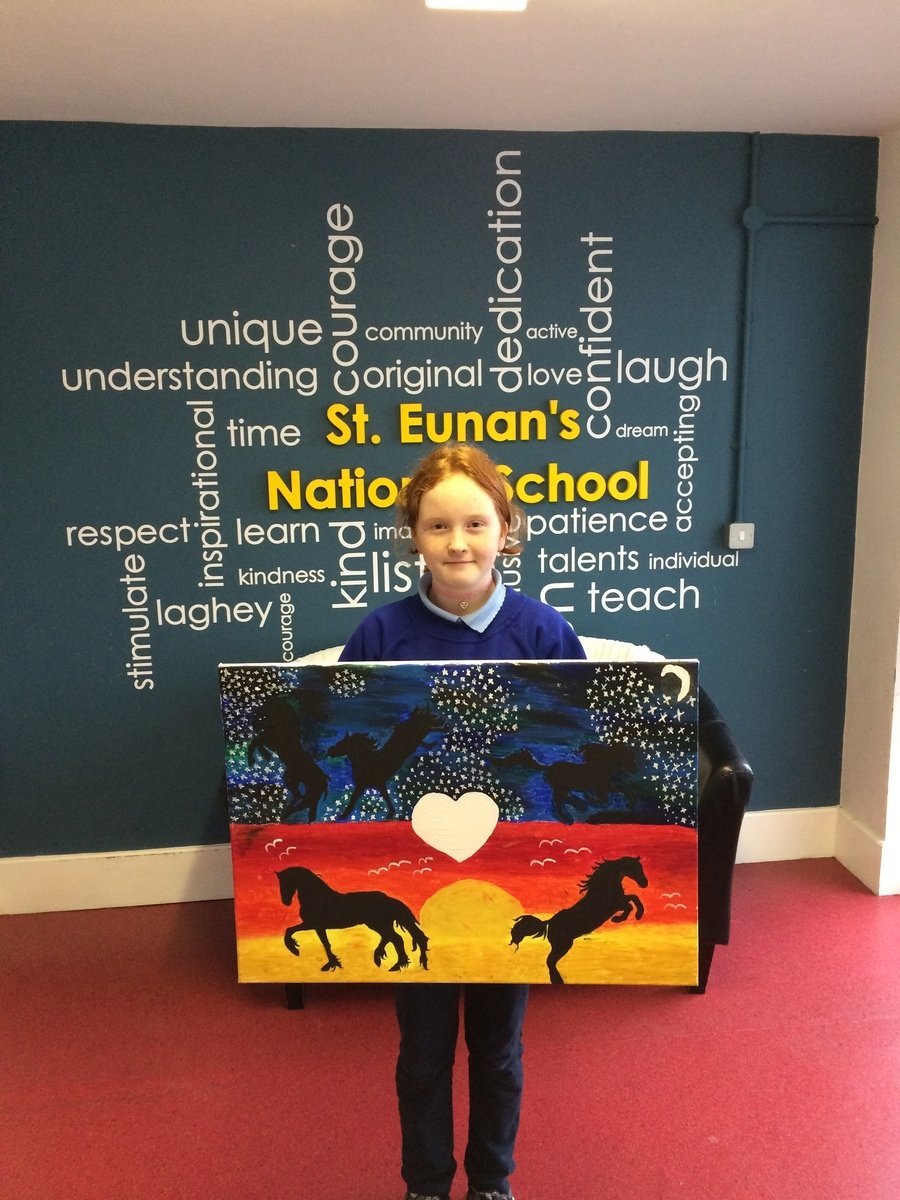 23rd November 2020
Penpals
We are buzzing about our new penpals! We have linked up with 5th and 6th Class in Kilglass N.S. near Ballinasloe, Co Galway. The children in our school were really excited to receive their first letter this week. We have written back and our letters are currently winging their way to Co Galway! Looking forward to our next letter already!
20th November 2020
Look at our animations!
The children loved their Zoom workshop with animator John D Ruddy. He presented key topics such as the 1916 Rising and the War of Independence in an entertaining animated form.
The children then sketched a scene from the Irish Civil War playing close attention to detail such as they type of clothes the soldiers wore (imagine wearing 3 piece suit!), their ammunition.
I think they turned out really well.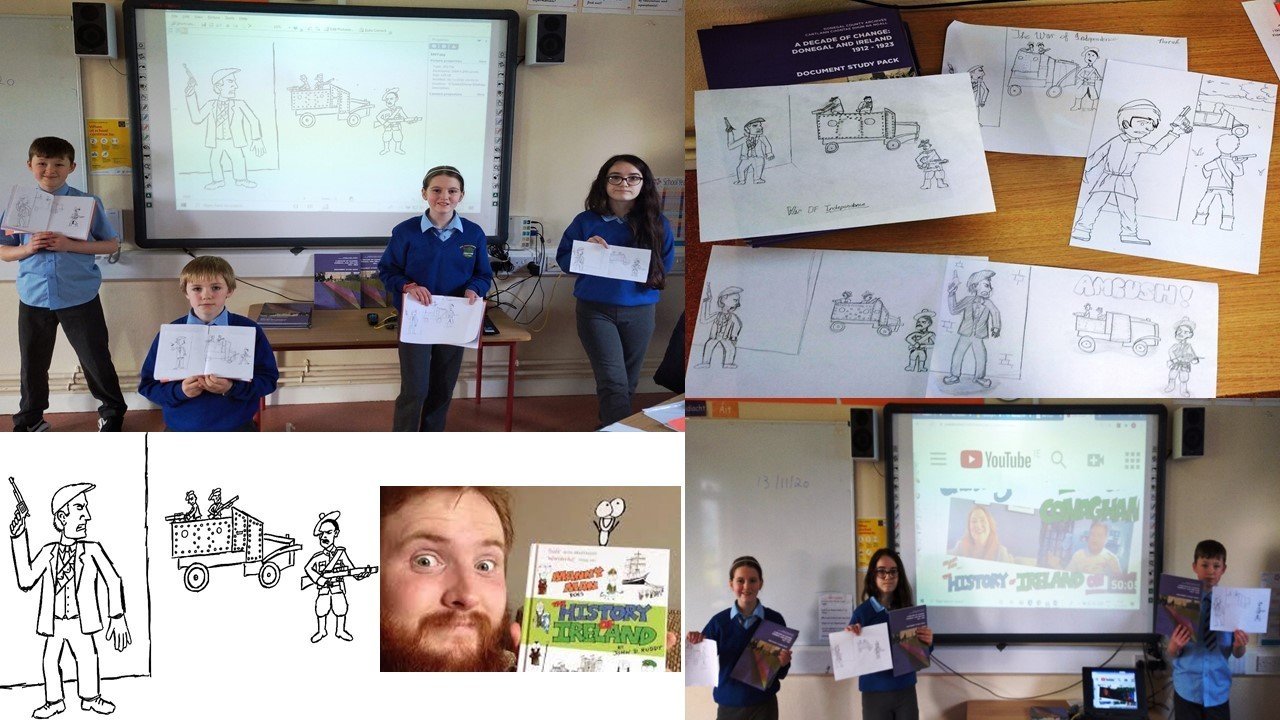 We love history especially when there are battles involved!
Children in 5th and 6th Class are very lucky to be taking part in the "Echoes of the Decade" history project which examines life in Donegal from 1913 until 1923; a decade of huge change.
It is being delivered virtually with different presenters every Friday appearing on our whiteboard via Zoom. The children are really enjoying the variety of approaches with artwork, interviews and Lego models.
5th and 6th class will undertake their own research projects including interviewing local people about stories that have been passed down about the 1916 Rising, War of Independence, Civil War etc.
Keep an eye out here for more updates on this exciting project.
*Please note photo is taken pre-Covid when we had started this project with face-to-face workshops.*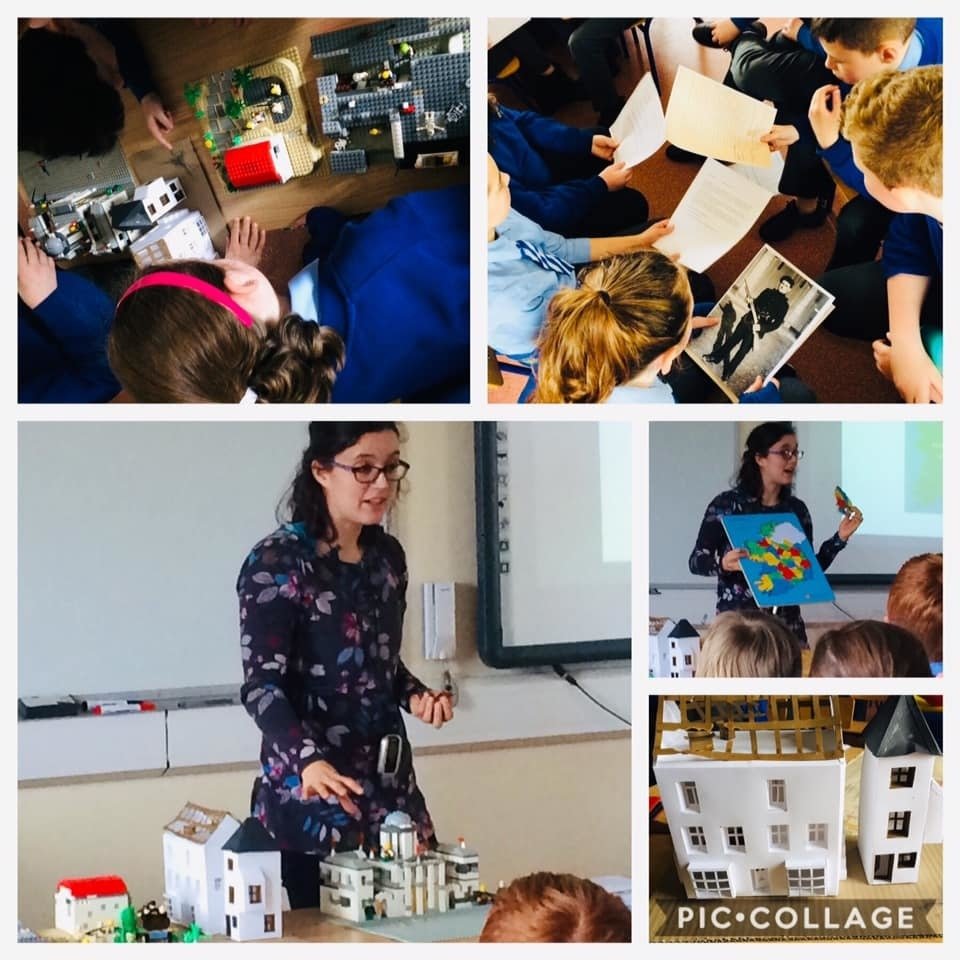 13th November 2020
Let there be Light!
More Science Week fun with 5th and 6th Class. We did lots of electricity experiments and had a hair raising experience! We created circuits, alarms, light switches and even fans ! Lots of fun, active learning enjoyed by all.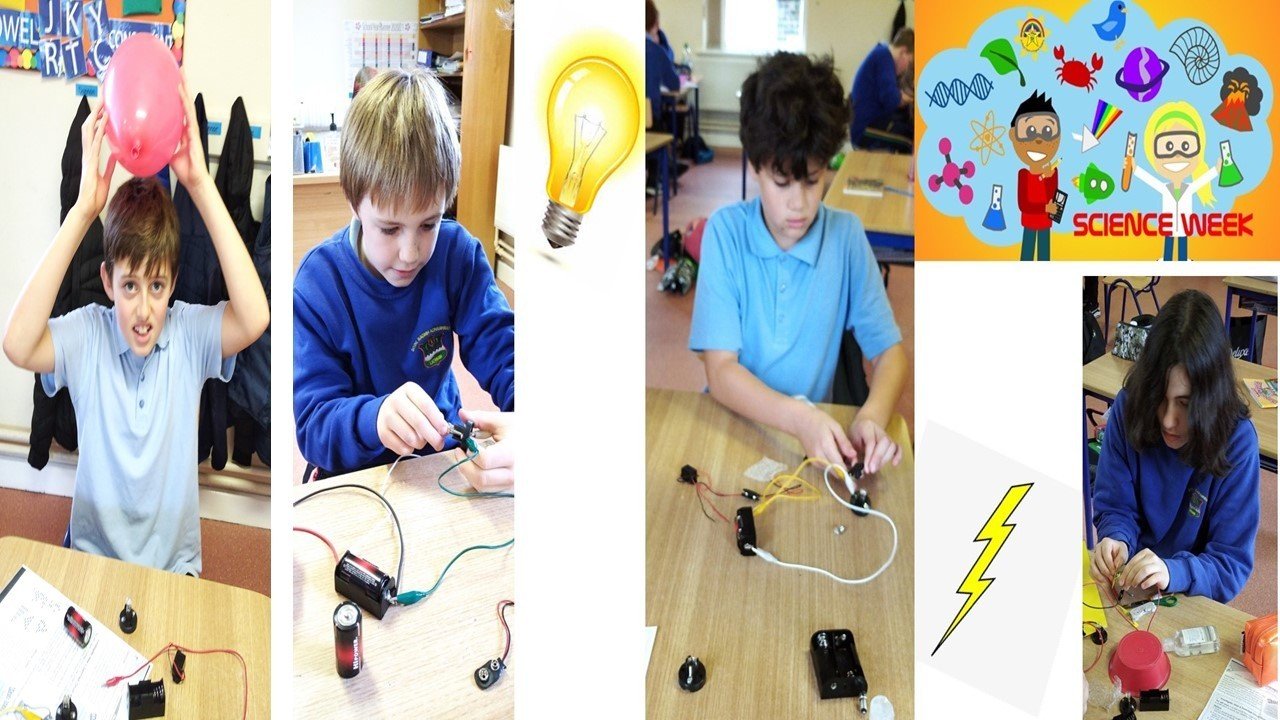 12th November 2020
The boys and girls in 3rd and 4th class have conducted lots of experiments for Science Week. We used Skittles and mixed with three different types of liquid; water, milk and hand sanitiser. Look at the three different results! Lots of fun for Science Week and always extra special when sweets are involved!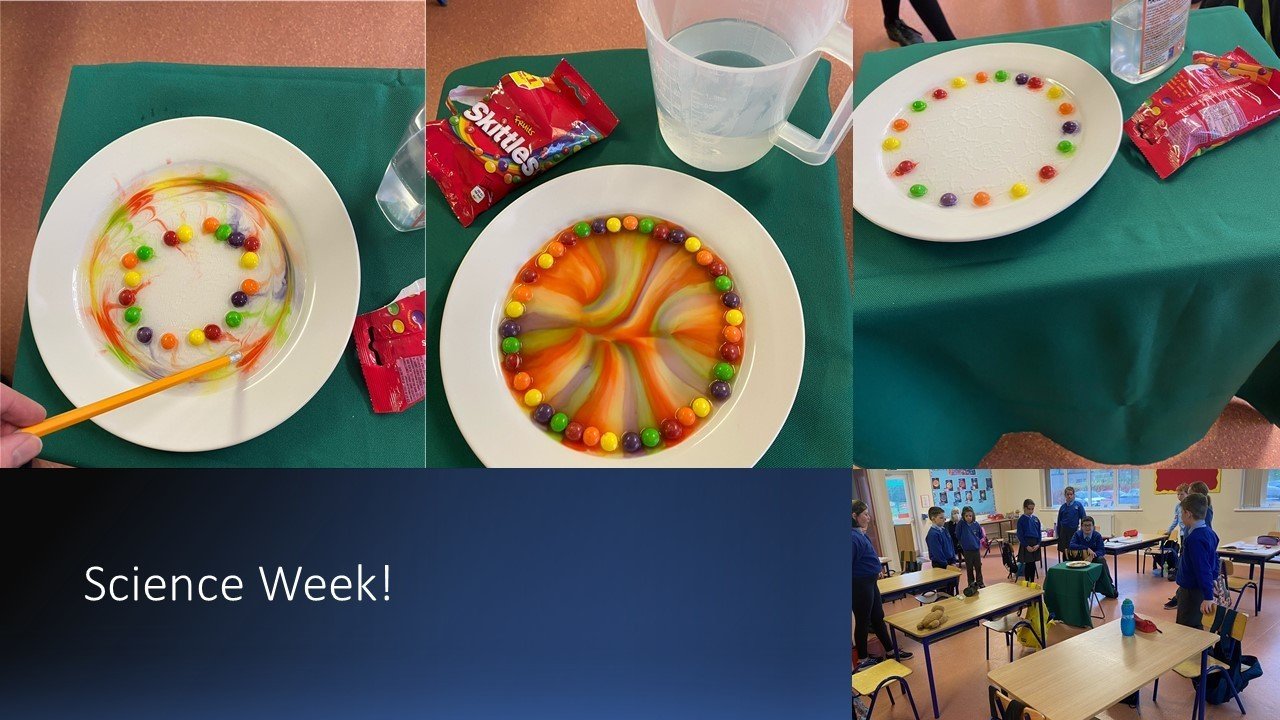 23rd October 2020
What a fun day today with all of our ghouls and ghosts! Happy Halloween everyone!
15th October 2020
First and Second class had a fantastic Nature Walk. They explored all areas of the school grounds and local vicinity and found so many interesting bugs, leaves and flowers. The children then brought the items back to the class and were able to see the mini beasts up close! Have a look at the beautiful artwork they produced using the items collected on the Nature Walk.
25th September 2020
Huge congratulations to Dannan in 6th Class on winning the "Big Birthday Bash" Highland Radio Poster Competition. Sean from Highland Radio visited the school today with lots of presents for our winner; a Goody Bag packed full of treats including a gift voucher for Art Supplies and also a brand new Google Chromebook for the school! Dannan will be interviewed on Highland Radio and it will be broadcast live next week-we'll let you know a day and time soon. Dannan's artistic talents are so evident to us all in St Eunan's and we are delighted this has been recognised.
7th September 2020
The teachers are using the app "Seesaw" to upload homework so please check your child's account to access
homework. If you have any issues with access please contact the relevant teacher.
26th August 2020
All staff have been busy preparing for the children's return to school tomorrow. We are really looking forward to seeing them in the morning. In advance of the return please have a look at the "Return to School" videos released by the Department of Education yesterday and also an advice leaflet.
Click on the link below to view:
https://www.gov.ie/en/publication/a04fc-advice-for-students-and-their-families/
Thanks and see you at 8:50am!