11th May 2019
Congratulations to 2nd class who received the Sacrament of First Holy Communion today. They all looked beautiful. We especially remember Ava Fehilly Harrington on this special day. The chapel looked beautiful and we are extremely grateful to Ger for providing the flowers.
The staff look forward to preparing a special party for 2nd class on Monday in the staff room!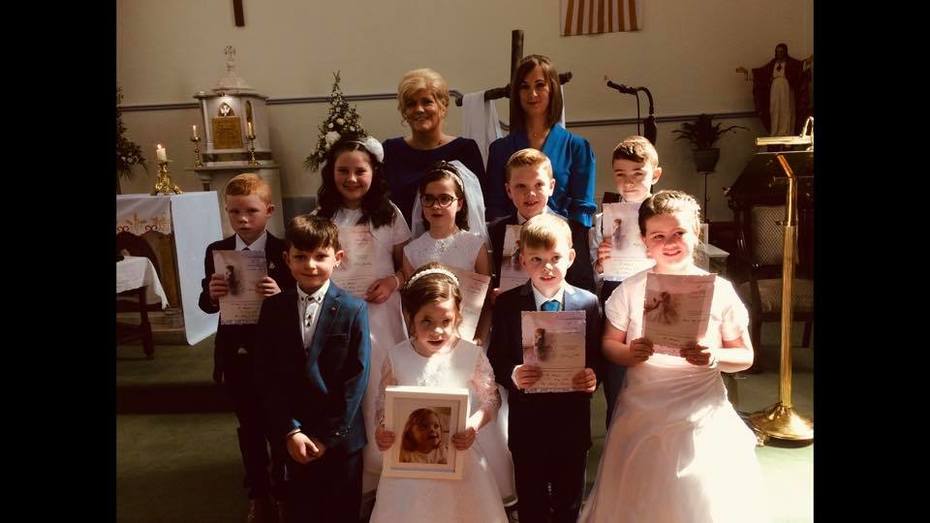 9th May 2019
After 2 years of hard work we have been awarded our fifth Green School Flag for Biodiversity. This marks the school's involvement with the Green School's initiative for 10 years. Well done to everyone involved in helping us achieve this flag. There were many hours invested by parents, children and people in the local community so we are extremely grateful.
3rd May 2019
We had a fantastic day at the Athletics tournament today in the Abbey Vocational School. Well done to everyone who took part. Huge congratulations to our medal winners; the boys 4 x 100m relay team and Oisín in 6th for placing 2nd in the 100m sprint. He beat off stiff competition from Ulster medal sprint winners so it's no surprise that Tír Chonaill Athletics club were looking for him to join!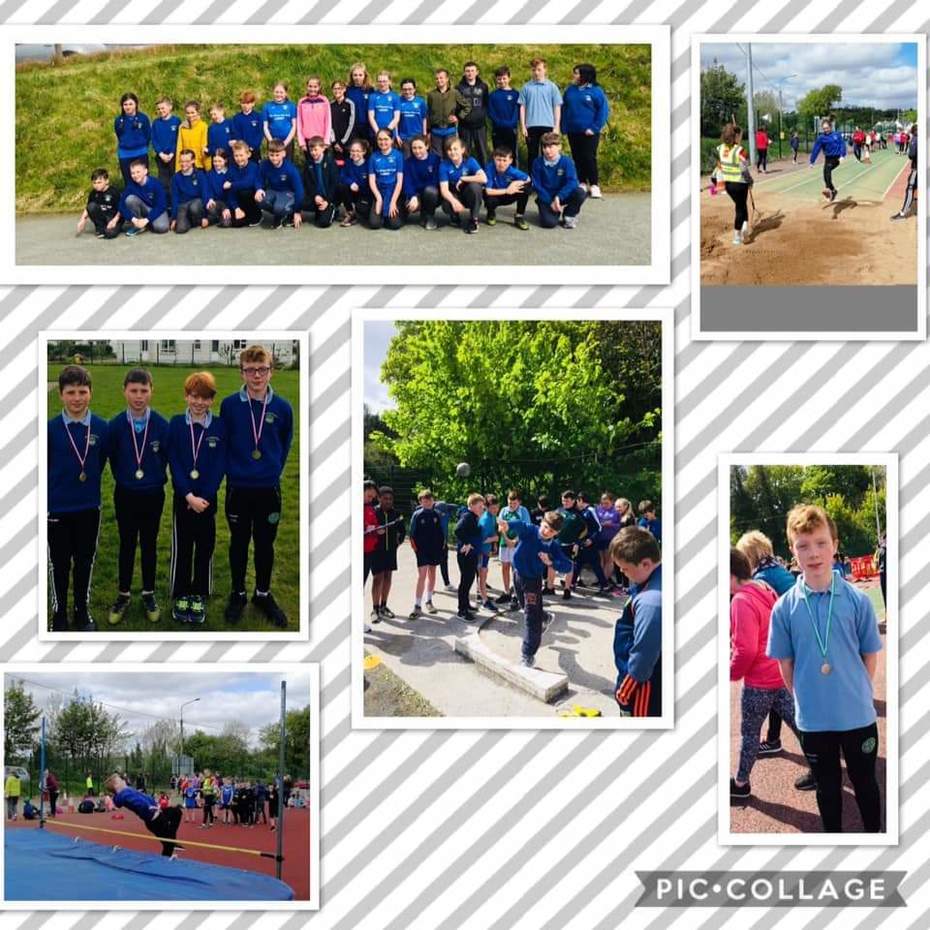 3rd May 2019
Many thanks to Courtney for delivering the Junior Achievers Programme in the junior classroom over the last 6 weeks. The children really enjoyed this programme and learned lots!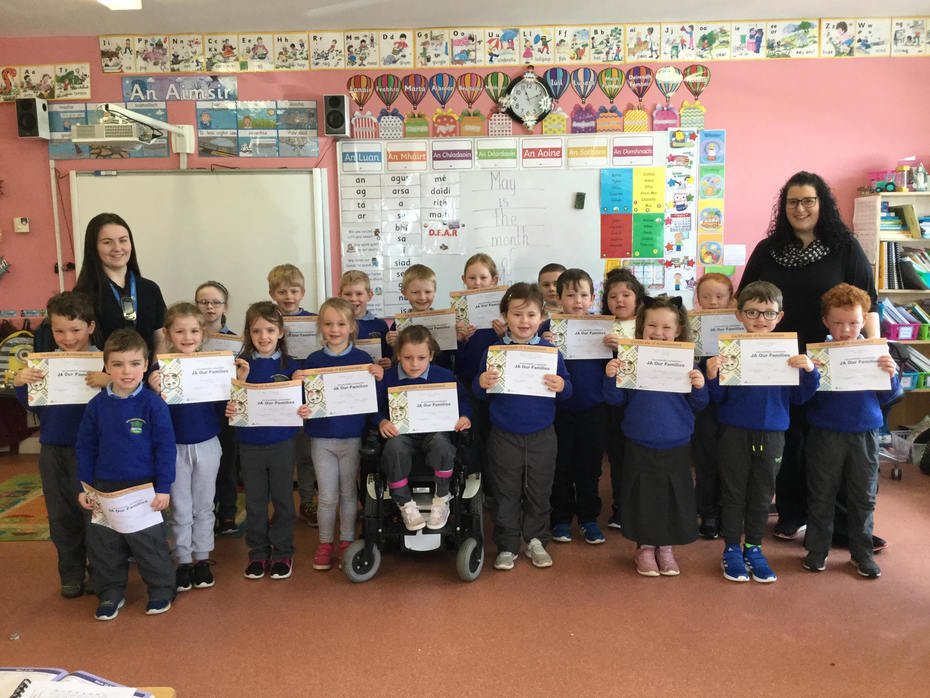 30th April 2019
Huge congratulations to Anna in Senior Infants who received a "Highly Commended" in the recent Míchéal Ó Cléirigh Summer School Art competition. An artist in the making perhaps..
29th April 2019
Thanks to everybody who participated in, donated to and attended 'I'm a Celebrity Get Me Out of Here' in the Abbey Hotel on Easter Saturday night. We can confirm that we raised a whopping €54,000. This money will be used to develop our 3G All Weather pitch this summer.
12th April 2019
Easter Egg Hunt!
Perfect way to finish a great term. We all enjoyed a brilliant treasure hunt today in our beautiful school orchard and garden. Special word of thanks to Jody for organising the annual treasure hunt and to Karen for putting our clues in some hard to find places!
27th March 2019
AVS Art Competition Winner!
Huge congratulations to Millie in 6th class who won second place in the AVS Transition Year art competition. Lots of the local primary schools entered but Millie's nature themed piece won the judges over. An absolutely beautiful piece of art so well done Millie! Enjoy your prize!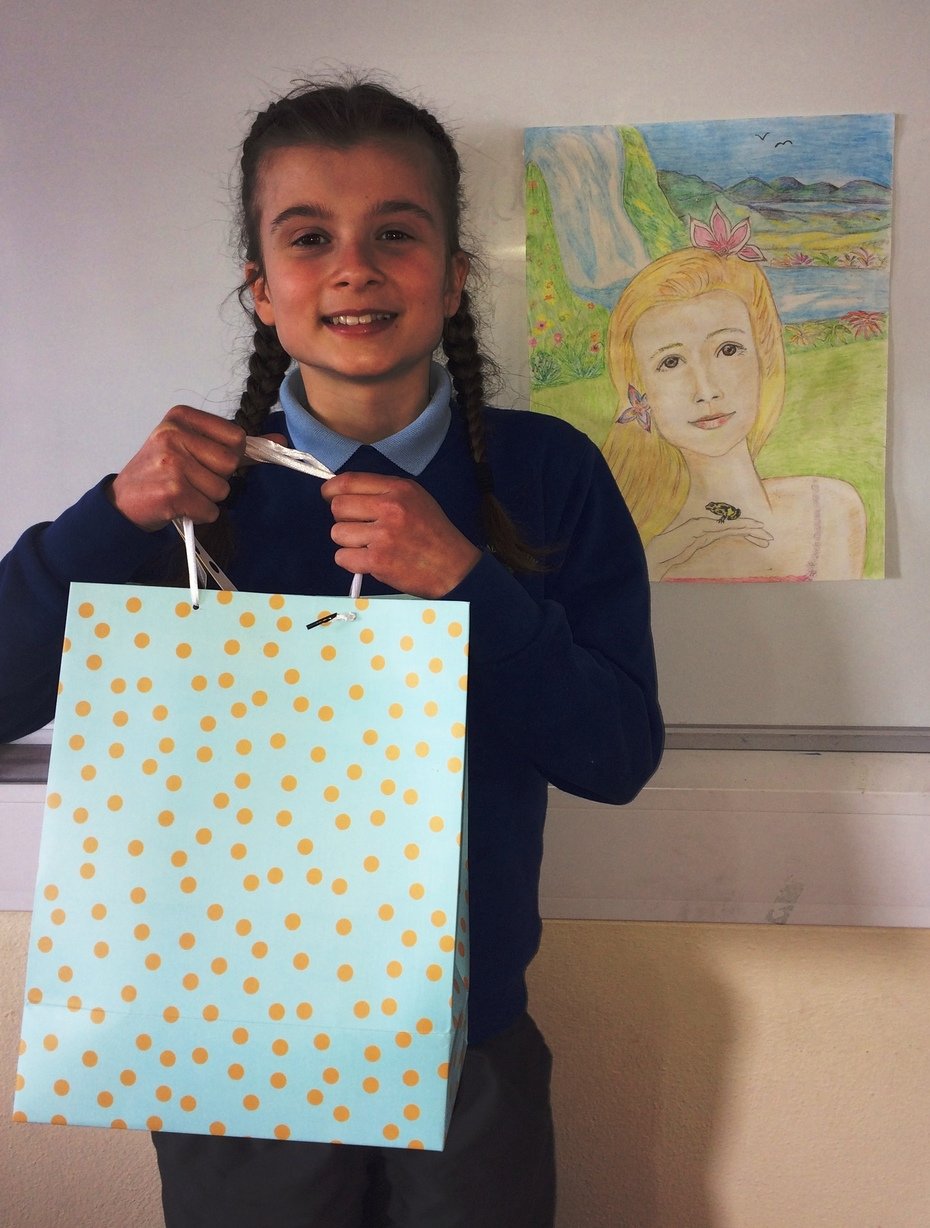 26th March 2019
Spring has sprung! The Junior Room enjoyed exploring signs of new life in our school orchard today! Lovely to see our daffodils in full bloom.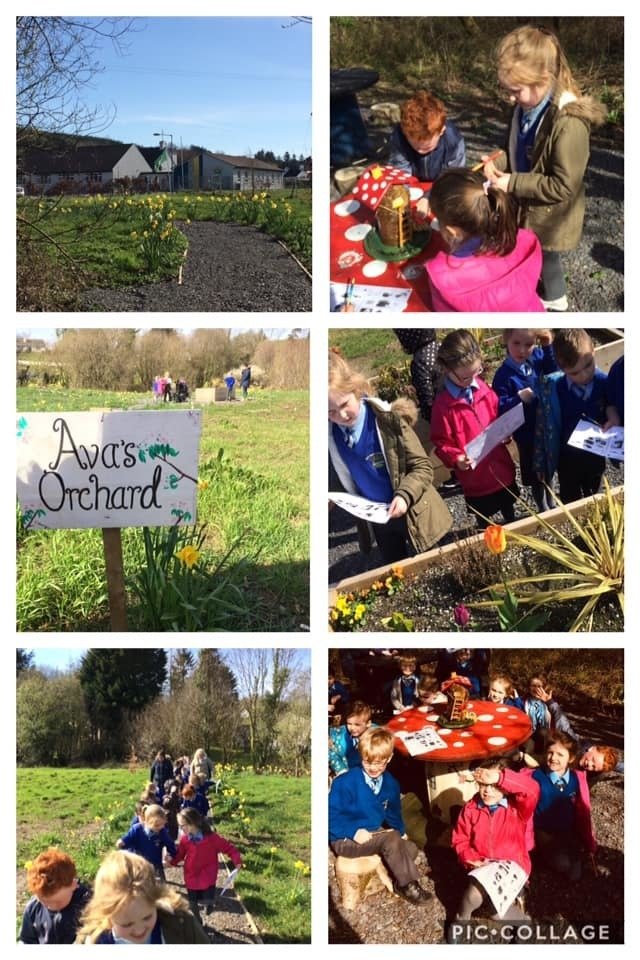 17th March 2019
What a fantastic St Patrick's Day parade we enjoyed in Donegal Town. Special word of thanks to the parents who organised the whole theme, costumes and props. It was fantastic to see so many children enjoy it and our fundraiser is well and truly advertised. Roll on the real I'm A Celebrity Saturday 20th April….
15th Márta 2019
Bhí coicís ar dóigh againn! We have had lots of fun during Seachtain na Gaeilge. From quizzes to ceilís, concerts to hakas we've been busy celebrating all things Irish in the past fortnight! Have a look at the photos below which illustrate some of the activities we've been doing as part of Seachtain na Gaeilge. A special well done to the children who received cinema passes for making an extra effort chun Gaeilge a labhairt i rith Seachtain na Gaeilge. Maith sibh!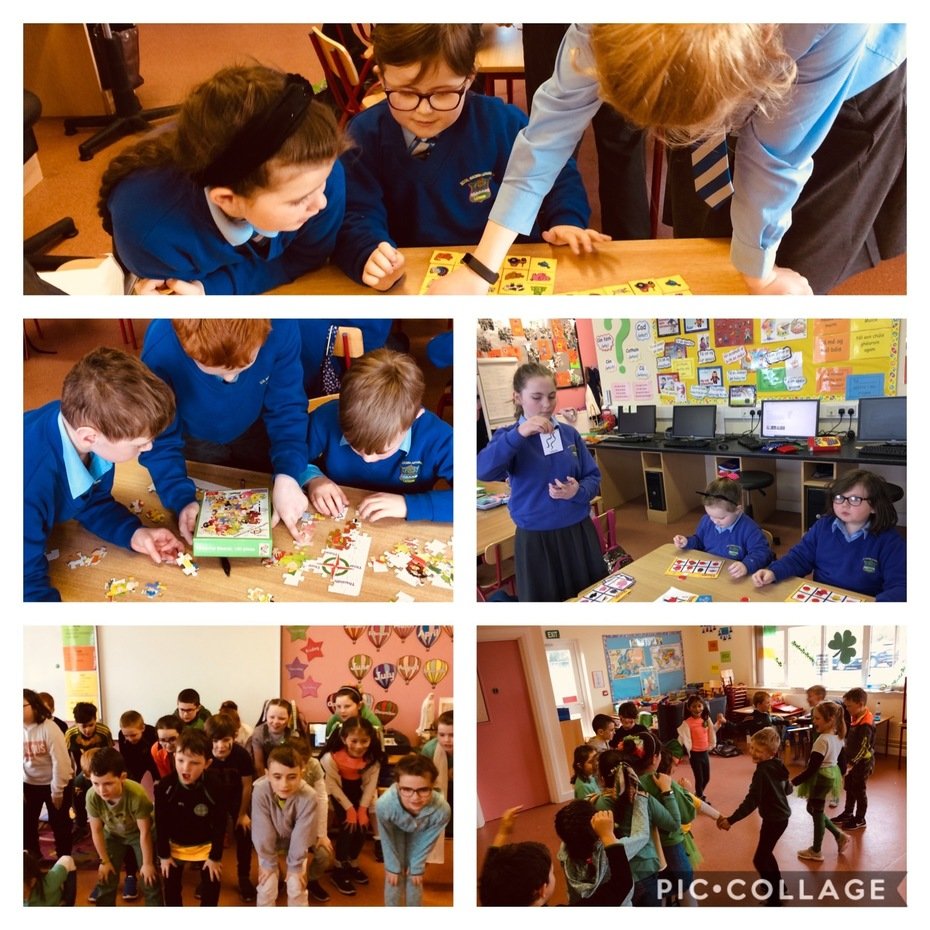 6th & 14th March 2019
We are immensely proud of our team who entered the annual Garda Quiz last Wednesday night in the Mill Park Hotel. This was the South West divisional round. They placed joint first and after a nerve-wracking tiebreaker finished in 2nd position. This was a fantastic result as opposition was tough with over 30 schools both small and large attending.
This meant that they had qualified for the county final which was held last night, Thursday 14th March in the Mount Errigal. A fantastic night was enjoyed by all and the team placed 8th out of 16 finalists. Huge congratulations and thanks to both children and parents for all the hard work and support over the past few weeks.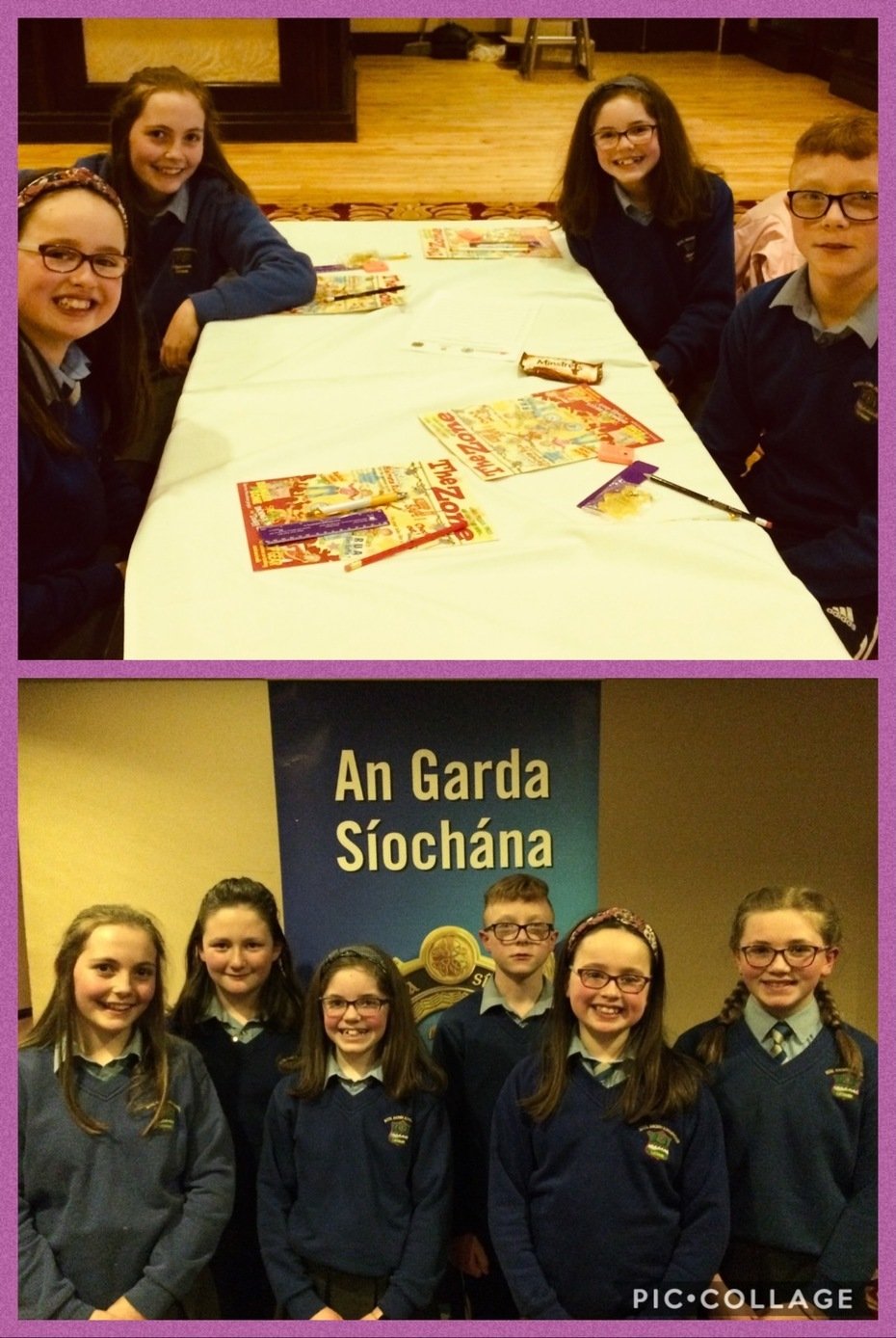 8th March 2019
Computer lesson are back! We are delighted to welcome Bernie Gallagher back to our school where she will be teaching the children fundamental computing skills and Internet safety over the next 10 weeks. Bernie has a wealth of knowledge and the children were so excited to start lessons today.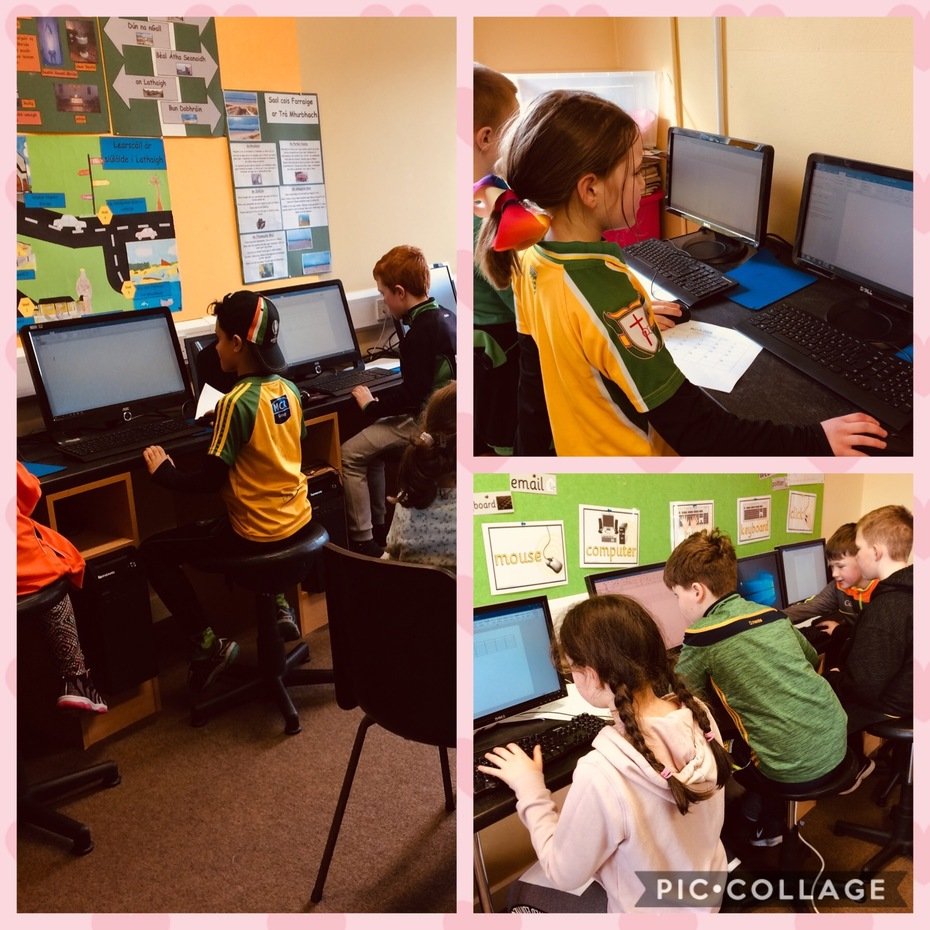 6th March 2019
A special word of thanks to Fr Ferry who distributed ashes to the children today. We are very grateful for his support in the school over the past few months.
5th March 2019
Oh what a delicious day we had today! Pancake Tuesday and we celebrated in style! A huge thanks to the parents who gave up their time to cook scrumptious pancakes and provide loads of yummy and healthy toppings. The children decided to use this day as a fundraiser for the Patient Comfort fund in Aras Mhic Suibhne Mullinasole. Thanks to everyone who donated.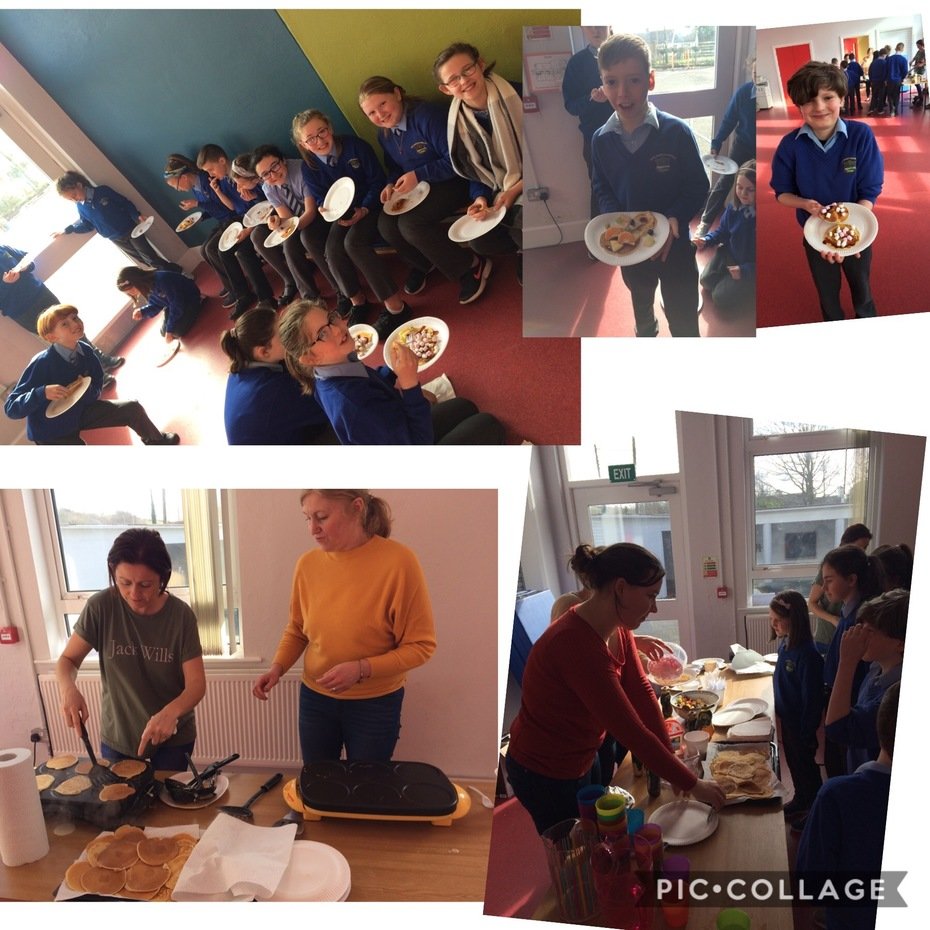 28th February 2019
Today we celebrated St Brigid's Day by inviting members of our community into our school to show the children how to make crosses. There were so many different designs and variations of crosses that even the teachers learnt a thing or two. Thanks to everyone who came and for your patience in helping the children and also to the parents for the treats!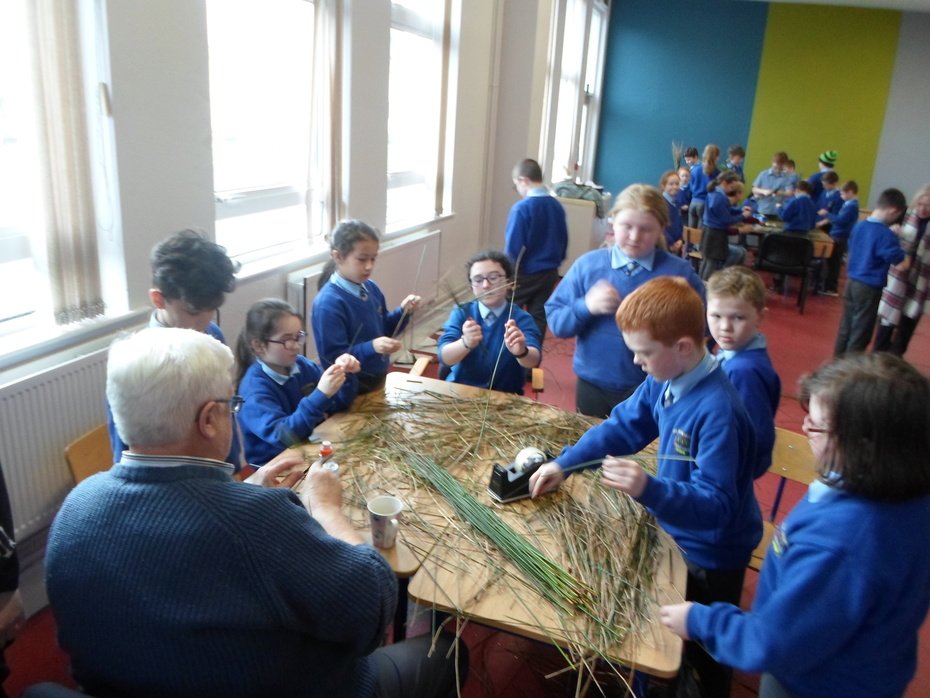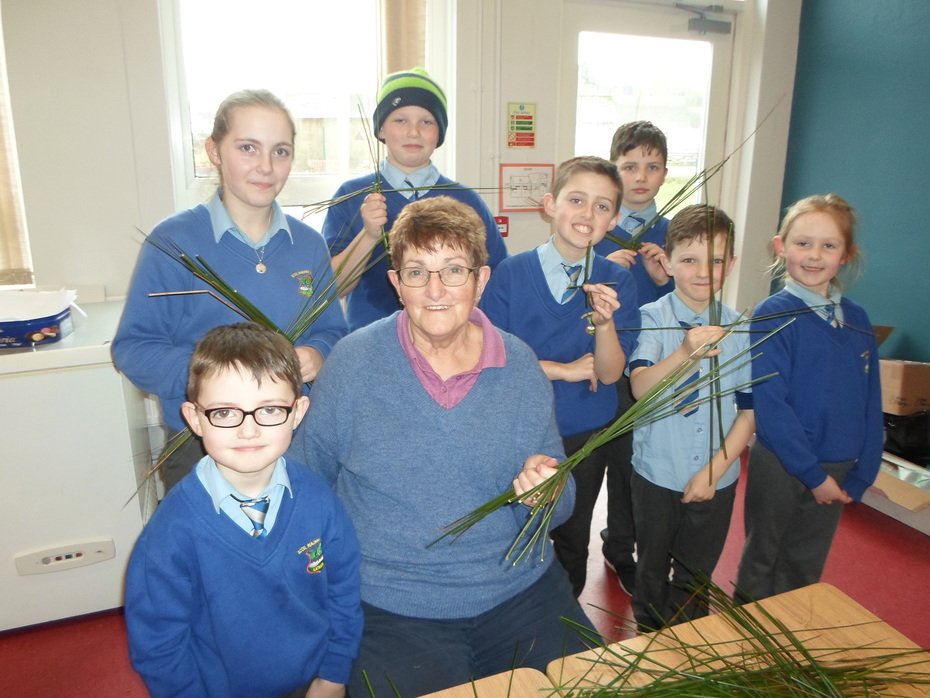 13th February 2019
Champions!!
Today children from 4th and 5th class in the Indoor Cumann na mBunscol competition in Ballyshannon. Both the boys and girls teams have qualified for Round 2 of the competition and we are so proud of them. They fought hard against teams from Scoil Caitríona and Rockfield NS and came out on top. This is the first time to ever enter the indoor competition so it was fantastic to snatch a victory on their first outing. The teams received a hero's welcome on their return to school. Well done to everyone and we look forward to Round 2 in Inver in a few weeks. Get practising!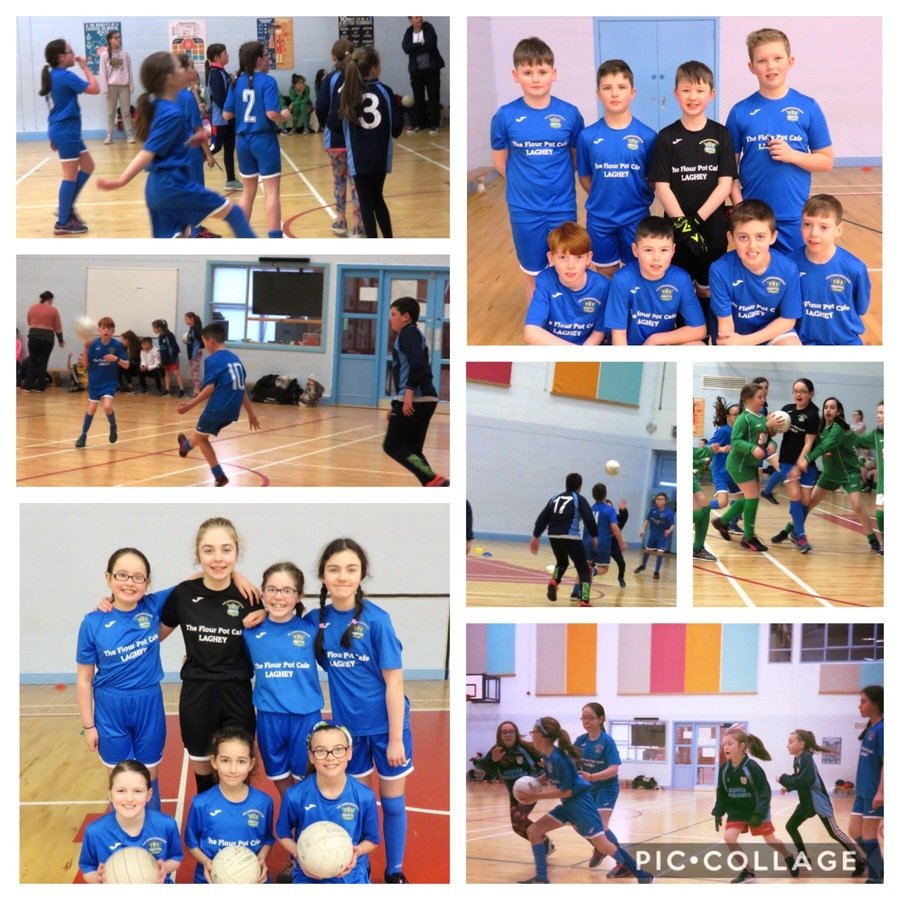 20th December 2018
Today the whole school travelled to Bundoran cinema to see Nativity Rocks for our annual Christmas treat! Everyone had great fun and enjoyed the yummy popcorn! When we arrived into screen 3 we couldn't believe our eyes! James the Elf was sitting in the front row enjoying his popcorn and drinks with his girlfriend!
And to top it all, when we returned to the school a mystery person very kindly donated a big box of sweets and a bag of treats to EACH child in the school! The children went CRAZY!! A huge thank you to the very kind and thoughtful person who made all the children so happy.
12th December 2018
The students and staff of St. Eunan's N.S, Laghey hosted a wonderful evening in the Laghey Parish Hall last Wednesday. 'The Best of Broadway' production went down a treat with the huge audience. The original script was written by Berni Canny. After weeks of practice the students put on a wonderful performance and did the school and their parents very proud. The musical included renditions of songs from big musicals such as Annie, Oliver, Mary Poppins, Mamma Mia including more recent movies such as Frozen and The Greatest Showman. The talent within the school was outstanding.
The school principal Eadaoin Mc Daid would like to thank Berni Canny for kindly sharing her script, Cathal Boyle for providing sound and lighting, Anne and Brian Gallagher for operating sound and lighting on the night, the Laghey Parish Hall for providing the hall for rehearsals, Anne Gallagher for all her help and support with costumes, the Parents Association for the delicious refreshments on the night and finally the whole school staff for their hard work and dedication once again.
27th November 2018
We are sooo excited about Christmas... The countdown is on! We are waiting patiently to see if James the Elf will be returning to the school again on the 1st of December!!! Watch this space!! We are also busy preparing for our Christmas Play. Our Christmas Play is on Wednesday 12th December in the Laghey Parish Hall at 7pm. Everyone welcome!
21st November 2018
Today we launched our Christmas Raffle! Look at the fabulous prize to be won! A huge thank you to FDR Car Sales for donating this super cool Berg Go Kart. All school families have lines to sell or call into the school office. Lines are just €1 per line to be in with a chance of winning this fabulous prize. Thank you to Caoimhe's mum and dad for supporting us again this year!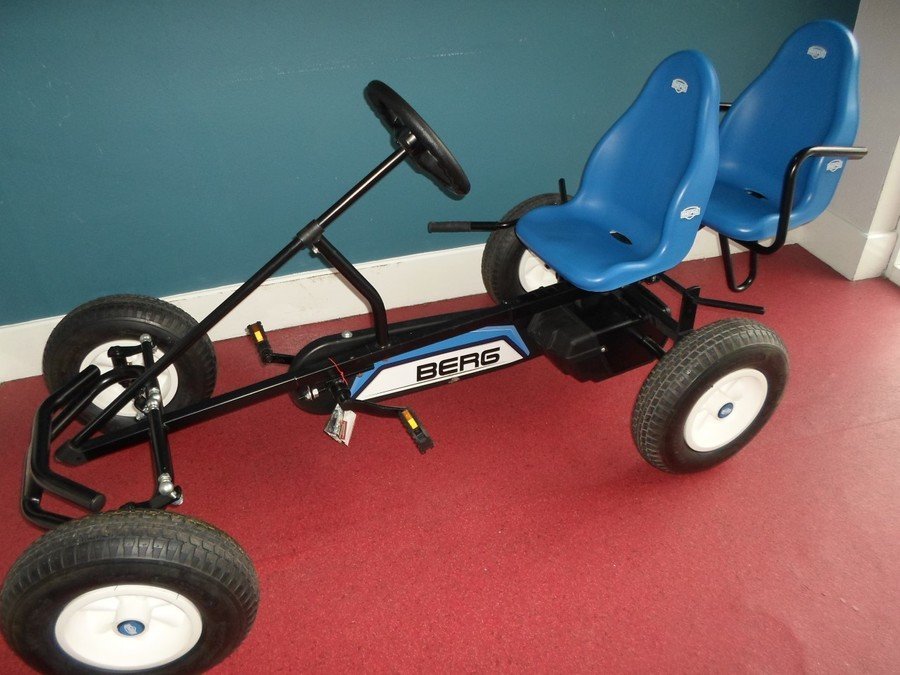 19th November 2018
The pupils and staff of St. Eunan's N.S are forever grateful to Pat, Kathryn (Alaia Mai's mum), Arlene and Nikola from Britton Insurance who very kindly donated a defibrillator to our school. Thank you so very much for your kind generosity.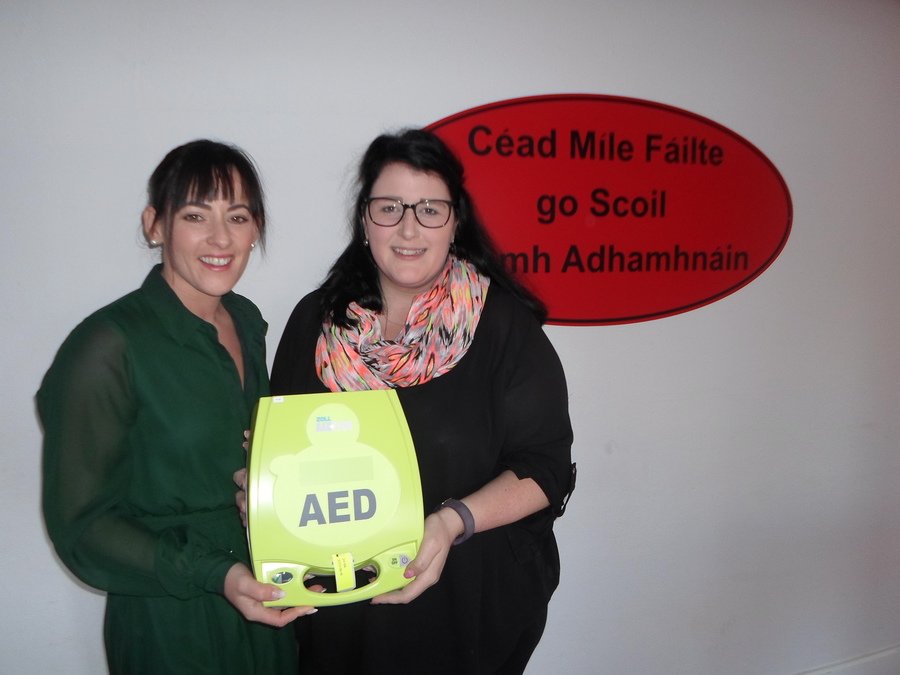 17th November 2018
Today Leslie restarted his golf lessons with the children from 2nd - 6th class. Leslie is a professional golfer from Murvagh Golf Club. We really enjoy these lessons. Thank you Leslie.
12th November 2018
A huge congratulations to Deirdre (3rd place) and Caoimhe (1st place) in the Credit Union Art Competition! Well done girls, representing our school so well.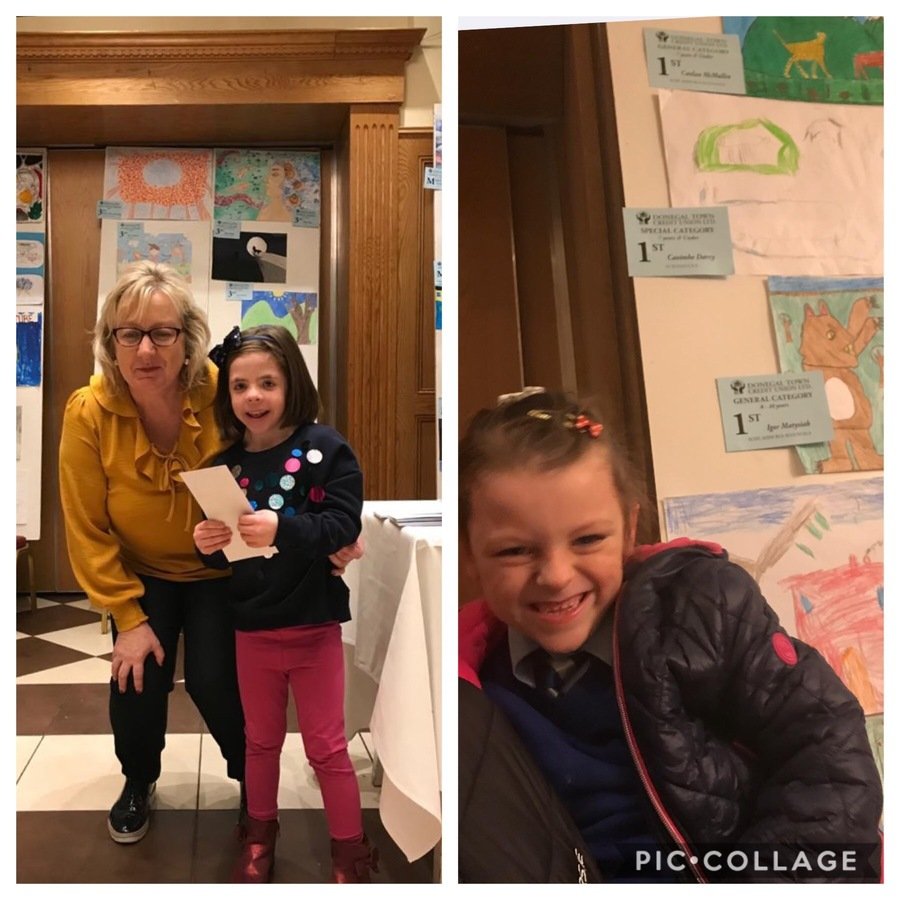 8th November 2018
Today our Christmas Shoe Boxes were collected! We collected a grand total of 39 boxes. We enjoyed watching the videos of the boys and girls opening last years shoeboxes. Thank you to everyone who supported this special cause.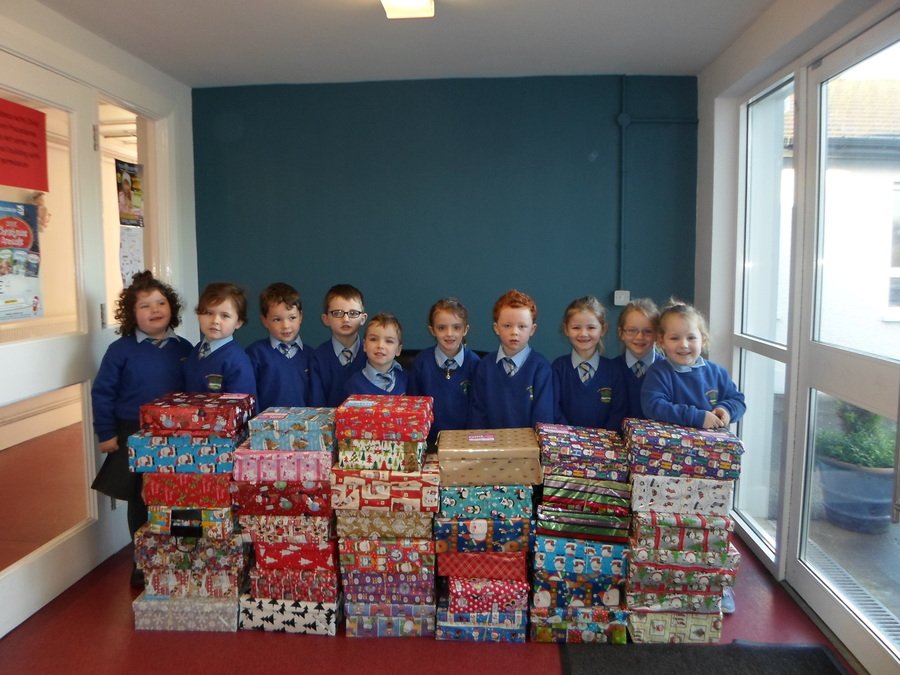 14th October 2018
Today saw the official opening of our Sensory Garden and Orchard.
The orchard consists of apple, pear and plum trees and lots of lovely fruit bushes like black currant, gooseberry and raspberry. The children decided to name it "Ava's Orchard" after Ava Feehily Harrington, a former pupil who sadly passed away last year. It will serve as a beautiful memory and tribute to a fantastic girl who is dearly missed by everybody in our school. Parents and members of the community established a path through the orchard which leads down to "Fairyville"; a magical seating area for children to enjoy the outdoors and to view nature. Today the children planted 100 native Irish trees and daffodil bulbs which will brighten up the area in springtime.
At the back of the school we now have a fantastic sensory garden which consists of sensory boards, percussion music stations, a wildflower garden, a bug hotel, bird boxes and feeders, a weather station, a small world play area, sandpit, hopscotch, fairy doors, fraction wall and a garden shed. The main feature is a roofed structure with three raised planter beds. Parents and members of the community worked tirelessly since the beginning of the year to create this fantastic resource. It is an extension of the playground so the children will be able to use it every day during break and lunch time.
We would like to thank the Donegal County Council who provided a grant and to all local businesses who donated equipment, services and materials. It is sincerely appreciated and it will provide an exciting, interactive learning space for children in St. Eunan's National School, Laghey for many years to come.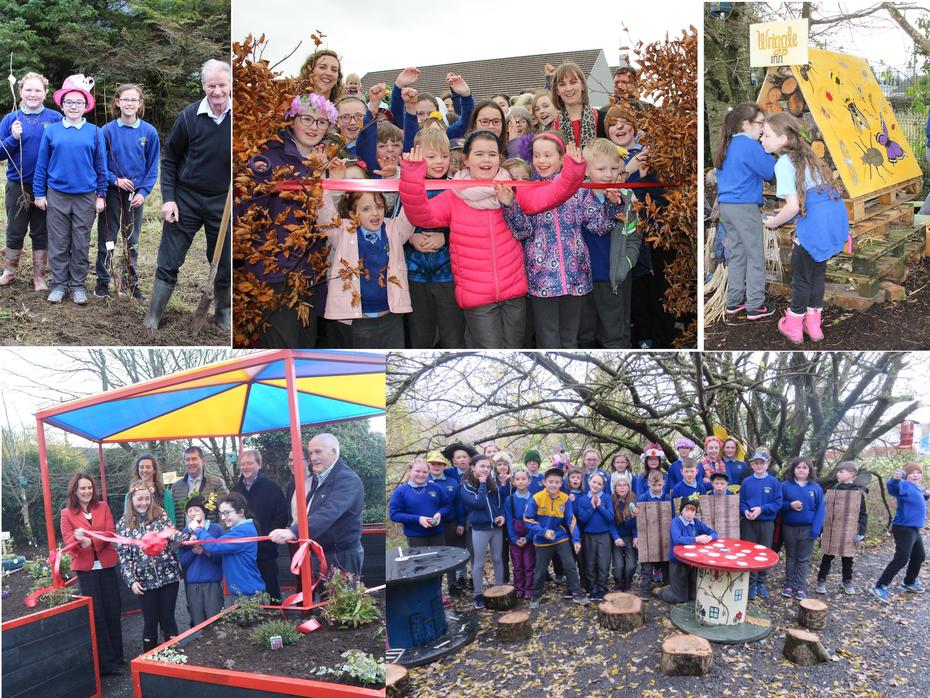 The school would like to sincerely thank the following businesses who so kindly donated or gave their time to our new sensory area and gardens, without your help we could not have completed these beautiful areas for the children of the school to enjoy and learn from:
Roadstone Quarry, Laghey Ashtree Garden Centre, Donegal
Charlie McGarrigle Horticulturalist, Ballintra Damien Kane Builder, Laghey
Clive's Hire Shop, Donegal Samantha Price & Dominic Harrison
Daytona Heavy Haulage, Donegal Envirogrind, Pettigo
Roadteam Ltd, Pettigo Padraic Molloy Electrician, Laghey
R Kee & Sons, Laghey Paddy Ward Music Shop, Donegal
Irwins Hardware, Donegal O'Dowd Donnelly Carbin Insurance, Donegal
P&G Taylor, Laghey FDR Car Sales, Ballintra
Donegal Town Hardware Donegal Tyre Centre
Thomas Precast, Donegal Christy Price Plasterer, Ballintra
Hendersons Hardware, Donegal Eddie Gallagher Carpenter, Laghey
Breege Haughey Artist, Laghey Miss McGroary, Senior Room teacher
Laura Hughes Artist, Laghey Martin Gallagher, Laghey
Edel & Marty Walsh, Donegal Patrick Martin, Laghey
Michael & Kathryn Carron, Laghey Ger Fehilly & Eamon Harrington, Donegal
Emma, James & Hugh Gallagher, Laghey Aidan & Bridgie Gallagher, Laghey
Gerard Martin, Laghey PJ Slattery, Laghey
Colm Hannigan, Donegal Bobby Trimble, Laghey
Ian & Karina Wasson, Laghey Ronan & Carmel McGowan, Laghey
Brian & Anne Gallagher, Laghey Noel & Carol Molloy, Laghey
Lorraine Walsh, Laghey Kirsty Molloy, Laghey
Oisin Gatins, Laghey JP & Ursula Prevost, Laghey
Fergus Dullea, Laghey Mary Gallagher, Laghey
Paul McGroarty & Yvonne Gallagher, Laghey Dermot Langan, Laghey
Gerry Kennedy, Laghey Jayne Elliott, Laghey
Mary Kane, Laghey Sinead McGowan & Johnny Murnaghan, Laghey
Willie Tully, Killybegs Aenghus Kennedy, Nature NW
As you can see there were so many people helping out and we have tried our best to remember everyone, but please accept our apologies if we have forgotten to include anyone in the list above. Again our sincerest thanks to everyone involved.
25th October 2018
Today we had a very exciting day! Everyone was in fancy dress for Halloween . The Active School Committee organised a Halloween Dance in the hall with spooky Halloween music and Halloween disco lights! We had great fun!
It has been a very busy new school year. Our school garden committee have been working extremely hard to develop our sensory garden and orchard! They are making super progress. We are so excited to see the finished product. Many thanks to all the parents and local businesses who are supporting this development and giving up their time, money and expertise.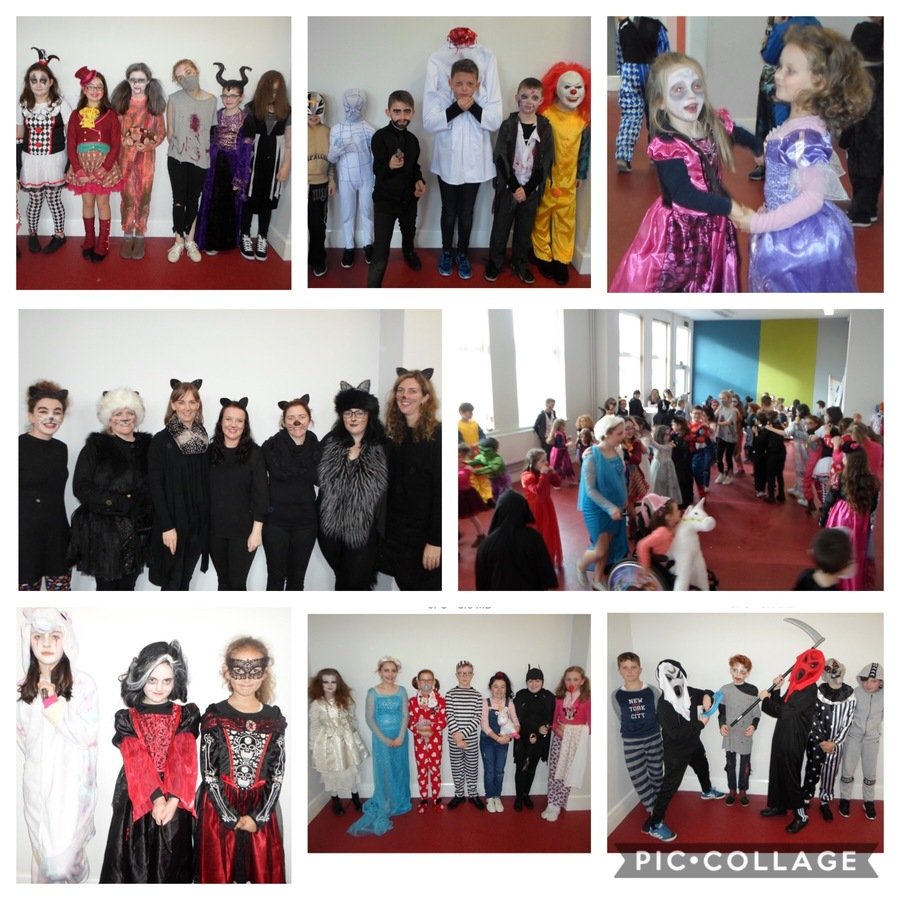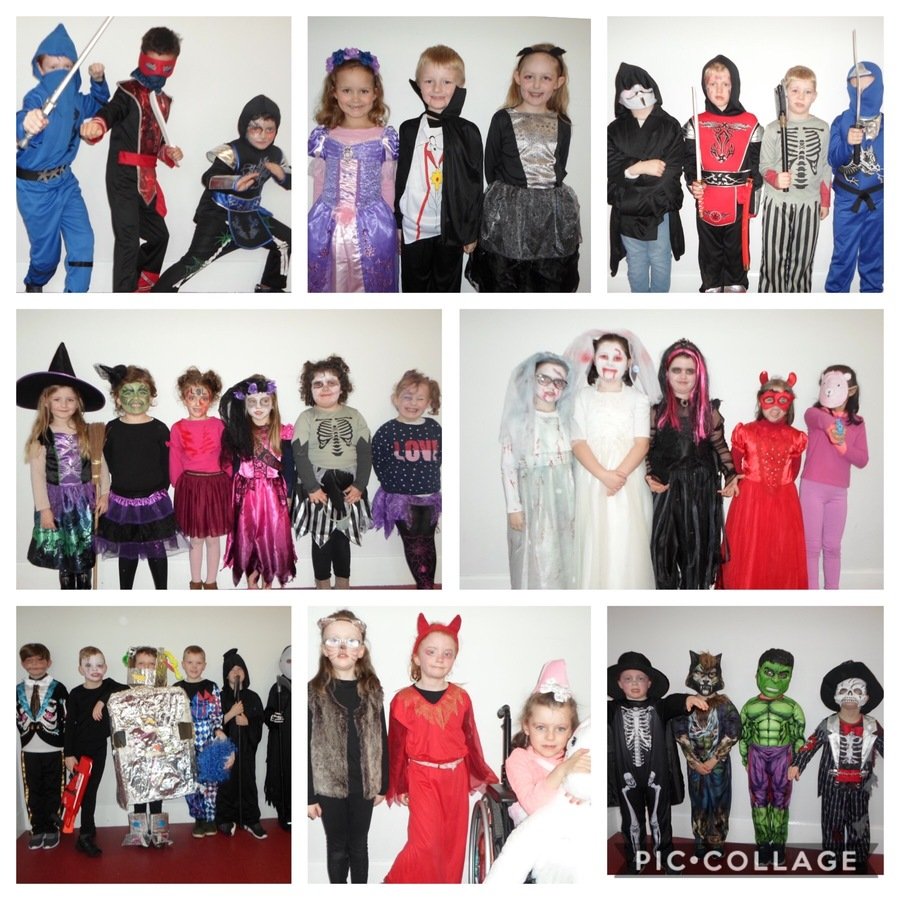 24th October 2018
Garda Gerry Foy visited our school today and spoke about safety in the community at Halloween time. He spoke about fireworks and the dangers associated with them. He spoke about elderly people living in the community and how they may become frightened. He used his walkie talkie and spoke to a garda, we all said hello.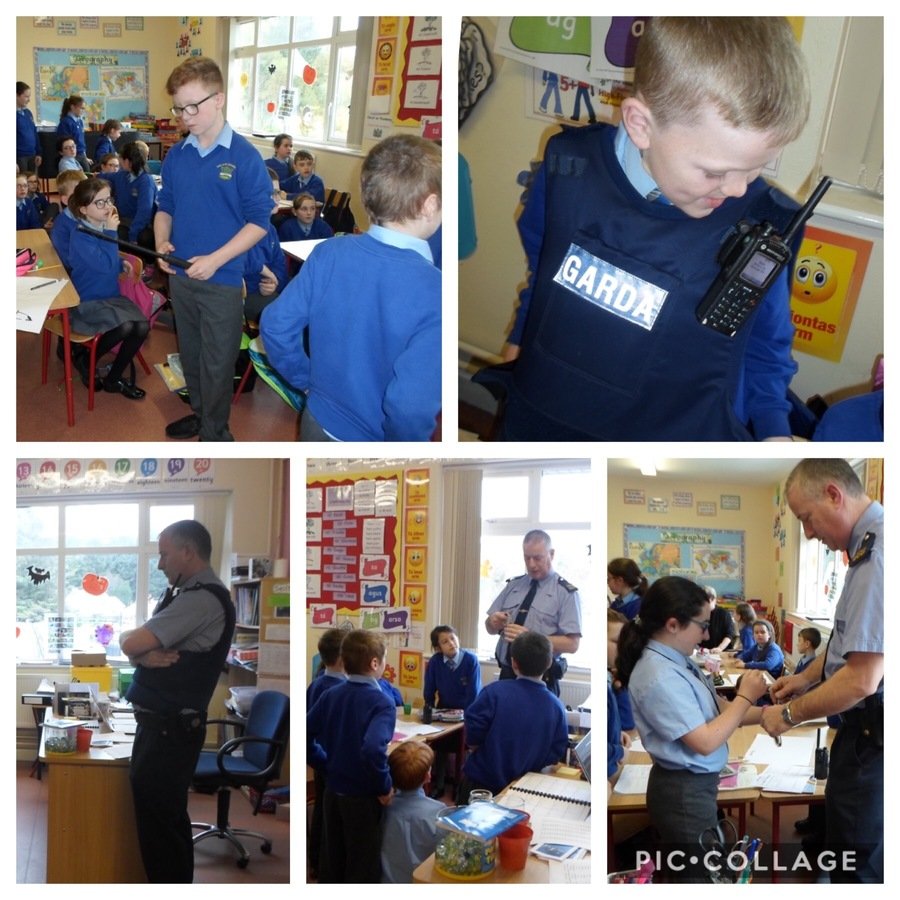 23rd October 2018
Today the Active School Committee organised the first day of our 'Structured Play' in the yard. The junior and middle room enjoyed dodgeball and soccer during big break. Thank you to the active school committee members who set up and monitored the structured play. Everyone had great fun!
19th October 2018
Today the junior room children and their parents enjoyed 'Ag súgradh le chéile' workshop. Many thanks to Niamh from the Active Donegal Group. The workshop encourages physical activity and demonstrates some simple every day activities/games that parents can do at home with their children. The parents really enjoyed this workshop! And thank you to the parents association who supplied some yummy refreshments afterwards!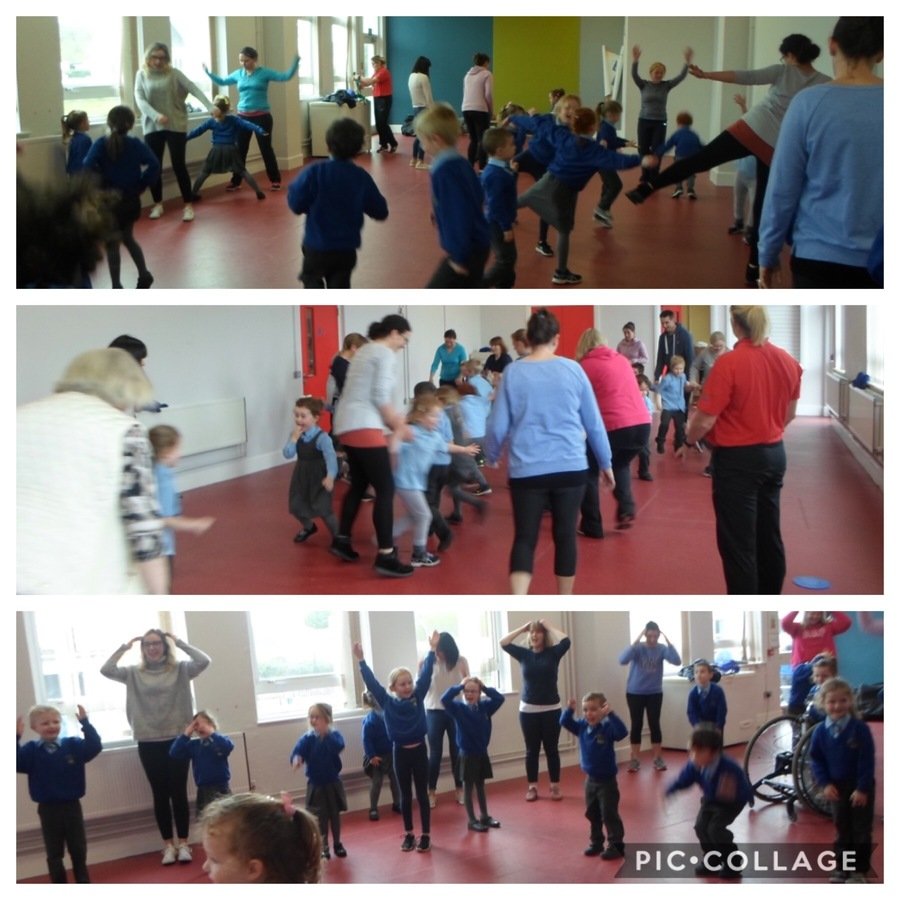 12th October 2018
Today we went on a bus to Ballyshannon to the Abbey Centre to see a comedy provided by the Bluestack Arts Festival. It was hilarious! We had so much fun. We also stopped off at the park on the way home as it was such a lovely day!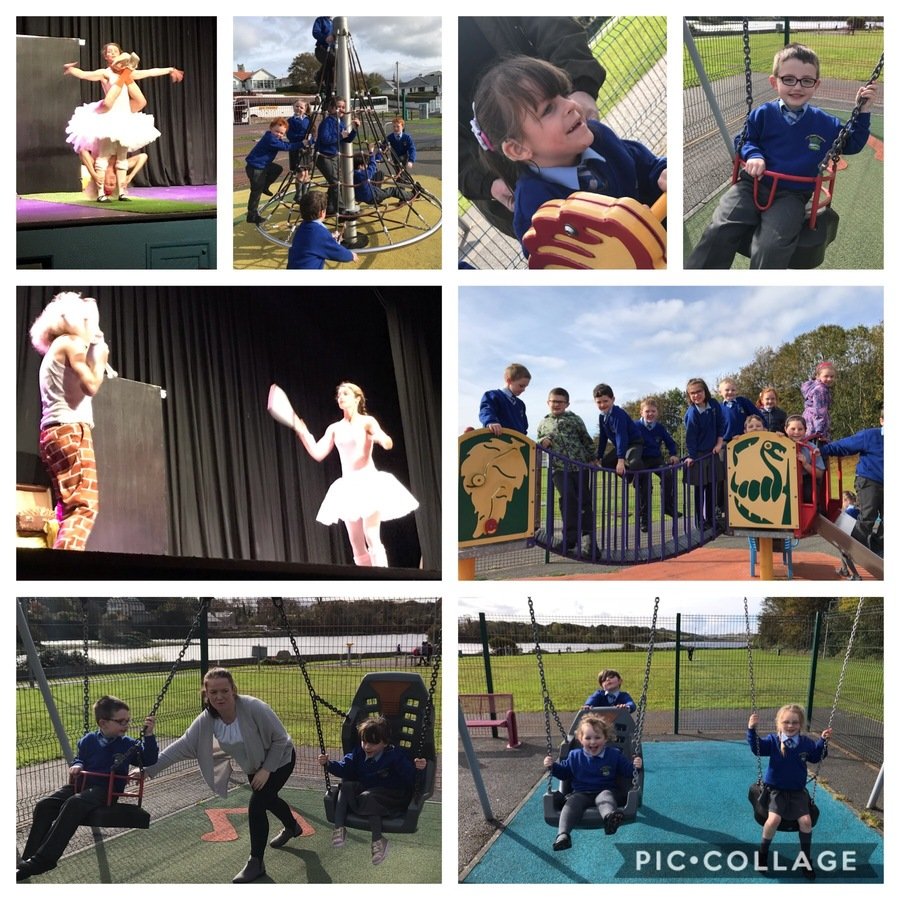 10th September 2018
Today our GAA coach Brian Roper returned to our school to help us improve our GAA skills. We really enjoyed our PE this week. We look forward to working with Brian over the next few weeks.
7th September 2018
Today we had scrumptious apple pie and ice cream! There were lots of juicy apples on Ava's apple tree (kindly donated by Ger & Eamon) in the school yard, so some of the staff baked some delicious apple pies for the whole school! Yum yum!!! Thank you!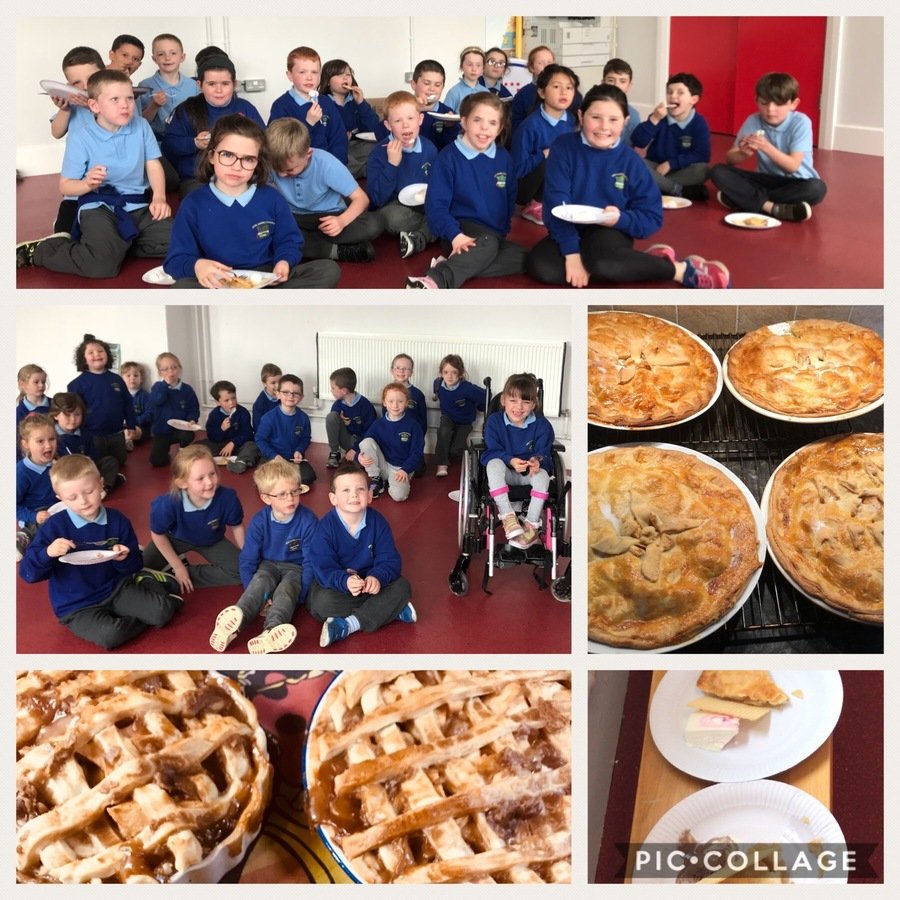 5th September 2018
Sri Chinmoy Peace Run

Today we had a visit from a group doing a peace run. This peace run was started by Sri Chinmoy in 1987 to spread peace and love and volunteers from all around the world have come together since then to spread his message of peace. They have visited over 150 countries since it started. They carry a peace torch and we got to hold it and give our wish for peace. They kindly stopped in on their run to tell us about their work and the history of the run... We found out that Nelson Mandela and Mother Teresa held the peace torch! We played games, danced and sang some songs with them. They even challenged us to a race! We really enjoyed the visit!!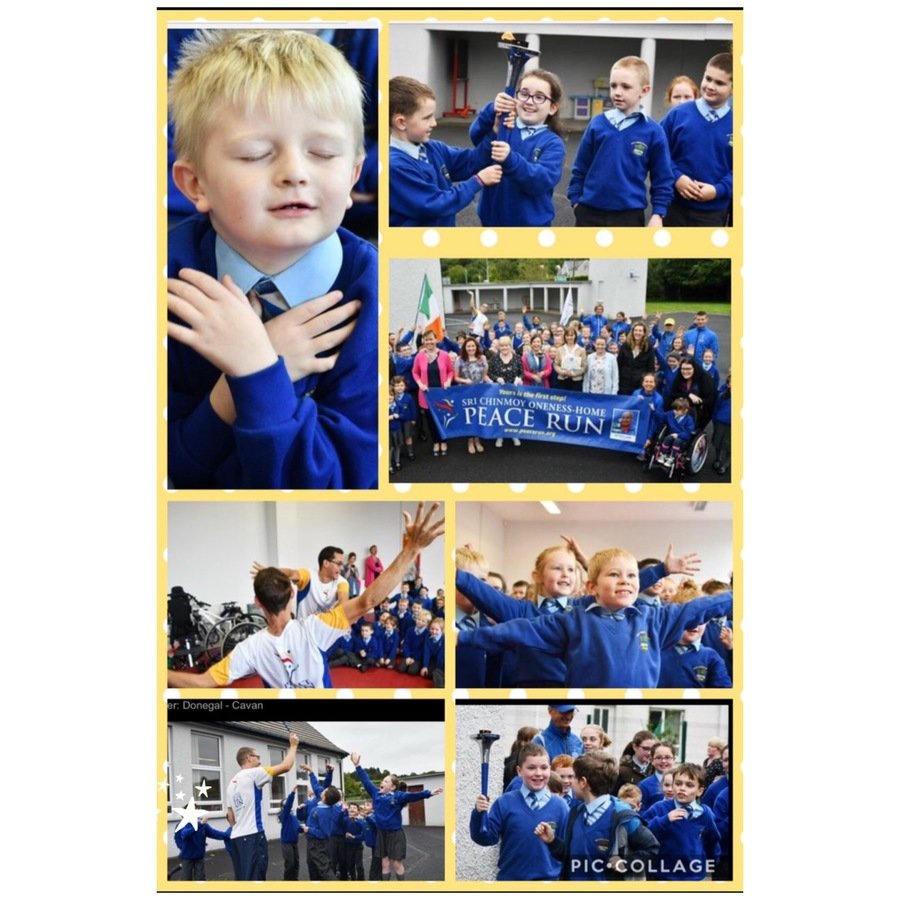 28th August 2018
Welcome back to all our pupils and a special welcome to our 10 new junior infants as well as our 2 new families. We had a great 'First Day'!
Here's to a busy school year with lots of learning and fun!